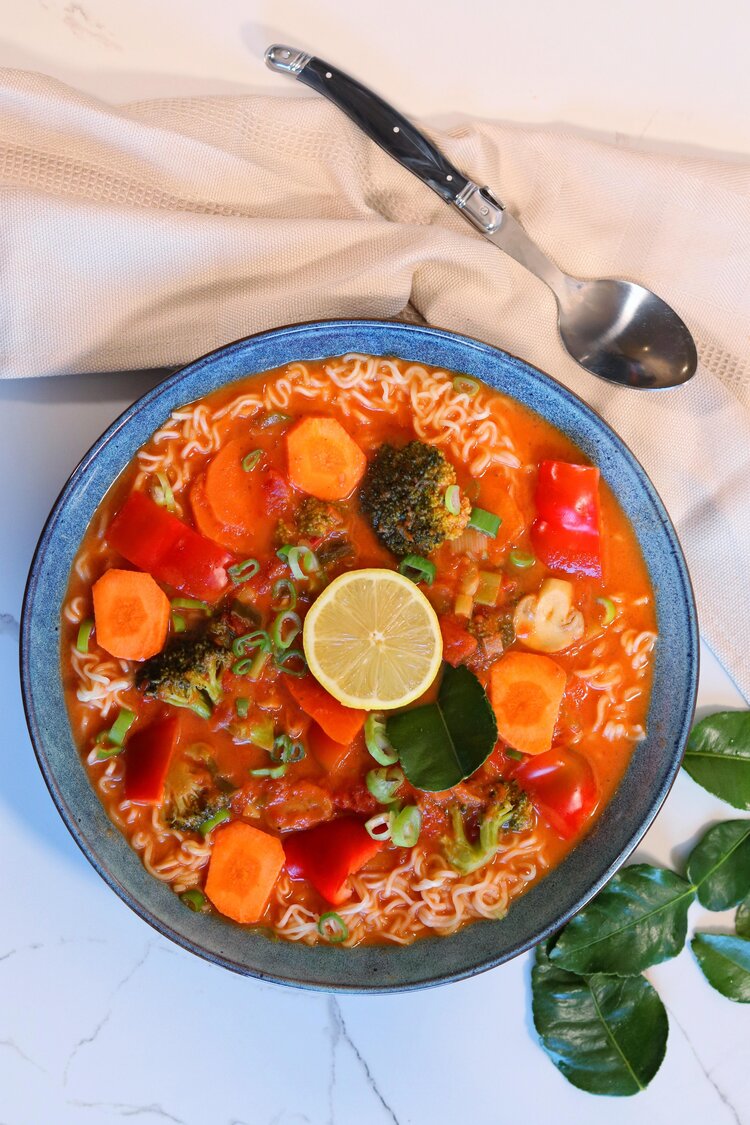 I have read many recipes of non-vegan version of Tom-Yum soup to get an understanding of what I can modify to veganise it and give it my twist on it. I was amazed how simple it was to veganise it without loosing any of the flavors. I am delighted that we live in a time where there are so so many alternatives for meat/fish products.
Most of the non-vegan recipes for the Tom-Yum soup use prawns. I guess that's because of how it is traditionally made. With vegan fish sauce available in most of the supermarkets and pretty much health food stores, it's really easy to re-create the authentic flavors. I am fully aware that some of the people living in rural areas of the world, may not have the access to some of these products. I have a lovely lady who follows me on Instagram and she lives in Rural Arkansas in USA, and I feel for her. And that's one of the reasons that I like to keep my recipes simple. If you are choosing to eat plant-based, the cooking process and the ingredients should not be a hindrance.
I created this recipe keeping this in mind, hence I tried it with and without the vegan fish sauce and it turns out just as delicious. I also thought about ingredients like lemongrass, lime leaves and, galangal which are integral to the authentic recipe. However I tried to eliminate as many of those "exotic" ingredients as I could but still deliver a tasty product.
I find this soup heart-warming and luxurious at the same time. if the creaminess from the coconut milk, and sweetness from sugar gives it a "Yin", the sourness from tomatoes and lime juice gives it a "Yang". The underlying hum of spiciness takes it to another dimension. All in all, I find this soup a convenient, healthy, yet tasty meal, ready in no time. And that's what I am all about, fun, easy, delicious.
When you make this recipe and taste it, I want you to scream out "OMG, I can't believe it was that simple, yet packed with flavors". So c'mon let's go on a journey of flavors and have some fun.
Serves 4

INGREDIENTS


1 tbsp coconut oil or canola oil
1½ cup green/spring onions chopped
2 tsp chopped ginger (or ginger paste)
2 cups sliced mushrooms about 5 mm thick
2 cups slices carrots about 5 mm thick
2 cups cubed red capsicums about 3-4 cm
2 cups broccoli florets
2 cans diced tomatoes
4 lime leaves (Can replace with 2 tbsp lime zest)
¾ cup coconut milk
2 tbsp lime juice
½ tsp red chilli powder/2 fresh red chillies
2 tbsp soy sauce or Tamari sauce
1 tbsp raw sugar (or any sugar)
2 cups vegetable stock
2 packs noodles cooked, drain and keep them aside (any noodles of your choice)
Salt to taste.
METHOD
Heat up oil in a large pot.
Add ginger and cook for 15 sec.
Add all the vegetables and lime leaves and cook on high heat for 3-4 minutes.
Stir in all the remaining ingredients (except noodles) and bring to boil on high heat without the lid.
Turn the heat down, add noodles and simmer for 2-3 minutes**
Taste and add salt if needed.
Serve hot.
Notes:

*Adjust the heat according to your tolerance, This caters for low-medium heat

**Can have it without noodles.