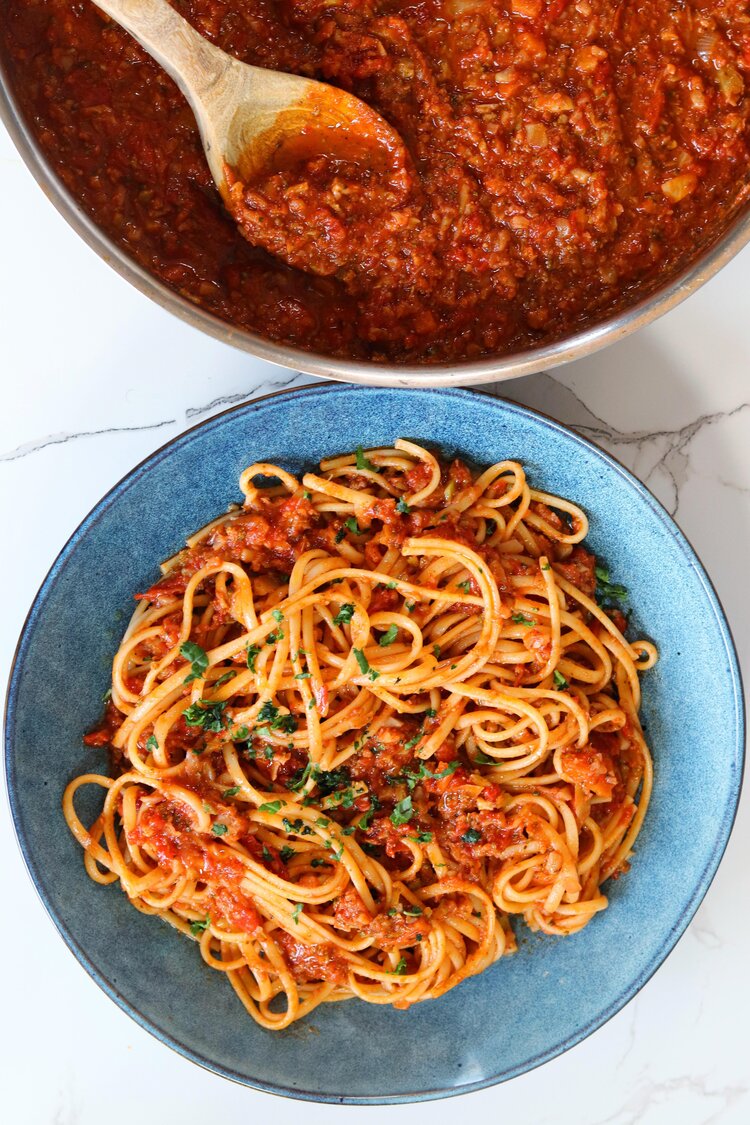 I am always in mood for a good Bolognese sauce. Plus I have another reason to love this recipe: "It's a One-Pot wonder". I used to eat a lot of it when I was a meat-eater. Since being a vegan I have created 10's of versions of the Bolognese sauce. I have tried mock meat, mushrooms, eggplant, zucchini, lentils, and so on. This time I decided to use broccoli and cauliflower, and I was very surprised with the result. I was not expecting it to be as good as it turned out to be. I was afraid that the sauce won't have enough "texture". But I was wrong. It was everything you would want from a good Bolognese sauce.
My girlfriend, her family, and one of my best friends is an Italian. I have made this sauce for them before, but with mushrooms, and zucchini. And, if this sauce can impress them and force them to say "I Can't believe this is vegan", then I am on the right track. What more, they went for the seconds too. It is rich, succulent, and deliciously Italian.
I thought about what is it that makes my Bolognese sauce "Italian-approved" every time, regardless of the ingredients I use. And, I am very excited to share the formula below with you. This recipe will have you make a banging Bolognese every time. Your friends and family will love you for it, but be careful of the Italians in your neighborhood. They may want to know how you got this recipe.
Just please don't tell them it was me.

Servings 4

Overall Cooking time: 45 min Prep Time- 15 min

INGREDIENTS
1/3 cup finely chopped onion
1/3 cup finely chopped Carrots
2 cloves garlic (crushed/thinly sliced)
1 and 1/2 cup minced broccoli (use food processor/grater)
1 and 1/2 cup grated cauliflower (use food processor/grater)
2-3 tbsp Olive oil
¼ cup Vegan Red wine
2 cans chopped Tomatoes
¼ Tsp dried Oregano Leaves
¼ Tsp dried Thyme Leaves
¼ Tsp Sweet Paprika
1 Tbsp Vegeta / or 3 beef flavored stock cubes*
1 Tbsp Nutritional yeast
Pinch of black pepper
Salt to taste
1 Cup water
METHOD
Heat up the oil in a large heavy-bottomed pot.
Add garlic and cook for another 1 minute.
Add carrots and onions while stirring occasionally on low heat for 3-4 minutes or until soft.
Add broccoli and cauliflower mince and cook for another 3-4 minutes on medium heat
Stir in all the dry herbs and paprika, and cook for 30 seconds.
Add wine and cook for another 30 seconds.
Mix in the tomatoes, stock powder, nutritional yeast, and pinch of black pepper.
Add water, cover, and simmer for 20 minutes.
Once the time is up, taste and adjust salt if needed.
If sauce is too thick add ¼ cup of water and simmer for another 2-3 minutes.
Serve with pasta of your choice and garnish with freshly chopped parsley
*Instead stock powder/cubes, you can replace water with liquid vegetable stock.