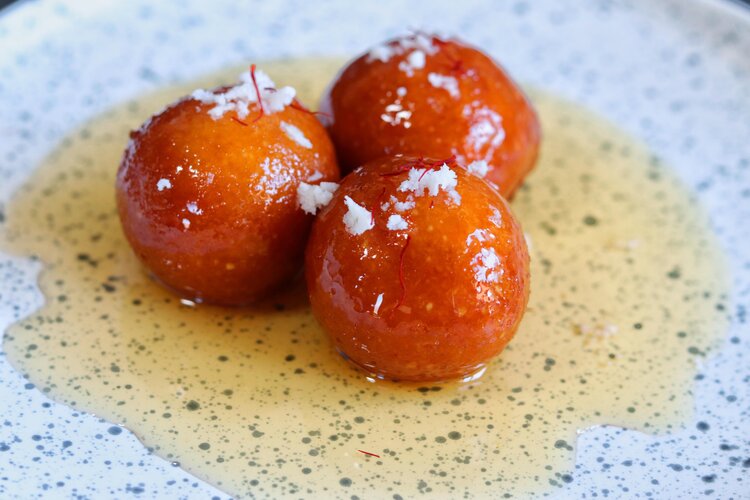 India is a diverse country and the cuisine vary from north to south and east to west. But there is one sweet which unities the Indians all over the world: "Gulab Jamun". These are fried balls which are generally made with milk powder, flour, ghee and then soaked in flavored sugar syrup. This dessert is a must for all occasions, Weddings, Birthdays, Diwali or even a family outing for some street food.

There are two versions of Gulab Jamun sold in shops in India. 1) Soaked in syrup and left in syrup until the point of serving 2) soaked in syrup, and then taken out and left to be served dry (it's less messy)
The first version is very popular in the north of India in the winter season. As a kid I used to look forward to the time when my dad would take us out on his "Bajaj Chetak" scooter (its like like the Vespa of India) to have piping hot "Gulab-Jamun" from a very popular sweet Vendor in Amritsar. There was no protection from the elements of winter on a scooter and by the time we reach the shop, my ears, nose, and hands would be red and numb from the cold. But that's when these Gulab Jamuns tasted he best. To hold the warm container made out of dried tree leaves in the cold hands, with piping hot "Gulab-Jamuns" in it, was happiness.

And nothing has changed in India. Whether you are an adult or a child, the culture of eating on the streets with your family and friends is almost ritualistic. It's something that can only be experienced not explained. The banter with your friends, demanding for more condiments and not wanting to pay for them, the vendor's grumpiness, the "credit-line' i.e. eat everyday at the same shop and pay at the end of the month, getting sore throat from eating street food (because it's not always hygienic). This is what India is all about. eating in the streets, having a song and in he middle of the streets, watching the life go by in the streets…India was the heart the street culture is the soul of this beautiful country.

Anyway, I got carried away. Coming back to the Gulab Jamuns. The recipe below is the vegan version of the real thing. I have seen many recipes online and practically they are all the same, as most of them recommend oat flour and sweet-potato. My recipe has a tropical feel to it. I have used coconut flour, coconut oil and pumpkin to achieve an added layer of flavors.

The exciting part is, I am experimenting with few ingredients as I am writing this blog. If that pays off, I think I would have found a new way of making these Vegan Gulab Jamuns. Fingers Crossed.

But in the meantime let's enjoy these delicious Indian doughnuts/ fried balls. These are to die for, and if you have a sweet tooth, you will fall in love with them. Deep fried and soaked in rose water and real saffron infused sugar syrup, they are moist in the center and slightly caramelized on the outside. And I promise you won't just stop at one, I know I can't. After all who doesn't love deep fried sweet balls.
P.S.

I couldn't recreate the nostalgic street food scene where my Dad and I were freezing yet holding onto the piping hot 'Gulab Jamuns", hoping for them to never finish, but this is the next best thing.

Enjoy.
Serves: 12
INGREDIENTS
1 cup all purpose flour
4 Tbsp macadamia or Almond meal
2 tbsp brown sugar
2 tbsp coconut flour
1 tsp baking powder
Pinch of salt
1/2 cup pumpkin or sweet potato puree
2 tbsp coconut oil (melted)
2 tbsp water
Vegetable oil for deep frying
INGREDIENTS FOR SYRUP
2 cup water
2 cups raw sugar
Pinch of saffron strands
2 pods green cardamom
1- 1/2 tsp rosewater
Dried Rose petals (for garnish)
METHOD
Mix all the dry in ingredients in a large bowl.
Add in all the wet ingredients, mix well and form a dough (add water bit by bit)
The dough should be soft and pliable.
Roll into equal sized balls until the dough is finished (a little smaller than a golf ball)
Cover with a tea towel and leave aside for 10 minutes.
In the meantime prepare sugar syrup:
In medium sauce pan add water, sugar, and cardamon pods, and bring to boil.
Turn the heat to simmer and cook for 5 minutes or until the it becomes a syrupy consistency.
Switch of the heat, and stir in the saffron strands, and rosewater and keep aside.
FRYING THE BALLS
Heat up the oil saucepan/or fryer on medium heat (not too hot, else it will brown the Gulab Jamuns too quickly and they won't cook from the inside)
Gently drop the balls into the oil (do not overcrowd)
Fry until golden brown. Move them around to get even color on all sides. 
Take them out on a paper towel/tea towel to cool down and drain excess oil.
Drop the Gulab Jamuns into the warm syrup and let them soak for about and hour before serving.
Serve hot or cold.