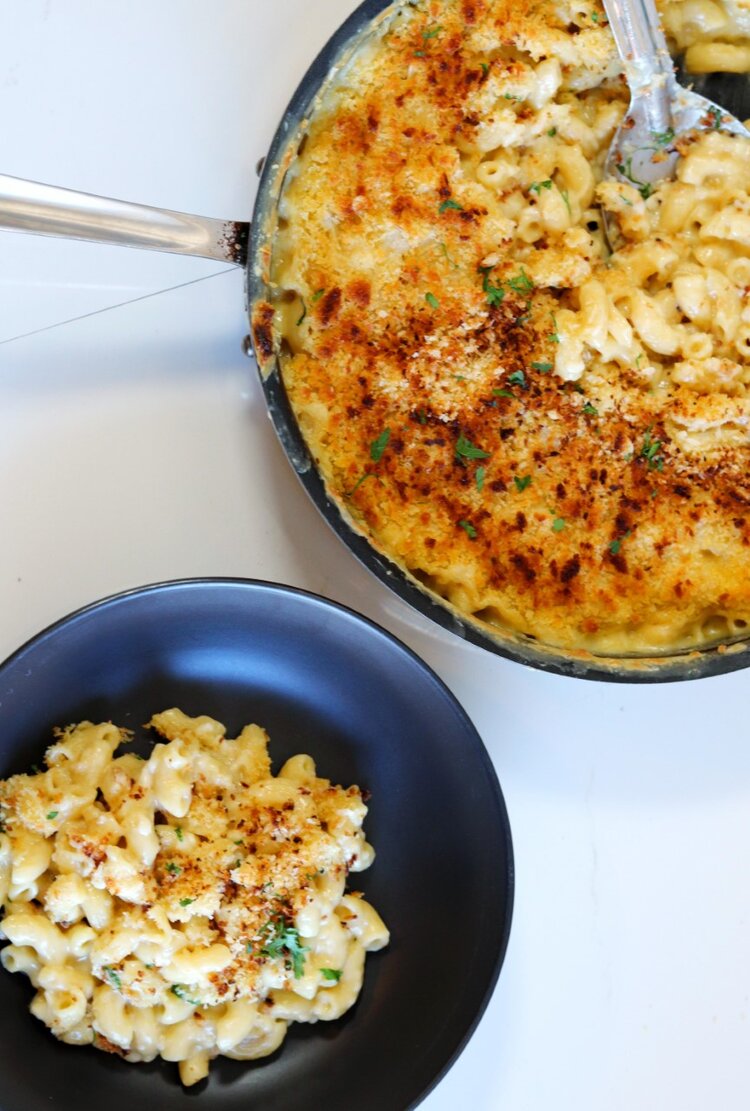 Rich, cheesy, creamy, delicious happiness…Enough said.
Lets get cooking.
INGREDIENTS
350 gms curls pasta (I used San-Remo)
1 tbsp vegan butter (salted) I used Naturli
Generous pinch of salt
Cook pasta curls as per packet instructions, drain and mix in the vegan butter and keep aside.
SAUCE
1 litre plant milk (I used Oatley oat milk)
1/3 cup all purpose flour
1/3 cup melted vegan butter (salted)
2 cups (200g) shredded vegan cheddar cheese (I used Sheese)*
1 cup (100g) shredded vegan mozzarella (I used Sheese)*
1 cup (100g) vegan parmesan (I used Green-Vie)*
1 tsp salt
1/2 tsp onion powder
1/2 tsp garlic powder
CRUST
50 gms Panko bread crumbs
2 tbsp melted vegan butter ( I used @Naturli)
Mix the butter and panko bread crumbs and keep aside.

METHOD
Pre-heat the oven to 180C/350F (Fan forced)
Heat up the vegan butter in a skillet/oven proof frying pan on medium heat.**
Once it starts to bubble up, stir in the flour and cook for a 1-2 minutes. Keep stirring (do not let it brown).
Slowly add milk (little by little) and keep stirring to avoid lumps. Once the milk is all in, cook for 3-4 minutes on medium until its smooth and covers the back of the spoon. Stir occasionally.
Mix in all the cheeses, onion powder, garlic powder, and salt, and cook for another 2 minutes.
Toss in the cooked macaroni and mix until well coated in the rich and thick sauce.
Evenly spread the panko bread crumb mixture on top.
Bake for 30-35 minutes on 180C/350F (Fan Forced)
If preferred, grill on the highest heat setting for extra 2-3 minutes to achieve the golden crust.
*If can't find all three cheese, just use the one you can find. Replace all the quantities of cheese with the same type.

**If you don't have skillet, make the sauce in a saucepan, mix in the pasta spirals, and transfer into a baking dish. Top it with the crust mixture and bake.