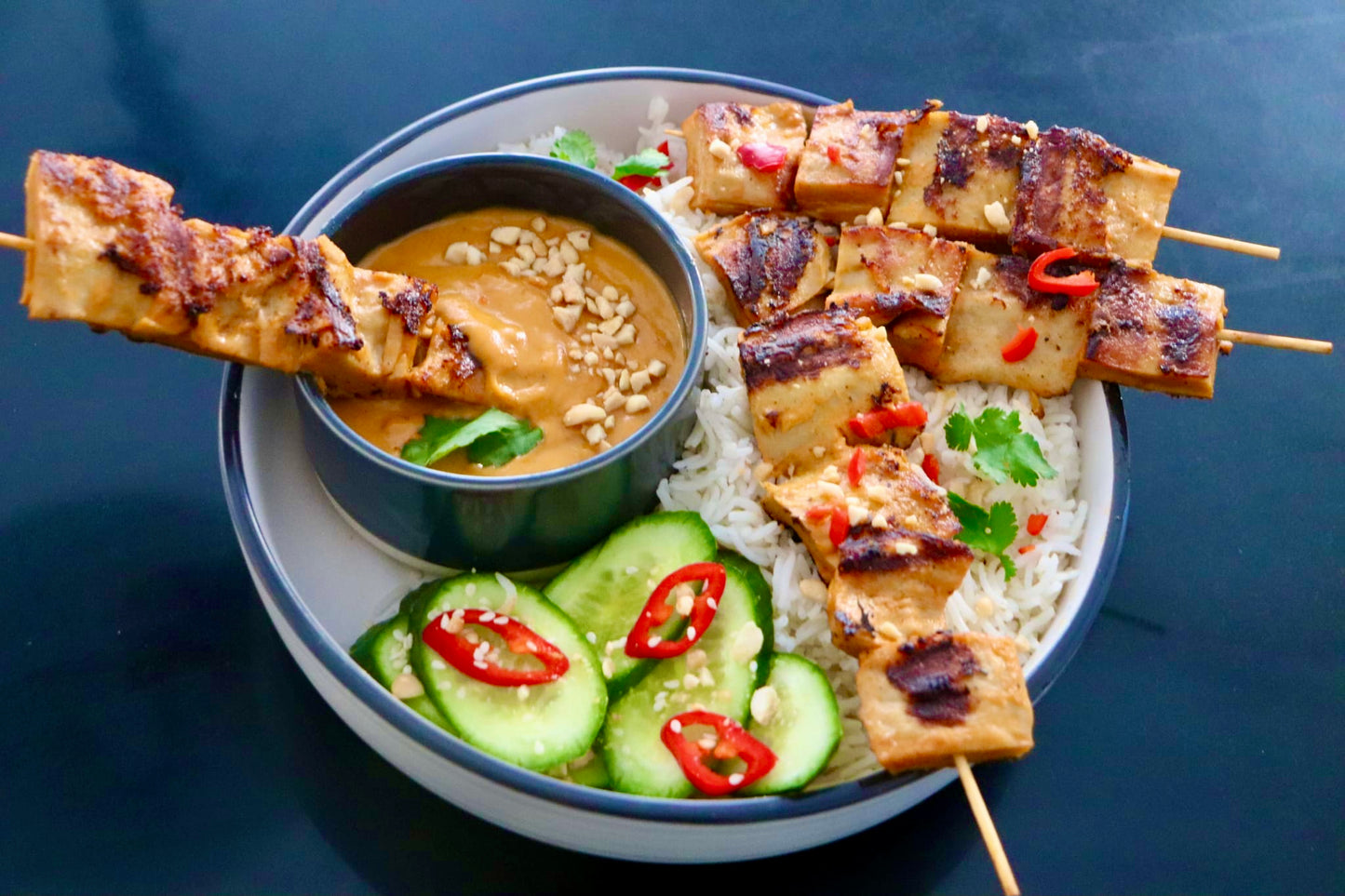 INGREDIENTS FOR PEANUT SAUCE
1/2 cup natural peanut butter (about 150g)
1 full cup coconut milk (about 250-260g)
3 tbsp brown sugar
1.5 tbsp dark soy sauce (can replace with Tamari)
1.5 tbsp tomato paste concentrate
1 tbsp lemon juice/white vinegar
1/2 finely chopped onion (about 50g)
1 finely chopped red chilli (use 1/2 or none for less heat)
1 cup water
2 tsp curry powder
1 tbsp light olive oil
INGREDIENTS FOR THE MARINADE
350g vegan Chicken/Tofu (cubed in approx 3cm pieces to fit on skewers)
2 tbsp coconut milk
1 tbsp peanut butter
1/2 tbsp soy sauce
1 tsp tomato paste concentrate
1 tsp curry powder
METHOD
Heat the oil in a large and deep non-stick frying pan.
Fry onion until golden on medium heat while stirring occasionally.
Mix in the tomato paste and cook for 1-2 minutes on medium heat. Stir to avoid burning.
Add all the remaining ingredients and mix/whisk until no lumps, while it's cooking on medium heat.
Cook for few minutes until it's smooth and thick like béchamel sauce. Stir occasionally. Keep aside (once it cools down it will thicken a little more)
Taste and adjust salt if needed. I normally add more soy sauce if it needs salt.
Grilled Satay Chicken
Mix in all the ingredients for marinade including Chicken/Tofu and leave for 10 minutes.
Pierce them onto skewers and grill until slightly charred. Turn them over for even cooking and char. (It should take 2-3 min each side)
Serving suggestion:
Serve the skewers with a bowl of satay sauce with. if serving as a meal, serve some Jasmine rice too.
Note: If serving the sauce later out of the fridge, heat it up with a dash of water/coconut milk and adjust seasoning before serving.