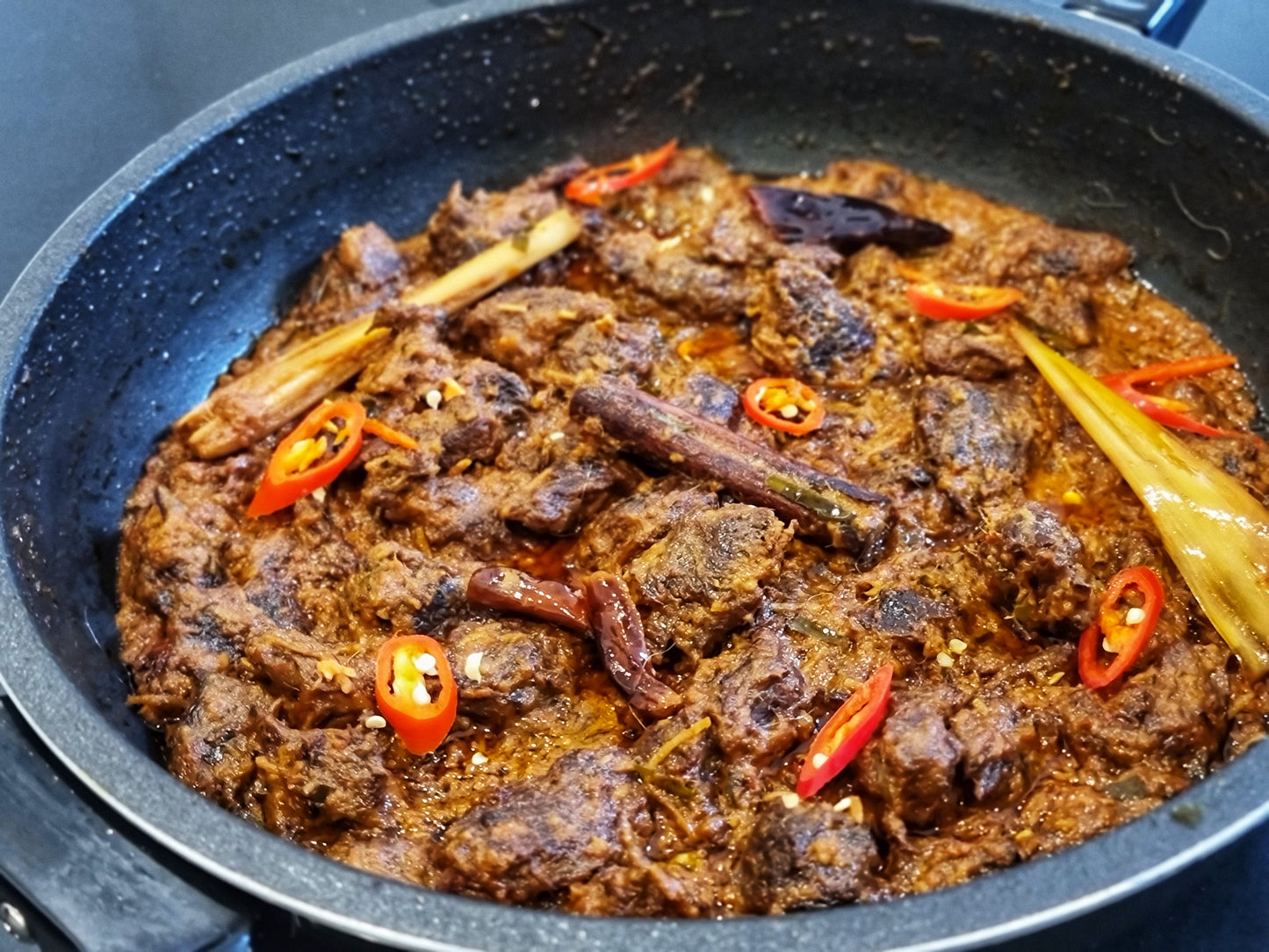 Rendang Paste
1 medium/150g brown onion (peeled and quartered)
3 stalks/50g lemongrass (only the white part of the stalk and about 4 inches in size)
5 cloves/15g garlic
1 thumb/15g ginger
5-6 fresh long red chillies (this will give medium heat, use more if you like hotter)
2tbsp/30ml peanut/vegetable oil
Add all the above ingredients to a blender/NutriBullet and grind until smooth paste. Keep aside.
Curry 
Method
In a heavy bottomed large and deep non-stick frying pan heat the oil, add fable beef and brown it for 3-4 minutes on medium high heat. Keep aside.*
In the same pan add the remaining oil and cook the Rendang paste on medium-high heat until it changes colour to brown/golden and separates oil. It should take about 8-10 minutes. Keep an eye and stir occasionally to avoid burning. 
Mix in all the remaining curry ingredients (Except Fable beef), 1 cup water, and cover and cook on medium-low heat for 45 minutes.
Check at halfway mark and give it a stir. Add a splash of water if needed.
Once the time is up toss in the browned Fable beef along with the remaining water, cover and cook on medium-low heat for 25-30 minutes.
Open lid and if the sauce is too watery, cook it high heat for few minutes without the lid until the excess water evaporates.
Serve hot with rice with a garnish of sliced fresh red chillies.
 *I use this frying pan to do most of my cooking for curries and stews.
*If you can't get mock beef, use whole button mushrooms, or peeled potatoes diced in 3-4cm cubes. Brown the mushrooms for 5-10 minutes on high heat, but no need to brown the potatoes. Also, mushrooms may need less water as they already have lots of water in them.
*If you can't find tamarind pulp or paste, use Juice of 1/2 a lime. Or to make your own tamarind pulp soak the fresh tamarind in few tablespoons of hot water for 10-15 minutes and use the pulp (discard the seeds)
*You can replace kaffir lime leaves with finely grated rind of 1 lime. To Finley slice the lime leaves, tightly roll all of them together to form a cigar. Using a sharp knife slice them in as fine seeds as possible.