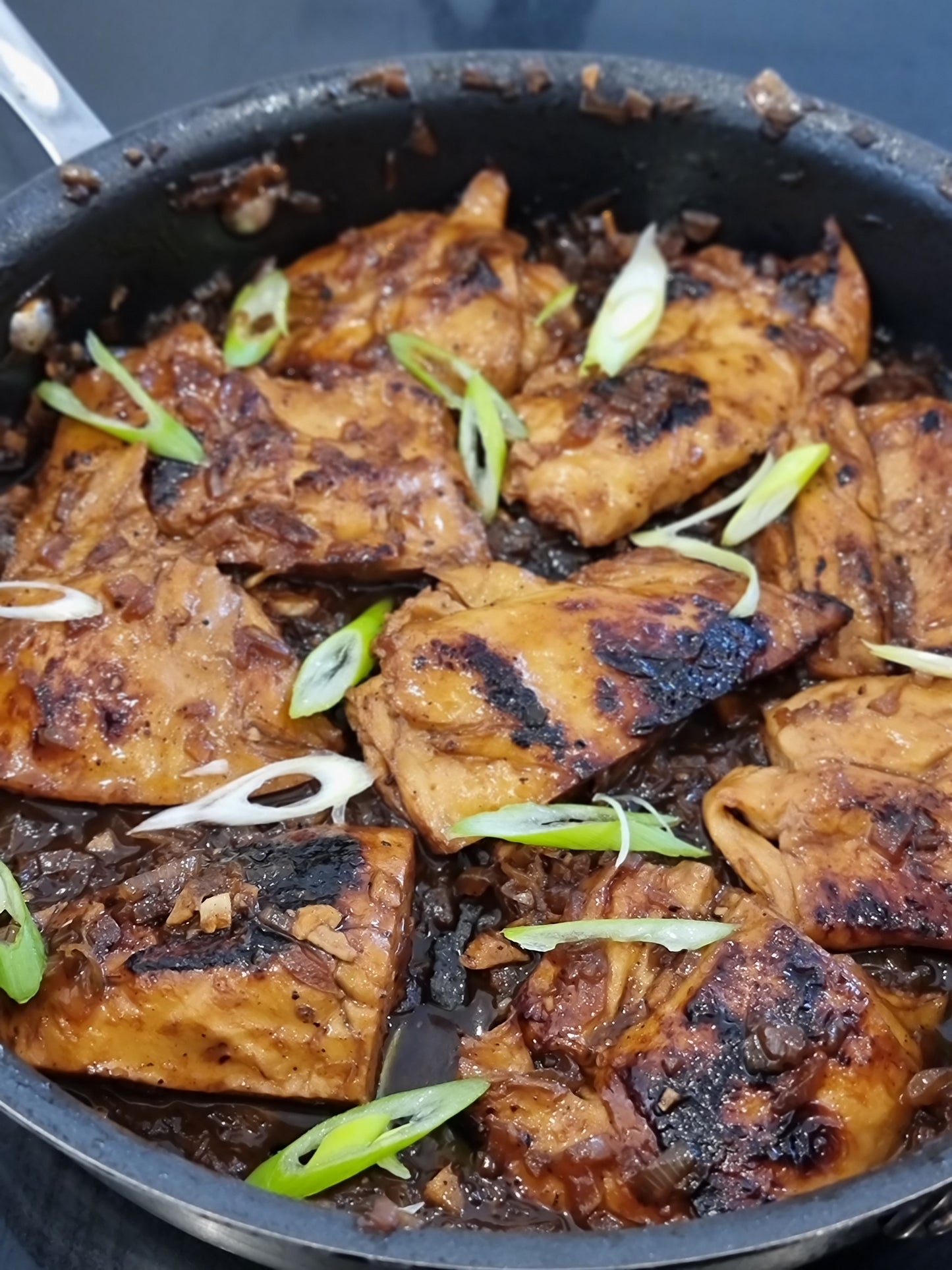 Note: Click on the links to see the products I used. I like to create recipes from the ingredient you can get generally get in your local supermarket. My aim is make vegan recipes accessible, easy, and super delicious.
INGREDIENTS FOR THE MARINADE
REMAINING INGREDIENTS
1 medium brown onion finely chopped
1/2 thumb ginger peeled and finely chopped
1/2 tbsp cracked black pepper. If using ground black pepper start with 1 tsp and add more if required.
4 tbsp oil
1 and 1/2 cup water
In some recipes they use 3-4 bay leaves but I wanted to keep it simple, easy, and as less ingredients as possible.
METHOD
Mix all the marinade ingredients in a large bowl.
Cut the vegan chicken into 5-6 cm chunks (approx. the size and shape of chicken thighs) and toss the into the marinade, mix well and keep it the fridge for 20-30 min. (if you have time, leave overnight) 
Heat 2 tbsp oil in a non-stick frying pan or griddle and fry/grill the chicken pieces until cooked and slightly charred. Turn them over to get even char on all sides. Keep aside. Leave the remaining marinade liquid in the bowl to use later.
Heat up the remaining oil in heavy bottom wok/large frying pan, add onions and ginger and cook for 3-5 minutes on medium heat or until slightly golden.
Add in the marinade liquid, water and pepper, and bring to boil. Turn the heat to medium low and cook for about 25 minutes without lid or until the sauce thickens chutney/jam. Stir occasionally.
Mix in the cooked chicken pieces until coated well, and cook for 2-3 minutes or until heated through.
Enjoy with Jasmin rice.
Also, Check out my recipe for Spicy Grilled Chicken, and Tandoori Chicken