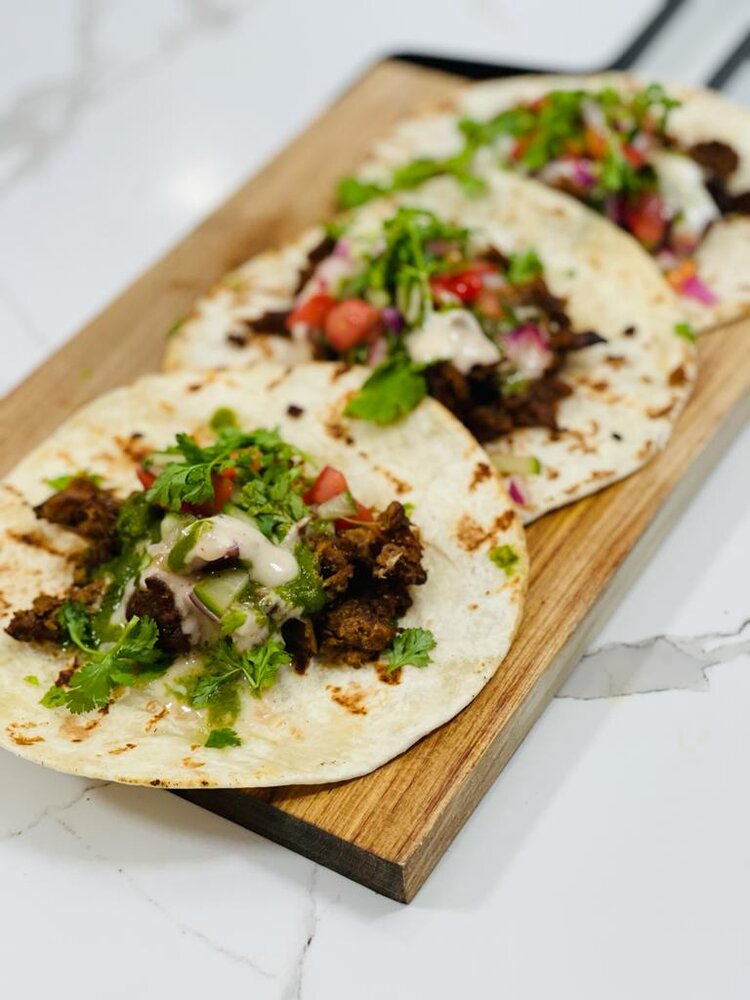 MAKES APPROX. 10-12 SMALL TACOS
INGREDIENTS FOR TACO "MEAT"
250 Mushroom beef"*
10g (approx. 1/2tbsp Cumin powder
10g (approx. 1/2 tbsp) coriander powder
10g (approx. 1/2 tbsp) Paprika
30gms (approx. 2tbsp) Apple Cider Vinegar
Salt to taste
Mix all the above ingredients in a bowl, cover and let it marinate for 2 hours (for best results leave it over-night)

INGREDIENTS FOR ASSEMBLY
Soft taco wraps (for wrapping the tacos)
150g Cucumber finely chopped
150g tomatoes finely chopped
150g red onion finely chopped
300g coconut yoghurt
300g mint chutney (recipe below)
INGREDIENTS FOR MINT CHUTNEY
100g Onion roughly chopped (approx. one cup)
50g fresh mint (stems and all)
50g fresh coriander (stems and all)
1 green chilli
50g Apple Cider Vinegar
10g Garlic (approx. 1 cloves)
2 pinch cumin powder
40g Coconut Yoghurt (approx. 3 tbsp)
150g water (approx. 1 and 1/2 cup)
2 tsp salt
Transfer all the ingredients into a high power blender and blend until smooth. Taste and adjust salt if needed. Keep aside. You can store the left over chutney in the fridge. It lasts about 7 days.
MAKING TACOS
Heat a griddle/non-stick frying pan with some spray oil.
When smoking hot, add the marinated mushroom beef and cook for 5-7 minutes or until the meat is cooked through. Stir occasionally. Its ok if its a bit charred at the ends. Turn the heat to medium if needed.
Transfer the meat in a bowl and lightly toast the taco wraps in the same griddle/pan
Place a taco on a flat surface, top it with some mushroom meat, and rest of the filling ingredients in the middle, and enjoy.
*You can replace the mushroom beef with mushrooms. Slice 250g of mushrooms and follow the rest of the recipe. The cooking time for mushrooms should be between 5-8min. on high-med heat or until most of the moisture evaporates. Its ok if they get a little charred/crisp.