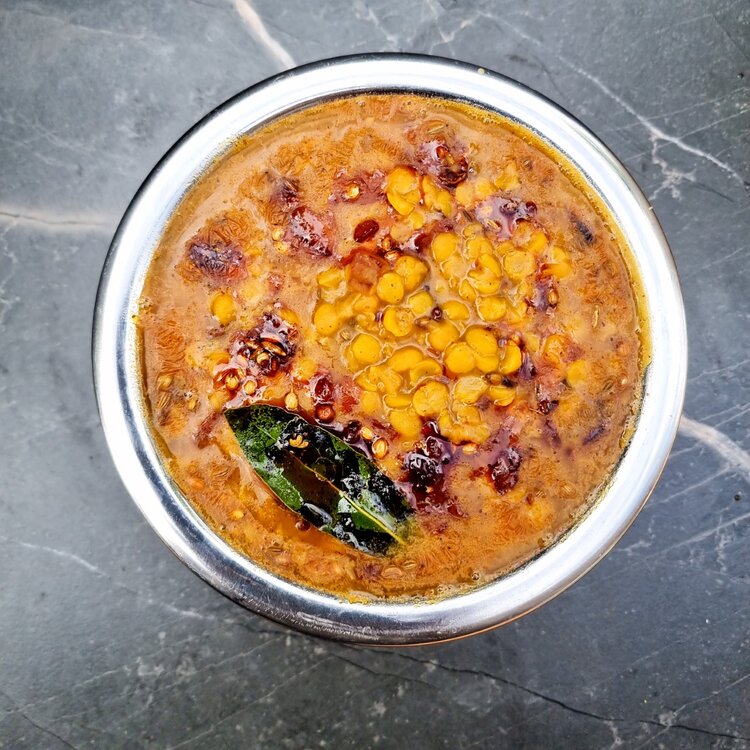 INGREDIENTS
1 and 1/4 cup split peas (Chana Daal)
3 cloves
3 green Cardamon pods
1 black Cardamon pod
1 cinnamon stick
2tsp salt
900ml of water (Approx. 3 and 3/4 cups)
METHOD
Wrap all the spices in a 15cm x 15cm cheesecloth, and make a small bundle.
Add the Chana Daal, water, salt, and the bundle of spices in a pressure cooker and cook for about 12 minutes on medium heat. (5 whistles of a pressure cooker)
Let the pressure cooker cool down before you open as it has built up steam. This also helps cook the lentils further.
If you don't have a pressure cooker add all the above ingredients to a saucepan and bring to boil. Cover and simmer for 45-60 min. Once the time is up, test the softness of Daal. You should be able to easily squish the lentils between your fingers.
Take out and throw away the Spice Bundle.
Keep them aside.
FOR TADKA
3-4 tbsp vegan butter/margarine
1/4 onion/Approx. 25-30gms (finely chopped)
1/2 tbsp finely chopped Ginger (Approx. 1/2 thumb)
1/2 tbsp finely chopped garlic (Approx. 2 cloves)
1/2-1 tsp red chilli powder (use as per taste)
1/2 tbsp cumin seeds
1/2 tbsp coriander seeds
2 bay leaves (I used fresh, but dry are fine too)
METHOD
Heat up the butter in a large and deep non-stick pan.
Add bay leaves, coriander and cumin seeds and fry on high heat for about 1-2 minutes. Stir occasionally to avoid burning. The spices should be golden but not burnt.
Turn the heat to medium, add onions, ginger, and garlic and cook on for 2-4 minutes or until onions are golden brown.
Add Chillies and cook for another 30 seconds.
Add the Daal from earlier, mix well and bring to boil. (At this stage, add a splash of water if Daal is too thick for your liking)
Enjoy with rice or Roti.
* Depending upon the type of pressure cooker, times may vary it can vary between 10-15 min.

*You can also use slow cooker*