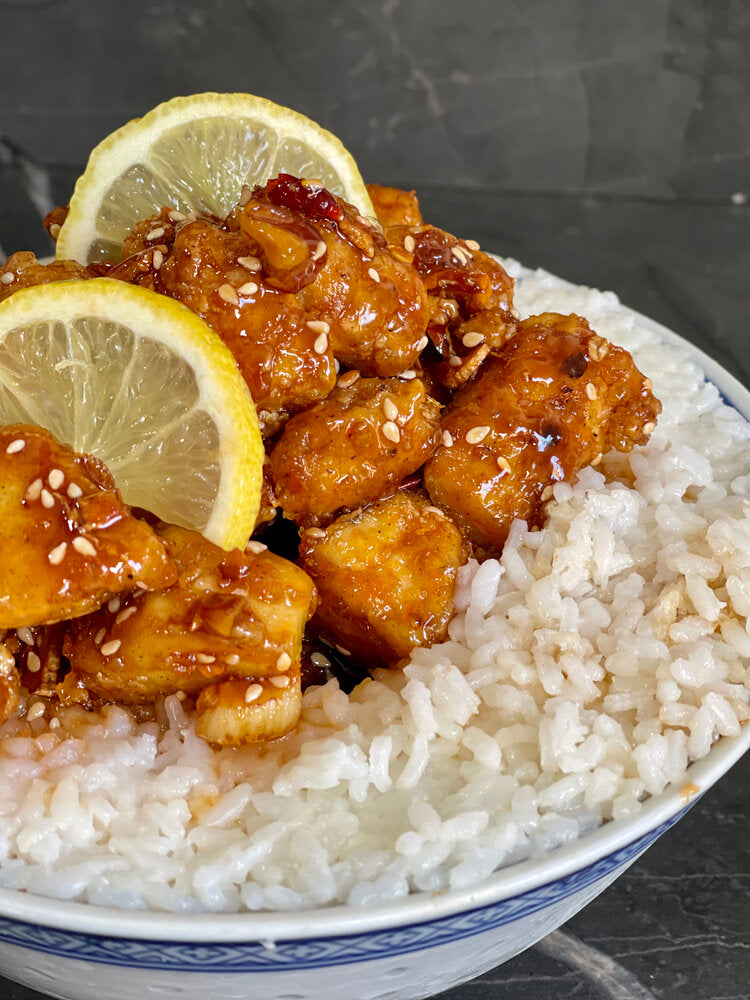 INGREDIENTS FOR CRISPY TOFU
350 gms extra firm tofu
1 and 1/2 cup corn flour
2 tsp garam masala
1 tsp salt
1/2 tsp black pepper
4 tbsp cooking oil
METHOD
Break tofu with hands in bite sized chunks. No need to squeeze the water out*
Place it in a bowl and add the remaining ingredients. (only use 1/2 the corn flour)
Using your hands mix everything to make sure tofu is well coated.
Keep aside for 5 minutes, and then mix in the remaining corn-flour. Again make sure that tofu is well coated. Leave it aside for 5 minutes
In the meantime, heat up oil in a non-stick frying pan, on medium heat.
Pan fry the tofu and until golden and crispy. Move/turn it around to avoid burning.
INGREDIENTS FOR THE SWEET 'N' STICKY SAUCE
1 tbsp cooking oil
2 cloves garlic
1 and 1/4 cup maple syrup
Juice of one lemon
Lemon rind of one lemon
3 Tbsp soy sauce
1/2 tbsp chilli oil (optional)*
1 tbsp white sesame seeds
METHOD
Heat up oil in a large and deep non-stick frying pan/ wok
Toss in the garlic and cook on medium heat until golden.
Add rest of the ingredients and cook for 45 sec to 1 minute.
Stir in the tofu until well coated with the sauce and heated through. (Add a splash of water if the sauce is burning)
Serve hot with rice.
*Breaking it with hands instead of cutting it in cubes with a knife creates nooks and crannies in the tofu pieces for corn flour to stick better. Which makes it more crispy when pan fried.