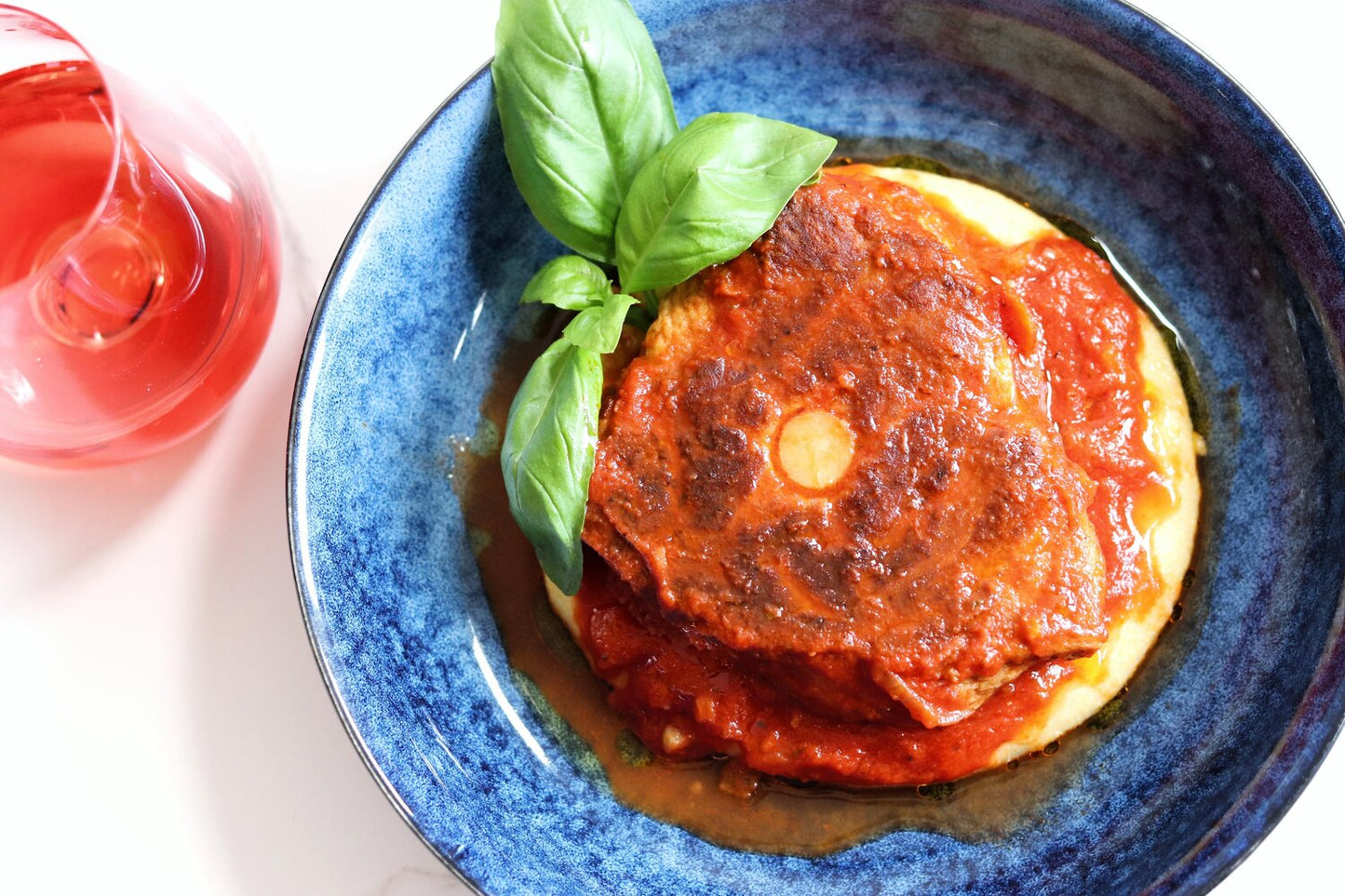 For the record, let me say it…I love italian food. As an Indian probably that's Blasphemy. But I look at Italian food as an extension of Indian cooking…. Uh-Oh…. that might upset Italians. The slow simmered sauces, bold flavors, and the freedom to put your own stamp on it. In my opinion, these two cuisines are very similar.
For a while, I have been wanting to create vegan 'Osso buco'. Typically, Osso buco is a cut of meat slow-simmered in red wine sauce and served on a bed of mashed potatoes or Polenta. I am big on how the food should look and presented. The vegan 'Osso buco' needed to look like the actual, and also have the similar texture. With every morsel of this meal you will be transported to the streets of Italy, but cruelty free.
The light bulb moment happened when I was peeling a potato for curry. The color and the hardness of raw potato reminded me of 'bone'. And I knew there and then that I am going to re-create 'Osso buco' in it's full glory, but absolutely Vegan. I used an apple-corer to cut out the cylindrical tubes of raw potato and stuff them in the vegan 'steaks' for the 'bone' effect.
For the vegan 'steak', there are plenty of recipes online but none of them looked like a steak to me. So I reversed engineered. I made 'seitan' dough but instead of poaching it first, I shaped it into 'steaks' coated them with all-purpose flour and lightly pan fried on both sides. Voila, we have a steak look alike albeit vegan.
I am so excited to share this recipe with you. I truly believe that as a vegan you should not miss out on anything. We are so fortunate to live in a time where there is a substitute for every animal product.
This "Osso buco" recipe is delicious, succulent, nostalgic and cruelty free… #winwin. Braised to perfection in rich tomato sauce with aromatic herbs, you will soon have this on your table for daily dinners, and to wow your guests on those special occassions.
Savor it with a glass of vegan Rose` wine, and the classic tune "That's Amore" by Dean Martin.
Let me know in comments what your thoughts/questions are. I also have a video of this recipe on my Instagram page @tullyzkitchen
Ingredients for steaks
1 cup Chickpeas (From a can and drained)
1 and 1/2 cup Gluten flour
3 Tbsp Nutritional yeast
1-1/2 Tbsp soy sauce
1 Tsp Sweet paprika
1 Tsp Garlic Powder
1 Tsp Onion Powder
1 Tsp Liquid Smoke (If not accessible replace sweet paprika above with smoked paprika)
1/2 cup Passata Sauce (can use chopped tomatoes from a can)
1/2 Tsp salt + 1/2 Tsp pepper ( for best results use white pepper)
Ingredients for the red sauce
700g Passata sauce (Or 2 cans of chopped tomatoes)
1/3 cup Onion finely chopped
1/3 cup Carrots finely chopped
1/4 cup Vegan red wine
1 Tbsp Vegeta (veggie stock powder)
1 Tsp oregano
1/2 cup fresh basil leaves (or 1 Tsp dried basil leaves)
Other Ingredients:
4 Tbsp canola/olive oil
Water for kneading and cooking sauce
All purpose flour for dusting.
1 small potato (to create the 'bone' effect)- Optional
Salt and Pepper to season
The steaks
Mix all the steak Ingredients (except gluten flour) in a food processor and blitz until smooth fine paste.
Combine the paste and gluten flour in a bowl and knead until it forms a dough. You may need a splash of water to bring everything together. The consistency should be similar to play dough.
Leave it aside for 5 minutes to rest.
Dust a clean working surface with all-purpose flour and roll out the dough. Do not roll it out too thin. Approx 1cm thick should be great.
Cut it into four equal parts and shape them roughly like a 'steak'.
Using an apple-corer cut out the cylindrical tubes from the potato. And using the same corer cut out a hole in the middle of the 'steaks'
Cut the potato tubes to the same height of the steak and stick them in the holes.
Dust the steaks with all-purpose flour on both sides.
Heat up 2 Tbsp of oil in a non-stick frying pan and fry the steaks for 1-2 min on each side on low-med heat. You just need the dark golden crust.
Take them out and keep aside.
The Sauce
Heat up 2 Tbsp oil in the a non-stick frying pan. (Use the same above pan in which 'steaks' were cooked)
Add onion and carrots, and cook until they are translucent.
Add vegan red wine and cook it for 15-20 seconds.
Add the Passata sauce, Vegeta, and herbs. Give it a good stir. Add 1 and 1/4 cups of water.
Taste and season if needed.
Place steaks in the sauce gently. Put the lid on and let it simmer for 2 and 1/2 hours on the lowest heat. Sauce should barely have any bubbles during the simmer. Must not be cooked on high heat as it will makes the steaks very chewy.
Enjoy with creamy Polenta or mashed potatoes