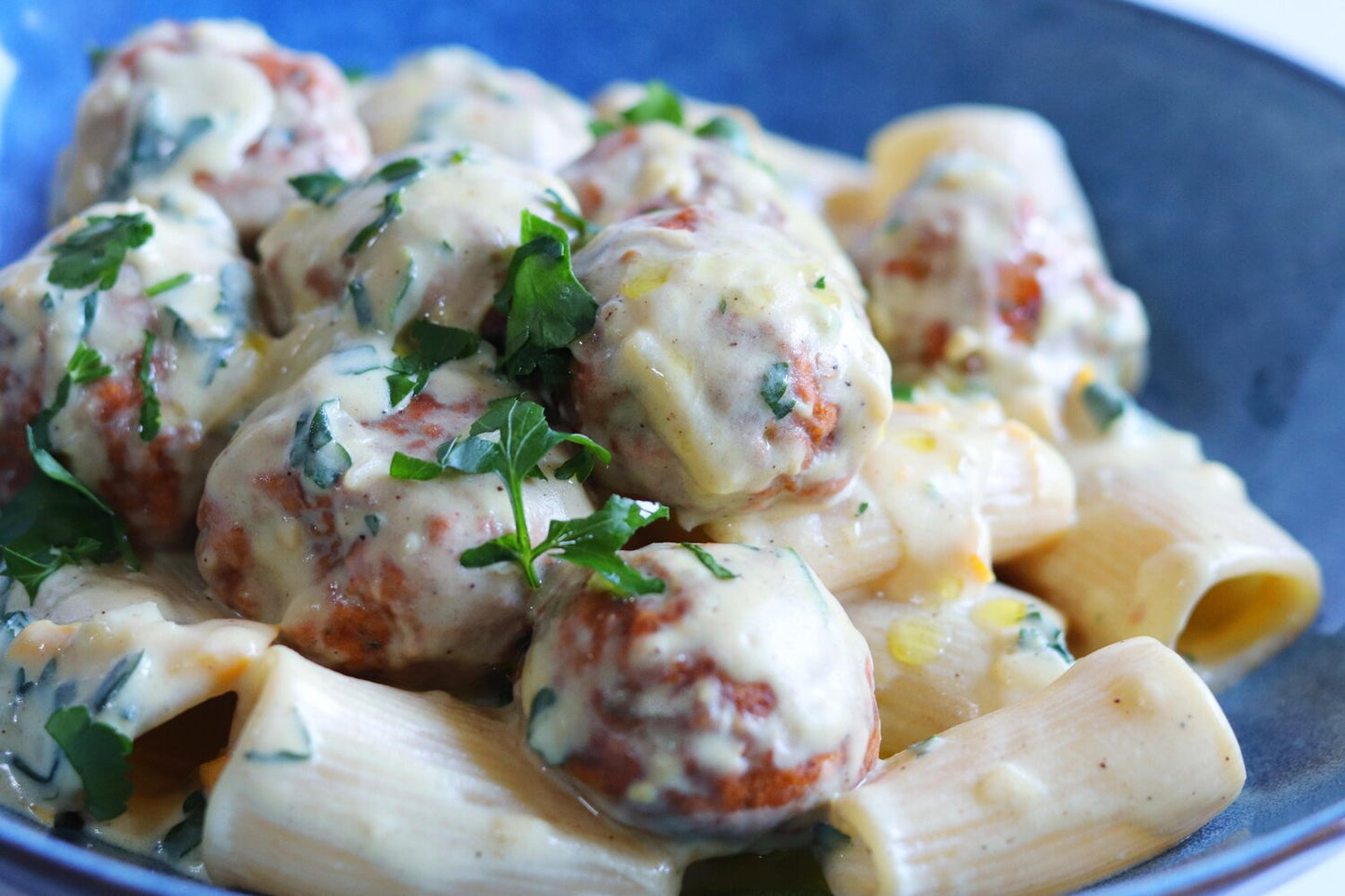 I love balls! Relax, I am talking strictly from a culinary point of view, so you take that judgement back…now!
There is a certain sense of achievement when you veganise a recipe. Especially a comfort food you think you may have to give up once you turn vegan.
Like many of you I lost my Swedish meatball virginity to Ikea…we haven't seen each other since. Not because of the meatballs but because Ikea makes things so awkward to put together….yes, I am talking about that closet I bought from there. In Ikea's defense it has tried to lure me back by introducing vegan meatballs, but I am a man of principles. (sometimes questionable, but nonetheless)
When I turned vegan, the craving for having balls coated in rich, and creamy white sauce was bigger than ever (again, get your mind out of gutter). So what do you do, off to the kitchen and experiment. The sauce was the easy thing to put together, as there are many vegan substitutes for dairy and cheese. The balls were a challenge, as they always are (Uh…don't go there) I wanted them to have a bite yet softness to them.
So, I drew inspiration from something I have seen my mum do when I was a child. She used to make "koftas" with chickpea flour, vegetables, and Indian spices. we used to love the meaty texture and juiciness of my mum's balls….f**k it, this time I heard it too…go ahead have a laugh. I changed the spices, tweaked few ingredients and we were in business.
P.S. if you knew my mum…she has big kahunas.
Also, this recipe is very simple to put together. The thing which confuses me about lots of vegan recipes online is that they are unnecessarily complicated. I am not sure if the people writing them do it on purpose to look "fancy and smart", or they think that readers enjoy complex recipes. So, if you here for a complicated recipe, this will disappoint you. But if you are like me and want to just enjoy delicious comfort food without any frills, then read on.
Do leave a comment below if you have any questions/feedback.
Serves: 2-4

Cooking time- Approx 45 min.

INGREDIENTS FOR BALLS
1 cups finely chopped Carrot
1 cup finely chopped Zucchinni
1 Tsp Paprika
1 Tsp Garlic Powder
1 Tsp Onion Powder
1 Tsp Fennel Seeds
1 Tsp Salt
1 Tsp pepper
1 Cup Chickpea flour
FLAX-EGGS
1 Tbsp Flax-seed meal
3 Tbsp water
Mix the water and flax-seed, stir well and keep it aside for 5 minutes

INGREDIENTS FOR SAUCE
1/4 cup finely chopped cup shallots (can use red onions)
1/4 cup finely chopped yellow capsicum
1 clove finely chopped garlic
1 tbsp all-purpose flour
1/4 cup vegan white wine
2 tbsp Dijon mustard
1 tbsp vegan cream cheese
1/4 cup roughly chopped parsley
Salt and pepper to taste
OTHER INGREDIENTS:
Vegetable oil to fry and cook.
METHOD
Transfer all the ingredients for balls, including flax-eggs into a large bowl .
Mix until it all comes together and become a loose dough. (add a splash of water if needed)
Heat up the oil to fry.
Wet your hands, form small balls and drop them in the hot oil one by one. (Should make 8-10 balls)
Cook until dark-golden brown (do this on medium heat , so the balls are cooked through)
Once cooked drain them on a paper towel and keep aside.
SAUCE
Heat up couple of Tbsp of oil in a large frying pan.
Add shallots, capsicums, and garlic.
Cook until translucent.
Add flour and cook for a 1-2 min.
Add wine and cook it off for 15 sec.
Slowly add the plant-milk while continuously whisking to avoid lumps.
Add vegan cream cheese, and Dijon mustard. Simmer it on low for few minutes until it becomes thick (keep stirring to avoid burning)
Stir in the "meat-balls" and cook until heated through. Add a splash of milk if the sauce is too thick.
Taste and adjust the seasoning.
Mix in the the fresh chopped parsley.
Serve hot on a bed of mashed potatoes or with the pasta of your choice.