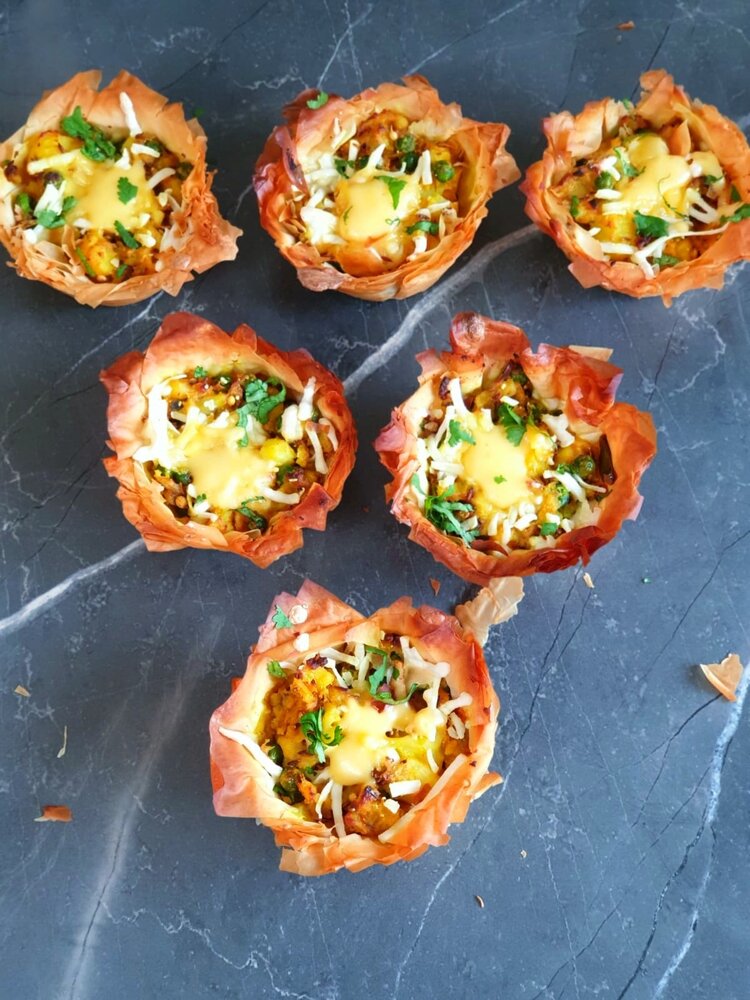 Samosa is the most popular snack in India and may be the most popular Indian snack in western world. Believe me when I say that there have been songs written in India with Samosa analogies. Every city in India brags that they have the best Samosas, and within every city, the people brag that their neighborhood have the best samosa shop. Every time you visit someone, the three things which are typically served are Chai (Tea), Samosas, and biscuits (think something like Marie biscuits).
For the record I love Samosas, but then again there are not many Indians who don't love them. So I dare not be against 1.25 billion people. This Samosa cups recipe is a fun take on Samosas. Basically it's an open samosa. And instead of making my own pastry, I used the conveniently available and vegan fillo pastry.(most of the brands do a vegan fillo these days)

The aromatic coriander and cumin, mild heat from chillies, the earthiness from turmeric, creamy potatoes topped with vegan cheese, and the crunch from the filo pastry makes this dish irresistible. This recipe makes 6 samosa cups and I ate 4 of them, does that tell you anything, apart from the fact that I am a bottomless pit?
Anyway lets get cooking.

INGREDIENTS

600-700g potatoes (Approx. 3-4 medium potatoes boiled and coarsely mashed, should still have some lumps)

2 tbsp oil and extra for brushing the muffin tray and filo pastry. (You will need about 1/3-1/2 cup extra)
1 tbsp coriander seeds
1 tbsp cumin seeds
1 tsp turmeric
1/2 cup frozen peas
1-2 finely chopped green chillies (or as per taste)
3/4 cup vegan cheese (optional)
Salt to taste
METHOD

Samosa Filling:

Preheat the oven to 180C/350F (these temps are for fan forced oven) and brush a 6 cup muffin tin with some oil.
Heat up oil on medium heat in a large and deep non-stick frying pan.
Turn the heat to low and add coriander and cumin seeds,. Fry them until golden brown, should take 1-2 min
Stir in the turmeric and cook for 30 sec.
Add the potatoes, peas, chillies, and salt, and mix well. Cook for 3-4 minutes on med. heat or until the peas are cooked.
Switch off the heat, keep aside and let the mixture cool down.
Fillo Cups:
In the meantime, take one sheet of fillo and lay it on a clean bench, the shorter side facing you.

Brush with olive oil and place another fillo on top. Brush with olive oil again.
Cut the fillo into three even strips lengthways and then into four even strips crossways. You will end up with 12 squares.
Stack 6 fillo squares on top of the other to form a star shape. Repeat wit remaining fillo, until you have 6 stars and them push each of them into the muffin moulds.
Place 3-4 tbsp of cooled samosa filling mixture into each mould and top with vegan cheese.
Bake for 20minutes until golden. If not crispy enough increase the heat to 200C/400F and bake for another 3-5 min until golden (keep an eye to avoid burning)
Enjoy with mint chutney.
Recipe:- Chai Recipe