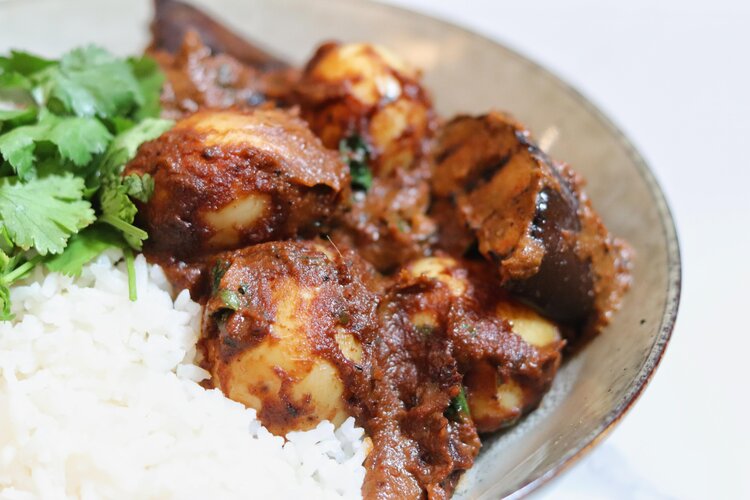 I love all curries, and Rendang is easily in my top three…if not the first! I find the dark brown color and richness of the sauce not only mouthwatering but fascinating. Because its slow cooked you get the full release of flavor from all the ingredients.
This delicious Rendang curry will win your heart and stomach at first sight and bite! The creaminess of coconut milk, fragrant lemongrass and kaffir lime leaves, subtle tanginess from tamarind pulp, and just the right amount of heat from dried chilies.
I might spark an online debate, but I will say it "Rendang curry, is the king of curries!! Being an Indian…I am taking huge chance with this statement. I might be banished from my community!
Creating the vegan version, I was confident to be able to achieve the creaminess. All I needed was coconut milk. But the dark brown color I was not sure about. In the traditional curry, color comes from browning the beef and then slow cooking it. And if you were to go by the recipes on various vegan blogs they were all yellowish brown…that didn't speak Rendang to me.
So, here I go in the kitchen to experiment. And I was surprised how easy it was to achieve the dark color.….I just had to cook the sauce for a longer period of time to get caramalization and BOOM…there I had it! The key is to use a heavy bottomed pot. I used a ceramic pot.
I scratch my head sometimes and wonder why vegan recipes online are either very hard i.e. un-realistic ingredients or look a bit un-inspiring. If you want someone to eat plant-based, then the recipes should be easy to make and delicious to look at. We all eat with our eyes first. Anyway that is my rant for the day….Let's get on with the recipe.
Serves 4
Spiciness level- Medium

INGREDIENTS RENDANG PASTE
2 and 1/2 Red onions
6 dried chilies (Soaked in hot water for 15 min)
3 stalks lemongrass (White part only, and you can substitute it with lemon rind 3-4 tbsp)
4-5 cloves peeled garlic
1 thumb peeled ginger
3 tbsp soy sauce
2 tbsp canola oil
1/4 cup water
INGREDIENTS FOR THE CURRY
500 gms washed baby potatoes (skin on)
1 Eggplant cubed and char-grilled
1 tsp cumin powder
1 tsp coriander powder
1/2 tsp cinnamon
1/4 tsp star anise powder (can replace it with Chinese all-spice)
1/4 tsp cardamon powder
3 tbsp molasses (can use maple syrup/sugar)
2 tsp tamarind pulp (can replace with 2 tbsp apple cider vinegar/vinegar)
1 can coconut milk
1/3 cup desiccated coconut
4-6 Kaffir lime leaves as finely chopped as possible. (can replace with 1-2 tbsp lime rind)
1/2 cup vegetable stock (can use water)
2 tbsp canola oil
METHOD
Add all the ingredients for the paste in a blender. (Drain the chilies before adding them)
Blend until its a smooth paste. Add more water if needed to get the blender going.
Heat up 2 tbsp oil in a heavy bottomed pot.
Add potatoes and cook for 6-7 minutes, just long enough to get a slight crisp and golden brown color on their skins,.
Take them out and keep aside.
Add the Rendang paste in the same pot, Cook for for 3-5 minutes on low-med heat, until it becomes a little darker. (Be careful as the fumes from chilies may make you cough, I almost died…just kidding)
Add all the remaining ingredients for the curry (hold off the potatoes and char-grilled eggplant) and mix well.
Taste and adjust seasoning if required.
Cover and cook for 35-40 min on low heat. Open the lid couple of times during cooking and stir/scrape the sauce that might have stuck to the pot. Don't worry this will give the sauce it's color.
Once the time is up add potatoes and stir until they are well coated. Add a splash of water if the gravy is too thick.
Cover and simmer on low heat until the potatoes are cooked. Depending on the size of the potatoes it may take between 30-35 min.
Open the lid and mix in the char-grilled eggplant cubes.
Serve with Jasmine rice.
Note:
You can adjust the spiciness/heat by increasing of decreasing the amount of chillies.
If you can't find dried red chillies, use green chilies or red chilli powder.