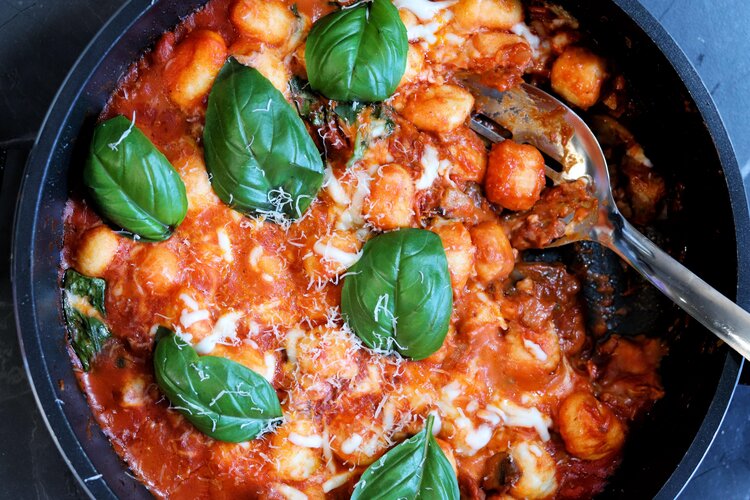 This easy to make family favorite cooked in rich tomato sauce, with plump gnocchi, creates a stunning meal. With a hint of fennel and infusion of red wine the flavors are exquisite. It is comfort food to the max because it is heart-warming, familiar, and delicious.
Nothing gives me more pleasure than to create fun, easy and delicious vegan food recipes, and share that with you. Well, actually there is one more thing that gives me more pleasure than that, it starts with "O" and ends with "M"…you can fill in the blanks.
Because as I am lazy, I love cooking one pot meals, that usually helps me think of creative ways to cook. My purpose is to educate people on how easy, and quick it is to whip up vegan meals which are truly mouth watering. When I start creating a dish my goal is to get the person looking/eating it to say "I can't believe it's vegan", followed by "That is so easy to make"
Creating meals that taste good should not equate to slaving away in the kitchen. Especially, with vegan food. There are many meat alternatives available to whip up a nutritious and heart-warming meal for the whole family in minutes and it won't break the bank.
If you can't find a good vegan mince and you are not a fan of TVP (textured vegetable protein) don't worry. As showcased in this recipe I used @unrealco Italian "beef" Burger. Break it up during the cooking process and it makes a beautiful mince. For best results I use @ipastai vegan gnocchi. It's probably the best vegan gnocchi in the Australian market (feel free to make some recommendations in the comments below, if you know another brand)
Also to transform an everyday run of the mill red sauce to exceptional quality use a splash of red wine. You will taste the difference. I used @smallthings as they were kind enough to send me some vegan wines to use in my cooking. Having that said that it's optional to use it.
Now, ladies and gentlemen fasten your seat belts and enjoy this recipe…and let me know in the comments what is the one thing you will do differently?

Cook time start to finish : 30 min approx.

Serves: 4

INGREDIENTS
2-3 tbsp olive oil
1/3 cup chopped fennel
3/4 cup chopped onions, carrots, celery (You can just use onions to make it quicker)
1 cup sliced/chopped mushrooms
2 garlic cloves chopped/crushed
500 gms fresh gnocchi
500 gms passata sauce
2 vegan burgers chopped up
1/4 cup red wine (optional)
1 tsp veggie stock powder
1 cup shredded vegan mozzarella (I use @buteislandfoods brand, its melts the best, let me know in the comments below if you have any recommendations)
3/4 cup of basil leaves
METHOD
Heat up oil in a deep non stick frying pan.
Add fennel, onion, celery, carrots, and garlic. Cook on low-medium heat until softened (3-4 min).
Add mushrooms and cook for 2-3 min.
Add vegan burgers and cook for approx 5 min. Break them with the back of the spoon and stir occasionally.
Add the passata sauce, stock powder, and basil leaves (leave few for serving), sprinkle 1/4 of the the vegan mozzarella, cover and cook for 3-4 min on low heat.
Open the lid, and stir in the gnocchi. Sprinkle the rest of the mozzarella on top, cover and cook for 4-5 min or until the cheese has melted.
Serve with a drizzle of extra virgin olive oil, basil leaves, and char-grilled fennel (optional)