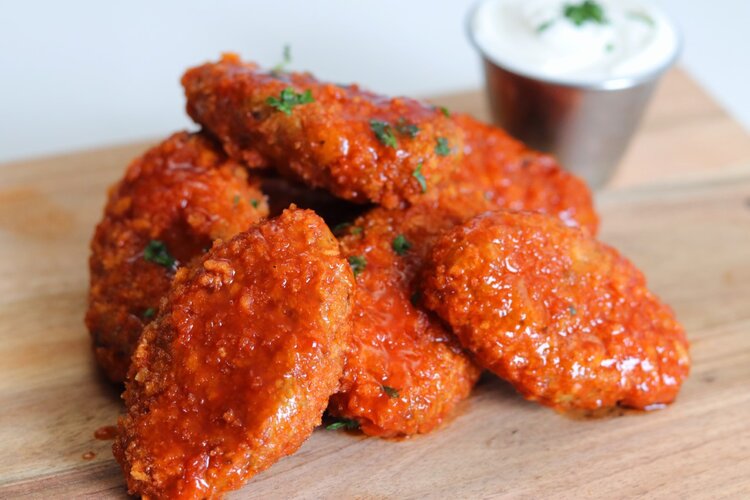 Makes 6-8 wings
INGREDIENTS
1 Can Jackfruit (Drained)
20gm dried mushrooms (easily available from any Asian grocery store)
- Soak them in boiling water for 10 minutes and squeeze out as mush water as possible before using.
1 cube chicken flavored stock (Massel brand is Vegan)
2 tbsp Nutritional yeast
6 tbsp Gluten flour
2 tsp oil
Salt to taste
FOR COATING
1 cup panko bread crumbs
1 cup Vegan butter milk
- 1 cup soy milk + 1 tbsp Apple cider vinegar, mix and leave aside for 10 min
HOT SAUCE
130 ml Frank's hot sauce (can replace with vegan Sriracha sauce) + 1 tbsp maple syrup, mix well and keep aside.
METHOD
Pre-heat the oven to 180C/350F.
Heat up the oil in a non-stick frying pan
Add jackfruit and mushrooms and cook for 4-5 minutes on medium heat to get rid of excess moisture. Break the jackfruit chunks with the back of the wooden spoon during cooking. Taste and adjust salt if needed.
Stir in the nutritional yeast and chicken stock cube (crush it before adding), and cook for about a minute.
Keep the mixture aside and let it cool for few minutes.
Once cooled, add the mixture and gluten flour into a food processor and blend until it becomes a dough. There shouldn't be any lumps and it should be easy to mould.
Make 6-8 wings like shapes and steam them for 10 minutes (I use a Bamboo steamer)
Let the wings cool down for few minutes. Dip into buttermilk, and then roll them in breadcrumbs.
Press gently to make sure the breadcrumbs stick
Line a baking tray with Aluminum foil and some spray oil, place the wings on top and bake for 20-25 minutes, or until you see a tinge of golden*
Toss the wings into the hot sauce until coated well, serve hot with vegan ranch sauce (recipe coming soon)
*I turn the wings over after 15 minutes to get even crunch on all sides, but it's optional.