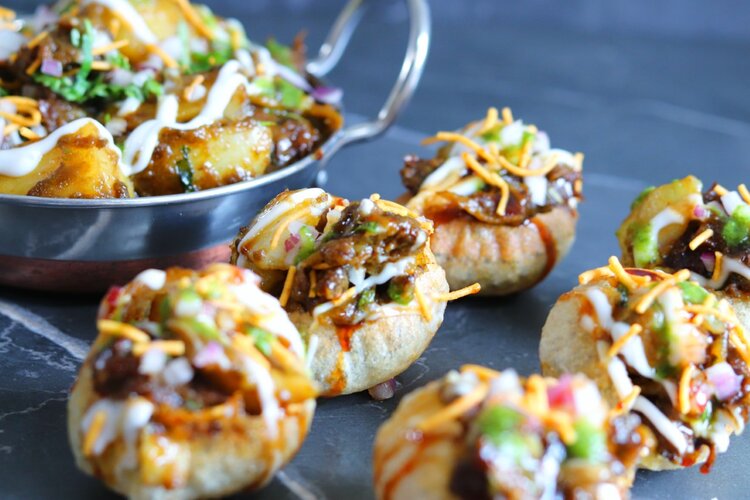 Mexicans have taco shells and we Indians have Gol-Gappa/Pani-Puri shells. In north of India they call it Gol Gappa, and the rest of India it's Pani Puri.

Traditionally, these shells are filled with tamarind chutney, yoghurt, boiled potatoes, chickpeas, and spicy mint chutney. Pani Puris' are strictly a street food and I mean strictly. The only way to enjoy them is by the roadside along with your friends and family. You stand in a semi circle and the vendor distributes them at a breakneck speed, and the key is to fit them in your mouth in one go. Else, your plate starts to pile up, and that's not a good look.

It's like a little competition between the road side vendor and you to see who wins....his serving speed, or your eating speed. This is the one time you will wish that you had a big mouth.

In this recipe, instead of using the traditional fillings, I made a curry using mint chutney, date syrup, cumin and coconut yogurt. I call them Indian Tacos with my fun twist. The delicious curry filling is sweet, spicy, and succulent. Simmered slowly in coconut yoghurt, and mint + coriander chutney it's bursting with heart-warming flavours. Served in Pani-Puri shells, once you pop one in your mouth…you won't stop!
INGREDIENTS
1 packet Fable Food plant-beef*
2 small potatoes, boiled and cubed (can leave the skin on)
1 cup chopped onion
2 tsp ginger-garlic paste
½cup coconut yoghurt
3 tbsp mint + coriander chutney (store bought from Indian grocery store)**
¼ cup date syrup
1 tsp cumin powder
1 tsp smoked/sweet paprika
Juice of ½ lemon
Salt to taste
2tbsp oil
METHOD
Heat up oil in a large and deep non-stick frying pan, on medium heat.
Add onions and cook until golden brown.
Add ginger-garlic and cook for 1 minute.
Throw in all the spices and cook for 30 sec to a minute.
Stir in the coconut yogurt, mint + coriander chutney, and date syrup. Add a splash of water and simmer (bubbling gently) for few minutes (3-5min), until you see the oil coming up to the edges. Stir occasionally.
Toss in the Fable plant-based beef and potatoes, add another splash of water, salt, and simmer for another 5-7 minutes or until everything is heated through and coated well in sauce.
Stuff the curry in Gol Gappa/Pani Puri shells (available in Indian grocery store) or you can put it in actual taco shells.
Enjoy.

*Can use mushrooms if not a fan of mock-meat

**Use more or less chutney depending on your spice tolerance. this recipe caters to the medium palette.

**I did some research and most of the ingredients are also available in Woolworths and can be ordered online. I have put a hyperlink in blue. Click on the item and it will take you to the web page.