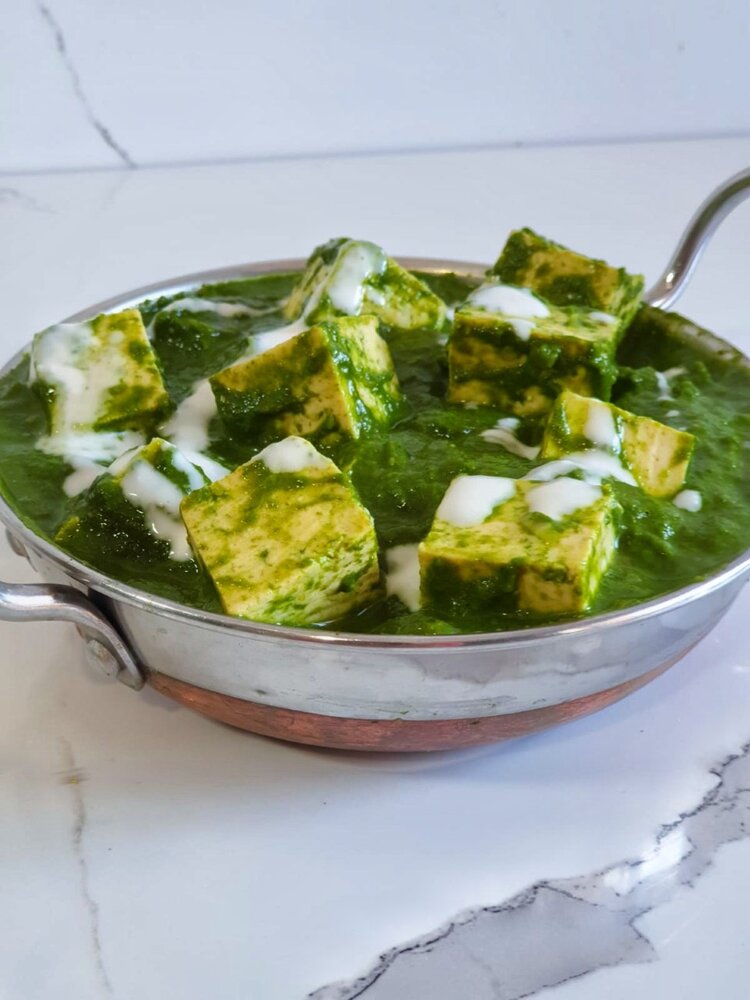 This is possibly the most delicious and easiest recipe you will ever make for Palak Paneer, and yes it's vegan.
INGREDIENTS
500gms Spinach*
1 tbsp garam masala
1 tsp coriander powder
1/2 tsp red chilli powder (more/less as per preference)
1 tsp salt
325 gms Firm Tofu diced
1 onion finely diced (approximately 125 gms)
1 tbsp ginger and garlic (paste/finely chopped)
3/4 cup soy milk
80 gms vegan cream cheese
1 tbsp almond meal (This is optional to give extra creaminess)
2 tbsp canola oil
Spare water if needed.
METHOD
Add the spinach, all the spices, and salt in a blender. (Add a little water if needed to blend)
Blend until smooth. Keep aside.
Heat up the oil in a large and deep non-stick frying pan, on medium heat.
Add the onions and fry until golden brown (3-5 min)
Add ginger and garlic and cook for another 1 minute on low heat.
Mix in the spinach, and soy milk.
Cook for 4-5 minutes on low heat with lid closed.
Add vegan cream cheese, almond meal, and tofu and mix well.
Cook for 4-5 minutes on low heat or until the Tofu is heated through and spinach is cooked. Taste and adjust salt. If the sauce is too thick, add a touch more milk.
Serve hot with vegan naan/bread.
*The easiest and cheapest way: Frozen chopped spinach leaves. Thaw them and blend them.

*You can also use fresh English spinach leaves or baby spinach leaves. If using fresh English/baby spinach, blanch them, cool them and then blend them with a splash of water.