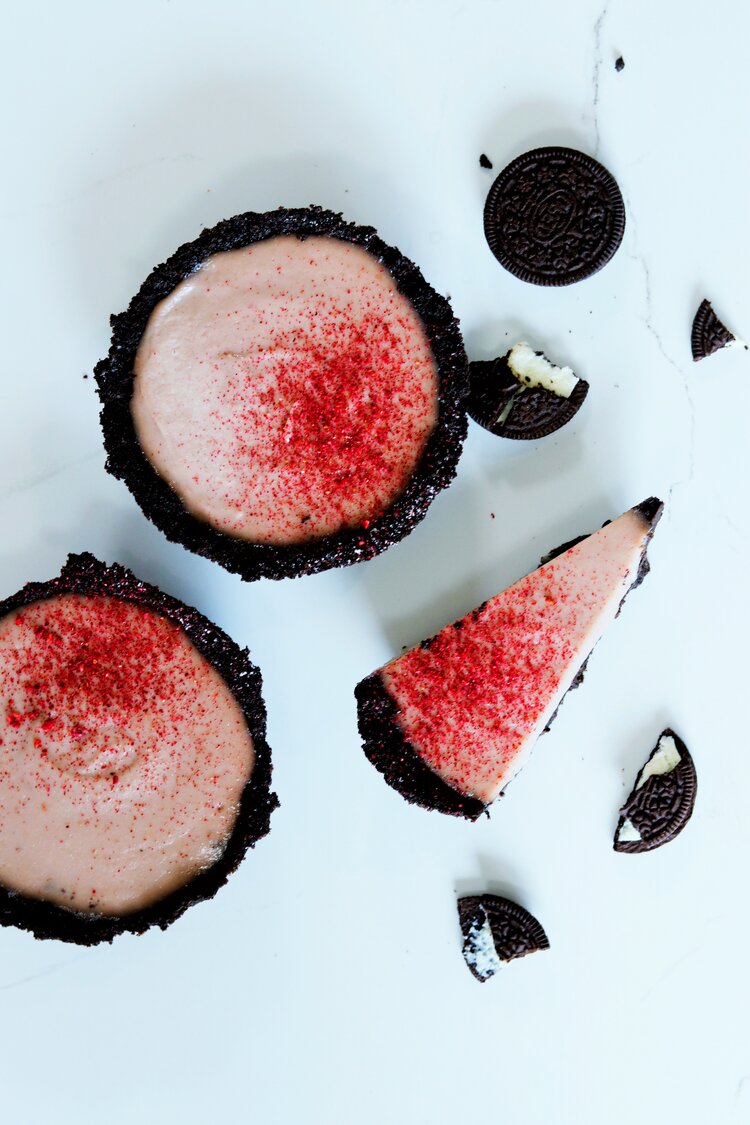 INGREDIENTS
CRUST
34 Oreo cookies
5 tbsp vegan butter/coconut oil (melted)
FILLING
1 cup cashews (soaked over night)*
1/4 cup plant milk (I used soy)
1/3 cup raw coconut oil (melted), and a little extra for brushing the pie tins.
3 tbsp cacao-butter (melted)
1/2 tbsp Apple cider vinegar (can use lemon juice)
1 tbsp vanilla extract
1/2 cup maple syrup (can use rice syrup/agave)
5 fresh strawberries
2 pinches salt
METHOD
Add Oreos to a food processor and blitz until they are coarse sand consistency (No lumps)
Transfer to bowl, add in the vegan butter and mix well. Pinch with your fingers to see the mixture sticks together, if needed add more vegan butter.
Brush 4 pie-tins with some coconut oil. Tightly pack equal quantity of mixture in each tin. Flatten evenly by firmly pressing with your fingers or a flat glass. Push the crust up the sides so it can hold the filling.
Put it in the fridge 30-45 min.
In the meantime, add all the rest of ingredients in a blender and blend until silky smooth. This will be the filling. Taste and adjust sweetness if needed.
Take the crusted tins out of the freezer and fill each of them with equal amount of filling.
Gently tap it few times to even out the filling.
Leave them in the freezer for about 4-6 hours. Enjoy.
*Pat the cashews dry with a tea towel before using. If short on time soak the cashews in boiling water for 1 hour.
**Leave the cheesecakes out for 10-15 min before serving to soften the filling.
***Personally I put it in the freezer overnight and it eat it straight out of the freezer. It feels like cheesecake ice-cream. (Just a personal quirk)