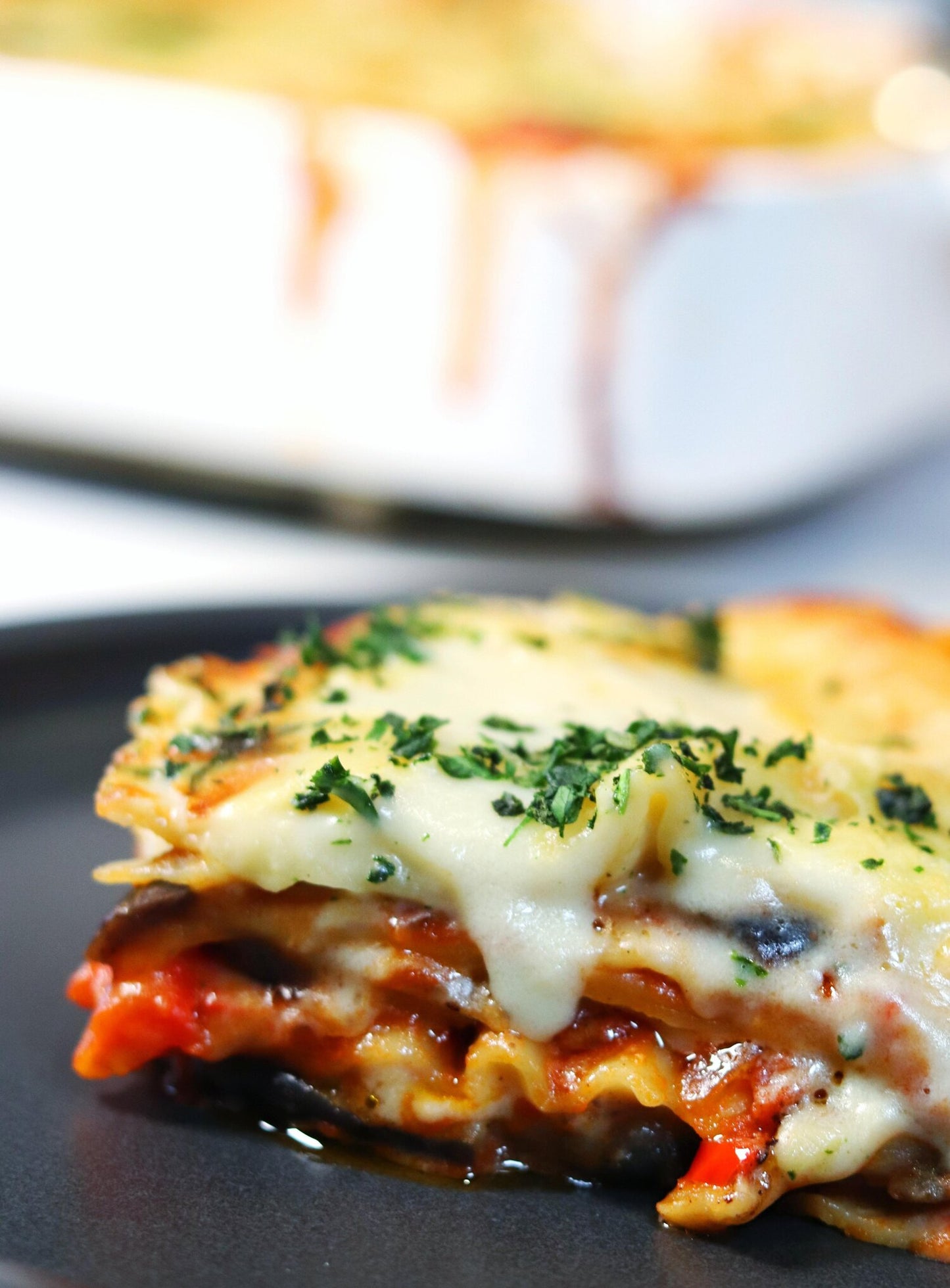 Every story has beginning and so does the story of this Lasagna. I have never attempted to make lasagna until I turned vegan. I know right…WTF. My girlfriend and I turned vegan at the same time. She is Italian by heritage, and every time I used to go to her parents house I would cook Italian. As a non-vegan there were many options to cook for them. Once we turned vegan the options became a little limited, as I was still learning what can I/can't I cook. One day I found "Naturli" vegan mince and I thought of making Lasagna for my "in-laws". I knew that if I could impress them with Lasagna, they will be at peace knowing their daughter is well fed and is not going to die of eating lettuce and chickpeas.
I think the biggest fear of parent/families once their kids turn vegan is that they will be malnourished, die of protein deficiency, or will because depressed because they will miss meat. Fair enough too. As people we try to project our beliefs and experiences onto others. If someone came to me asking for advise on Bungee jumping, I will say don't do it, it's scary, it's too high…Because I was afraid to do it. My truth is not necessarily your truth. Our experiences become our beliefs and we paint everyone else with broad brush strokes. And funnily enough, most of the time we are coming from a good place too.

Coming back to the Lasagna. This eggplant lasagna is everything a lasagna should be. Indulgent, rustic, heart-warming and delicious. The char-grilled eggplants offer richness and creaminess. The mushrooms give it a meaty bite. The cheesy and silky smooth Bechamel sauce tucked in between each layer leaves you licking your lips and plate.
Lasagna making is a time consuming and daunting process, but once you get the hang of it and have your processes right it is pretty straight forward. You can always make a huge batch and it freeze it too.

Oh and why is it called "Nonna-Approved"? My girl-friend's mother (a born Italian) was so impressed with this Lasagna, she went for seconds and thirds. Since she is also a grandmother (Nonna in Italian), I called it "Nonna-approved lasagna". In this particular recipe I have replaced the "Naturli" vegan mince with eggplants, and made few other minor tweaks. I will put up the OG recipe some other time.
Tip- Cut up the portions in the baking tray before freezing it. This way you only heat up as many portions as you need instead of re-heating the whole tray.

Now lets get cooking.

Serves-6

INGREDIENTS
2 cans chopped tomatoes (800 gms)
¼ cup finely chopped onion
1 cup finely chopped capsicum
1½ Eggplant (½cm thick rounds)
2 cups mushrooms sliced
2 cloves garlic finely chopped.
¼ cup vegan red wine
2 tsp veggie stock powder/3 veggie
3 tbsp olive oil
½ cup water
Lasagna sheets
Dry herbs and spices
½ tsp Oregano
½ tsp Thyme
½ tsp Rosemary
stock cubes
Salt and pepper to taste
BECHAMEL SAUCE
1.1 litre soy milk
1 tsp veggie stock powder/2 veggie stock cube
½onion
2 cloves
2 bay leaves
Pinch of nutmeg
⅓cup all-purpose flour
¼ cup vegan butter
½ cup Green vie dairy free Parmesan
METHOD
In a pot add milk and all the ingredients for infusing it.
Bring it to boil on medium heat. Keep an eye, it can boil over. Once boiled scoop out all the bits i.e. onions, bay leaves etc. Keep the milk aside.
Heat up vegan butter in a large non-stick pot.
Add flour and whisk it continuously to avoid burning. Cook it for 1-2 min on low heat. It should not change the color too much.
Slowly add about a cup of infused milk while constantly whisking to avoid any lumps.
Slowly add the remaining milk while continuously whisking.
Cook for about low-med heat for 7-9 min while whisking frequently and scraping the sides and bottom with spatula as the sauce can stick at the bottom.
If the sauce coats the back of the wooden spoon, that is just right. If not cook a little longer
Turn the heat down to low, add the vegan cheese and whisk vigorously to avoid any lumps. The sauce should be silky smooth.
Keep aside.
METHOD FOR THE LASAGNA
Heat up the oil in a heavy bottom pan on low heat.
Cook onions and capsicum, while stirring occasionally on low heat for 4-5 minutes.
Add garlic and mushrooms and sweat for 3-4 minutes on medium heat. Stir occasionally.
Mix in all the dry herbs and dry spices. Cook for 30 sec-1 min (stir constantly)
Add wine and cook it off for 30 seconds.
Add tomatoes,veggie stock,water, cover & bring it to boil on high heat.
Turn down the heat to simmer, cover and cook for 20-25 min. Taste & adjust seasoning. Keep aside.
In the meantime, season the Eggplant slices with salt and pepper, and char-grill for 2-3 min on each side (use spray oil). Keep aside.
Spray oil 20cm×20cm×5cm deep baking tray.
Cover the base of the tray with lasagna sheets.
Add a thick layer of cooked tomato sauce, and then a layer of char-grilled eggplants. Spread a ladle or so of Bechamel sauce on top.
Repeat the above step 2 more times.
Top it with a layer of Lasagna sheets and spread the remaining Bechamel sauce.
Cover loosely with aluminum foil and Cook for 50 min on 180⁰c/350⁰F.
When the time is up, take the foil off and increase the heat to 200⁰c/390⁰F and cook for another 5-10 min until the top is golden brown.
Serve hot.
Tips
If there is leftover red sauce freeze it and/or use it for another pasta dish.
If there left-over Bechamel sauce freeze it and can use it to make an Alfredo type sauce.
Sprinkle vegan cheese in between each layer and on the top, to make it more indulgent.
If can't find vegan Parmesan, use any vegan cheese. (may need to adjust quantities)