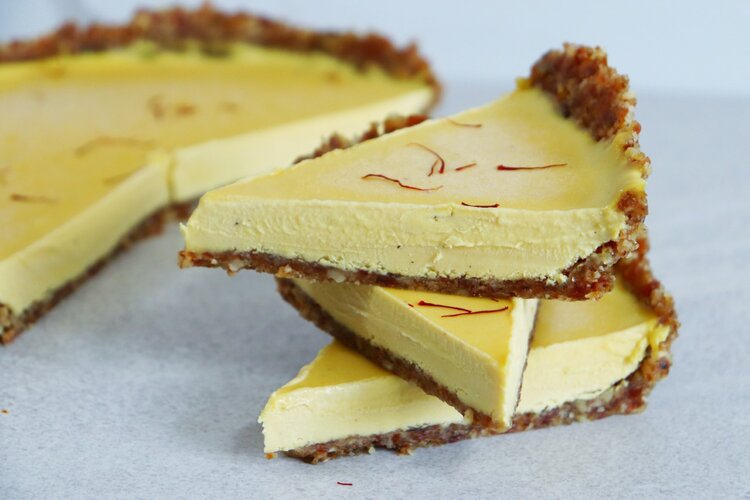 INGREDIENTS
1 and 1/2 cup raw unsalted cashews (soaked overnight and drained)*
1 and 1/2 cup Walnuts
1 cup pitted dates (tightly packed - approx. 12-14)
1/4 cup plant milk (I use soy)
1/3 cup liquified raw coconut oil (heat it up in microwave for few seconds to liquefy)
2 tbsp lemon juice
1/2 cup maple syrup (can use rice syrup/agave)
1 pinch Saffron strands
3 tsp Rosewater
1 pinch salt
METHOD
Soak the saffron strands in 1 tbsp of water and keep aside for 5 minutes.
Blend dates and walnuts in a food processor until it becomes sandy mixture.
Pinch the mixture between your fingers, it should stick. If it's too dry add more dates, if too wet add more nuts, and blitz it few more times.
Line a cake tin/baking dish with baking paper, add the mixture, distribute and flatten it evenly by pressing with your fingers/spatula. Push some crust up the sides so it can hold the filling. Make sure it's packed tightly.
Put it in the freezer for 30 minutes.
In the meantime, add all the rest of ingredients including saffron, in a blender and blend it until silky smooth. This will be the filling.
Taste and adjust sweetness if required.
Take the crust out of the freezer and pour in the filling. Gently tap it few times to even out the filling.
For best results put it in the fridge overnight. Or put it in the freezer for about 4-6 hours for quicker results.
*Pat the cashews dry with a tea towel before using.

**If freezing the cheesecake, leave it for few minutes before serving.

***Personally I like it to eat it from frozen. It feels like cheesecake ice-cream.

****I used 22cm baking dish. You can also use bread tin if wanting to make it rectangular.