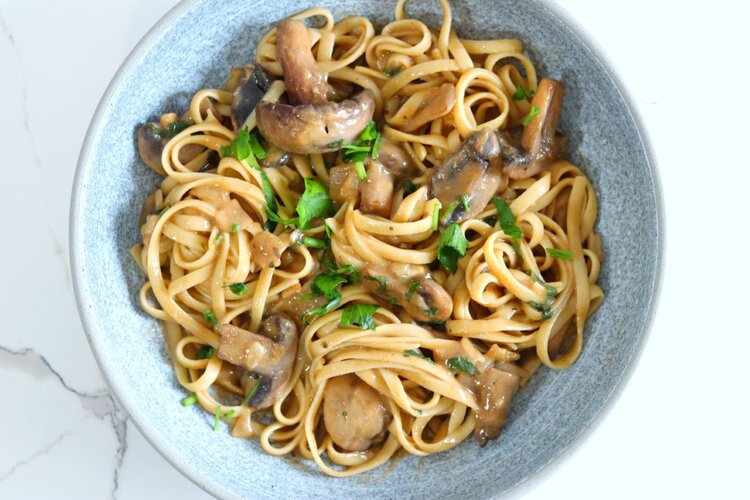 Rich and creamy mushroom gravy. This incredibly easy recipe is delicious and fun to make.
INGREDIENTS
400g Button mushrooms (halved)
250g Pasta of your choice (boil, drain, and keep aside)
5 tbsp vegan butter (portioned in 2 equal halves)
1 cup onion finely chopped
2 cloves garlic finely chopped
2 tsp Dijon mustard
2 tbsp flour
1 tsp smoked/sweet paprika
⅓cup vegan white wine
¾ cup (175g) coconut yoghurt
1 tbsp nutritional yeast
1 tbsp apple cider vinegar (ACV)
2 cups liquid veggie stock
½cup chopped parsley
METHOD
Mix coconut yoghurt with Apple cider vinegar and keep aside.
METHOD
In a large and deep frying pan, heat up one half of vegan butter, and Sautee the onion and garlic, until golden brown.
Add the mushrooms cook on high heat for 5-6 min with the remaining butter. Let them caramelize/brown a little. Stir them occasionally.
Add white wine and cook for 30sec.
Turn the heat down, add the flour and cook for 1 min. stir occasionally.
Add 1/4cup of stock and mix/whisk well. It should look like a silky smooth paste with no lumps.
Slowly add the remaining stock while stirring continuously. Bring to boil.
Turn the heat to simmer. Add coconut yoghurt, paprika, mustard, and nutritional yeast, and mix well.
Cook for 4-6 minutes on medium heat or until the sauce is heated through and comes to a gentle boil.
Stir through the fresh parsley and cooked pasta. Make sure it coats the pasta well
Serve hot.
*If you find the sauce too thin, add a tiny bit more flour and mix well.

**To make it more traditional, use vegan sour cream instead of coconut yoghurt and ACV. Nutritional yeast will be optional in that recipe.