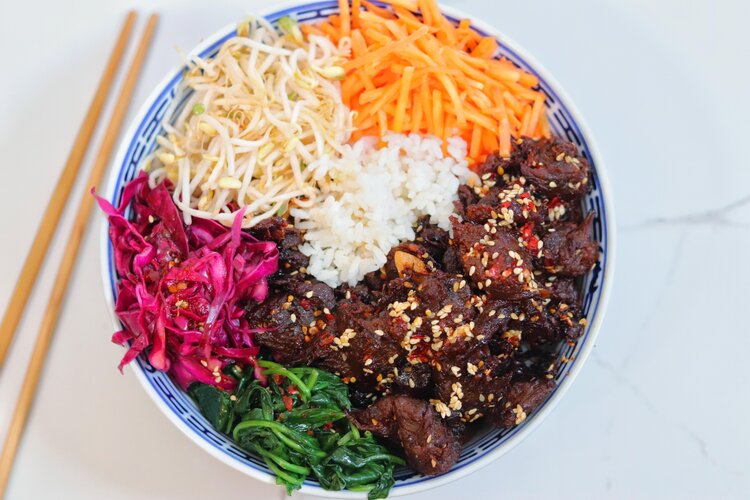 I was walking through the plant-based meat section of my local supermarket when 'it' caught my eye. Wrapped in a sexy black cardboard box, with a cut out window like piercing eyes, and bold calligraphy emblazoned on it like a loud but classy tattoo. I felt drawn towards it. Every part of my existence wanted it…yes this is how I felt when I first laid my eyes on FABLE "Plant based braised beef".
Sorry, if you thought I was trying to re-write 50 shades of gray.
Before I go on to the recipe I created with this beautiful thing, I feel the need to write a review and explain how good this products is.
When you open the packaging you see rustic brown pieces with specks of fat on them (from coconut oil). I tasted one of them raw to understand the taste…it was very earthy, the texture a bit chewy. To put it bluntly it was dry….my heart sank. I whispered to myself "That's OK, I only wasted $8".
But boy, how wrong was I.
This thing transforms magically into succulent, meaty and very beefy meal. Remember the fable "The frog prince"? All it needs is a kiss of heat and some seasoning/sauce…I was blown away and I am sure you will be too. The best $8 I ever spent.
Rating: Out of 5 carrots
Packaging: 4
I kept asking myself "Why would they use black packaging for food"….the answer I kept getting was "Dude it looks beautiful and mystic..like a fable"
Price: 3.5
$8AUD for 250g. Not a very family friendly price, but it's a great step in the right direction. Comparing it to Beyond Meat, Moving Mountains, and even Coles brand "Herb and Sons" , it felt relatively economical. (I bough it in Melbourne, check you local stores for pricing)
Taste and texture: 5
This is where Fable shines and shows why it is fabulous. Once cooked, it tastes like beef and the texture is almost perfect. You will have to keep reminding yourself that it is made out of Shiitake mushrooms and soy protein.
Cooking: 4
I created a "stir-fry" kind of dish, and it was brilliant. It holds it's shape and cooks like you would hope it to.
I have given it 4 carrots because I haven't tried it yet in curries and pasta sauces. How it performs then, remains to be seen.
Overall: 4
Comments: It's and incredible product. A win for vegans/plant-based eaters in Australia (and hopefully around the world soon). This product fills the gaping hole in the plant-based "beef" market. It's high quality and eating it does not feel like eating processed mock-meat. Price may not be suitable for some families, but I think it sits well against the competition. All in all, well done Fable Food Co.
On to the recipe.
I have been wanting to create a vegan Korean BBQ bowl. I was going to do it with Tempeh, but "Fable" plant based braised beef was godsend. It worked out like a charm. Having said that, if you can't get your hands on to it, try this recipe with whole Button Mushrooms/Tofu. The Korean BBQ sauce is absolutely delicious. It's a perfect balance of sweet, tangy, and spice….to die for.
For the Korean BBQ sauce you will have to gather few ingredients, but apart from that the recipe is foolproof. If you want, you can make the sauce in bulk, store it in the fridge and use as required with other Asian style stir fries. I am not sure how long it will last, but if you do experiment with it, let me know in the comments.
Your feedback is very important, it helps me create better recipes for you. So don't be shy to leave some.
If you make this recipe do post a pic on Instagram (if you have an Instagram account) and tag me @tullyzkitchen
Enjoy.
SERVES: 2

INGREDIENTS
250g fable plant based braised beef (Can use whole button mushrooms/cubed tofu)
1 Tbsp canola oil
2 cloves garlic finely sliced/chopped
1 tsp ginger finely sliced/chopped
2 cups cooked short grain/sushi rice (this is for serving later)
INGREDIENTS FOR KOREAN BBQ SAUCE:
3 and 1/2 tbsp soy sauce (Tamari for Gluten free version)
2 and 1/2 tbsp Mirin Japanese rice wine. (If not available, use any white wine mixed in with 1/2 tsp of white sugar)
1 and 1/2 Tbsp red chilli paste (Can use Sambal paste)
1 tbsp sesame oil
2 tbsp rice wine vinegar (can use apple cider vinegar)
1 tbsp toasted white sesame seeds
METHOD:
Add all the ingredients for the sauce in a medium bowl and whisk with a fork until mixed well.
PICKLED VEGETABLES
1 cup julienne carrots
1 cup thinly sliced purple cabbage (or any cabbage)
1 cup bean shoots
3 cups baby spinach
METHOD:
Marinate each vegetable separately (except spinach) in 2 tsp apple cider vinegar, 1 tsp caster sugar/maple syrup, and a pinch of salt. Mix well and leave them in the fridge for an hour
Wilt the spinach in hot pan with few drops of sesame oil and keep aside.
Tips:
Pickled vegetables are optional. However for a "Korean Bowl" experience and visuals it will be great.
If you wish you can omit the vegetables and serve the dish with store bought Kimchi and fresh cucumbers.
MARINATING THE "FABLE BEEF" (or Mushrooms/Tofu)
Place "Fable Beef" in a bowl and pour 1/3 cup of the Korean BBQ sauce over the top.
Add ginger and garlic.
Mix everything using your hands until the "Fable Beef" is well coated.
Cover and leave it in the fridge for 30-40 min.
Keep the remaining Korean BBQ sauce for later.
COOKING THE FABLE BEEF
Heat up the oil in a non stick wok/non stick pan
When smoking hot, throw in the marinated "Fable Beef" and cook on high for 3-4 minutes.
ASSEMBLING THE BOWL
In a medium size serving bowl, place cooked rice in the center. Place picked vegetables and cooked "fable beef" on top.
Serve with remaining Korean BBQ sauce on the side.
Kimchi always goes well on the side with any Korean dish. (Optional)
P.S. I like to pour the BBQ sauce on top of everything before eating, but some people like to use it as dipping sauce with each bite. Your choice.