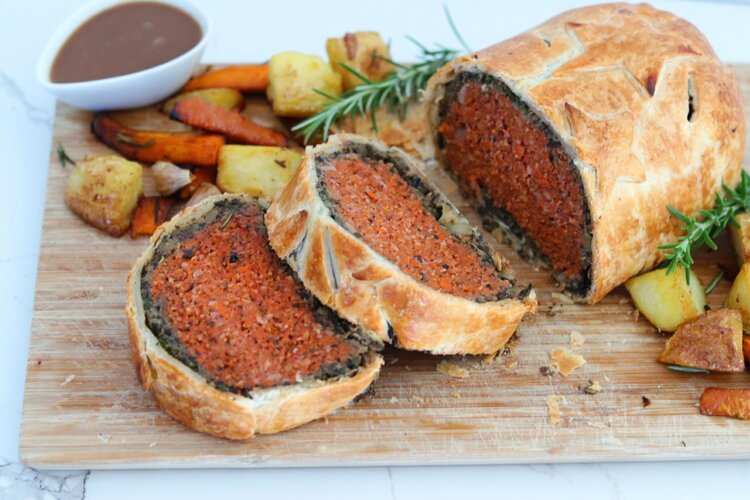 This delicious vegan "beef" wellington will turn heads on the dinner table. Even the meat eaters will ask for a piece and then the recipe. I call this dish "Jack Worthington", because I made the fillet using "jackfruit". Enjoy the recipe, and tag me on Instagram if you make it, so I can thank you properly.


JACK WORTHINGTON
INGREDIENTS
160 gms carrots (diced in 2 cms discs)
160 gms button mushrooms (whole)
160 gms onion (roughly diced in 3-4 cms cubes)
2 cans young jackfruit (drained)
2 tsp mustard powder
2 tsp onion powder
2 tsp paprika (smoked/sweet)
2 tbsp soy sauce
Spray Oil
METHOD
Preheat the oven on 180C/350F
Line a baking tray with aluminium foil and spray some oil. Place all the vegetables, sprinkle the spices on top and drizzle the soy sauce.
Bake for 30-35 minutes or until there is all the excess liquid is dried up. Keep aside and let them cool. Turn the heat up to 190C/375F, and leave the oven on, we will need it later.
Once the vegetables are cooled, blend using a food processor and keep aside.
REMAINING INGREDIENTS
METHOD
Blend all the above ingredients using a food processor.
Add in the blended vegetables, Mix well using hands or wooden spoon.*
Shape the mixture into a thick sausage, roll in cling wrap and leave it in the fridge for 30 min- 1 hour to firm up.
MUSHROOM DUXELLES
500 gms mushrooms
1 cup fresh parsley
3 tbsp rice crumbs/gluten free bread crumbs
1 1/2 tbsp dijon mustard
METHOD:
Put mushrooms, and parsley, in a food processor and blend until finely chopped.
Heat up a large and deep frying pan, and cook the mixture on high heat for 6-7 min.
Stir through the bread crumbs and mustard, and cook until there is no moisture.
Spread the mixture on a plate and let it cool.
Roll out a large piece of cling wrap and spread the mixture in an even thin layer.
Lay the fillet at the edge of the mushroom layer. Tightly, roll it over the fillet into a sausage shape. Twist the ends of the cling film so it holds tightly together. Refrigerate for 15-20 minutes.
ASSEMBLING:
340 gms puff pastry (approx. 2 sheets)
Plant milk to brush
Flour to dust
METHOD:
Dust a clean surface with some flour. Join the puff pastry sheets from edge to edge to form a rectangle and gently roll out couple of times. Make sure the crease where the edges are joined, is gone.
Unwrap the fillet from earlier and place it on the edge of the pastry. Roll the pastry around the fillet and seal the edges by pinching them.
COOKING:
Lightly brush the worthington with plant milk. Place it on a baking tray and bake for 45-55 minutes or until golden brown.
Serve with vegan gravy and veggies.