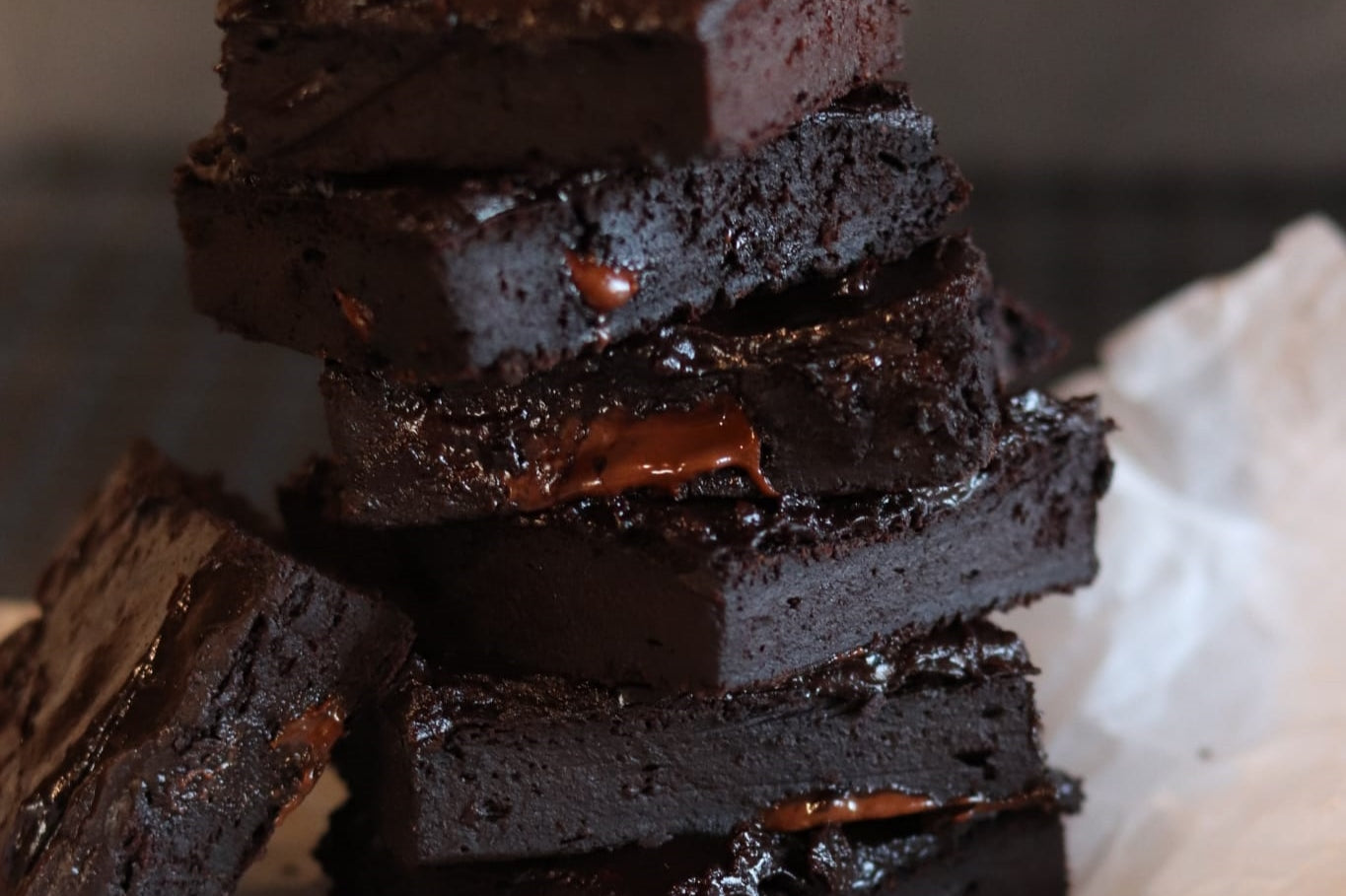 INGREDIENTS
3/4 cup spelt flour (can use all purpose flour)
2 tbsp vegan protein powder (I used coffee caramel flavour. Salted caramel, or vanilla will go well too)
1/2 cup coco powder
1 tsp baking soda
1/2 tsp salt
1/2 cup vegan dark chocolate chips/buttons
1 1/4 cup plant milk (I use soy milk)
1/2 ripe avocado
1/4 cup maple syrup
1/3 cup coconut sugar (can use normal caster sugar)*
1 cup vegan chocolate chips (melted) to spread on top of the brownies. (optional)
METHOD
Preheat the oven to 180F/350F.
Spray the bottom of the tray with some oil, and line a baking tray (I used 8x8 inch tray) with baking paper. Make sure the baking paper is hanging over the sides, it makes it easier to lift out the whole brownie tray when baked. Keep it aside.
Mix all the dry ingredients in a large bowl (except sugar)
Blend plant milk, avocado, maple syrup, and sugar until smooth.
Pour the blended mixture into the dry ingredients and mix well.
Fold the chocolate chips into the batter.
Pour the mixture in the pre-prepared baking tray. Spread it evenly using a spatula or the back of a wooden spoon.
Bake it for 15-20 min. Check after 15 minutes by piercing a knife or a skewer, if it comes out clean the brownies are ready.
Once the time is up, spread an even layer of meted vegan chocolate on top.
Let them cool for 10-15 min and then lift the whole tray of brownies out using the hanging baking paper. Let them cool completely before you cut them (it's easier and less messy). Place them on wire rack for faster cooling.
To cut the brownies into perfect squares, dip the knife in hot water each time and wipe any brownie bits with tea towel/paper towel after each cut.
*If you like the brownies to be sweeter taste the batter and add another 1/4 cup sugar or as per taste.
Fry until dark golden brown. Move them around using a slotted ladle/spider to get even color on all sides. (Fry on medium heat)