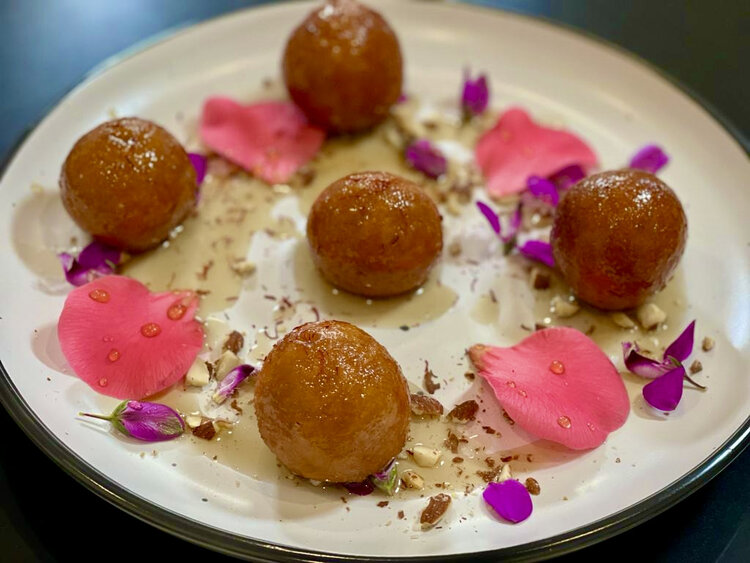 INGREDIENTS
1 cup self raising flour
4 Tbsp or you can use almond/cashew meal (finely ground Almonds/Cashews)
2 tbsp brown sugar
2 tbsp coconut flour
Pinch of salt
1 Tbsp Vegan Baby Formula or Vegan Skim Milk Powder (If you wish to make them without Baby Formula, check out another recipe of mine for Gulab Jamun. Click Here for recipe
2 tbsp coconut oil (melted)
2-3 tbsp water
Canola oil for deep frying (about a litre)
INGREDIENTS FOR SYRUP
2 cups sugar
1 cup water
Pinch of saffron strands
1 tsp rosewater
METHOD
Mix all the dry in ingredients in a large bowl.
Add in all the wet ingredients, mix well and form a dough (add water bit by bit)
The dough should be soft and pliable.
Roll into equal sized balls until the dough is finished (a little smaller than a golf ball)
Cover with a tea towel and leave aside for 10 minutes.
In the meantime prepare sugar syrup:
In medium sauce plan add water and sugar, and bring to boil.
Turn the heat to simmer and cook for 6-7 minutes.
Switch of the heat, and stir in the saffron strands, and rosewater and keep aside.
FRYING THE BALLS
Heat up the oil in a medium saucepan on medium flame.
Gently drop the balls into the oil (do not overcrowd, do it in batches)
Fry until dark golden brown. Move them around using a slotted ladle/spider to get even color on all sides. (Fry on medium heat)
Drop the fried balls into the warm syrup and let them soak for about 3 hours before serving.
Serve hot or cold.