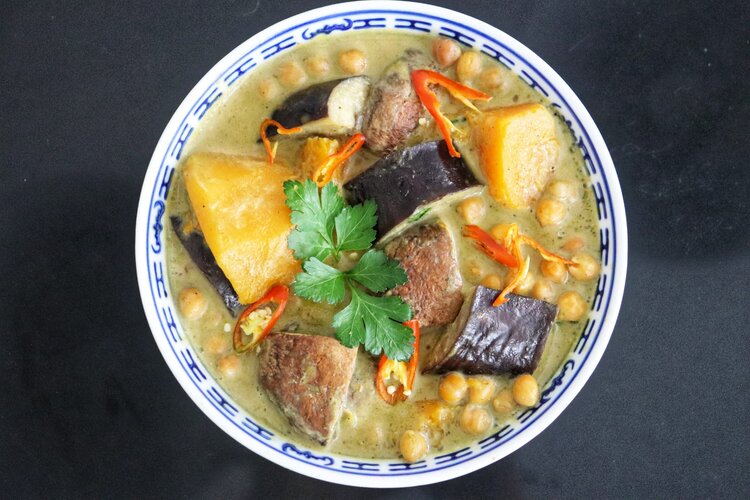 INGREDIENTS
1 Medium Onion
1/2 tbsp ginger and garlic paste
2 tsp Garam Masala
2 tsp coriander powder
1 tsp cumin powder
1/2 tsp cinnamon powder
1/2 cup loosely packed fresh coriander (stems and all)
2 sticks lemongrass (white part only and use the zest of lime if can't find lemongrass)
1/2 tsp vegan fish sauce (Optional)
1 tbsp Soy sauce
1tbsp brown sugar/2 tbsp maple syrup
2 tbsp vegetable oil
Rest of the ingredients
1 can coconut milk (400g)
1 cup veggie stock
1 tbsp lime/lemon juice
2-3 lime leaves
2 cans chickpeas (drained and washed)
150g Pumpkin about 3cm thick pieces (About 1½ cup)
150 button Mushrooms (Approx. 1½ cup)
100g eggplant 2-3 cm thick pieces (Approx. 1 heaped cup)
Method
Blend all the ingredients for the Green Curry Paste in a blender until smooth. Add a splash of water if you needed to get the blending going.
Heat the oil in a large and deep non-stick frying pan.
Add the paste and cook for 5-7min on med-high heat, or until you see oil separating.
Add pumpkin, chickpeas, veggie stock, coconut milk, lime leaves, lime juice, and sugar.
Cover, bring to boil on high heat and then simmer for 10 min on med-low heat.
Add mushrooms, and eggplants, cover and cook for further 5-6 min on med-low heat or until the pumpkin and eggplant are cooked.
Taste and adjust salt if required.
Serve hot with rice.