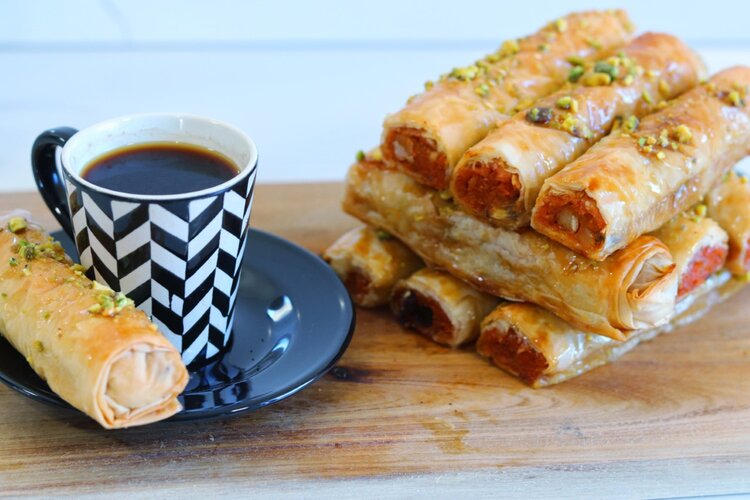 GAJAR HALWA FILLING (Carrot Pudding)
600gms grated carrots (use food processor or hand-held grater)
3 tbsp vegan butter/margarine*
4 cups plant-milk (I like using soy or Oatley oat milk)
½ cup raw sugar
1½ tsp cardamom powder (or finely grind 8-10 green cardamom pods)
½tsp cinnamon
2tbsp cashew meal (finely ground cashews)
3tbsp pistachio kernels
3 tbsp raw cashews
3 tbsp raisins/sultanas
1 pinch of saffron soaked in 1 tbsp of water
SYRUP
1 cup sugar
½ cup water
Few strands of saffron
2 tsp orange peel finely chopped/grated (optional)
Add sugar and water in a small pot and bring to boil. Add the remaining ingredients and simmer until the syrup coats the back of spoon. Keep it aside.
INGREDIENTS FOR ROLLING BAKLAVAS
3 Vegan Filo pasty sheets, thawed (Mine were 18"x10"inches i.e. 46cms x 26cms in size )
Vegetable/light olive oil
METHOD (Filling)
Heat up 2 tbsp vegan butter in a deep and wide heavy bottomed pan.
Add carrots, milk, sugar, and spices.
Bring to boil on medium heat with no lid.
Mix in the remaining vegan butter, turn the heat to simmer and cook until the milk evaporates completely and you are left with a gooey mixture. Stir occasionally during this process to avoid burning, and the milk to boil over.
Add nuts, sultanas, and saffron (along with the water it was soaked in) and mix well.
Transfer it into a container, cover and keep it in the fridge for 2 hours before using. (If you have time keep it in the fridge overnight)
THE BAKLAVA CIGARS
Pre-heat the oven to 180 Deg C/355 Deg F
Wet two tea towels and wring them until you have squeezed out most of the water.
Cut the filo pastry sheets in half along the widest edge. Cover them with one of the damp tea towels.**
Take out one piece of filo pastry and place it front of you. Lightly brush the whole sheet with oil.
Place about 2 to 3 tbsp of Gajar halwa mixture at the bottom of the sheet. Mould the filling into a long sausage using your hands. Leave 1 inch gap at the bottom and at the sides.
Fold the bottom gap over the filling and then fold in the sides. Roll the cigar tightly over the filling. Use a little oil to seal the edge. Place the rolled cigar in a plate/on a clean surface, and cover it with the second damp towel. Repeat the process with the remaining filo pastry sheets.
Tightly pack them next to each other in a lined and greased baking tray. Keep the seam side down. Using a knife cut the cigars into 2 pieces and brush them with some oil.
Bake them for 25-35 minutes or until golden brown. Check after 25 minutes, as each oven can be a little different.
Take them out and let them cool completely. Brush them with cold sugar syrup and drizzle any left-over extra goodness. You can garnish with some chopped nuts.
*Can use salted or unsalted vegan butter, they both with work just fine.

**You can fold the filo sheet in half and roll the cigar in a doubled-up sheet, it's makes rolling a little easier. In this instance you will need 6 filo pastry sheets