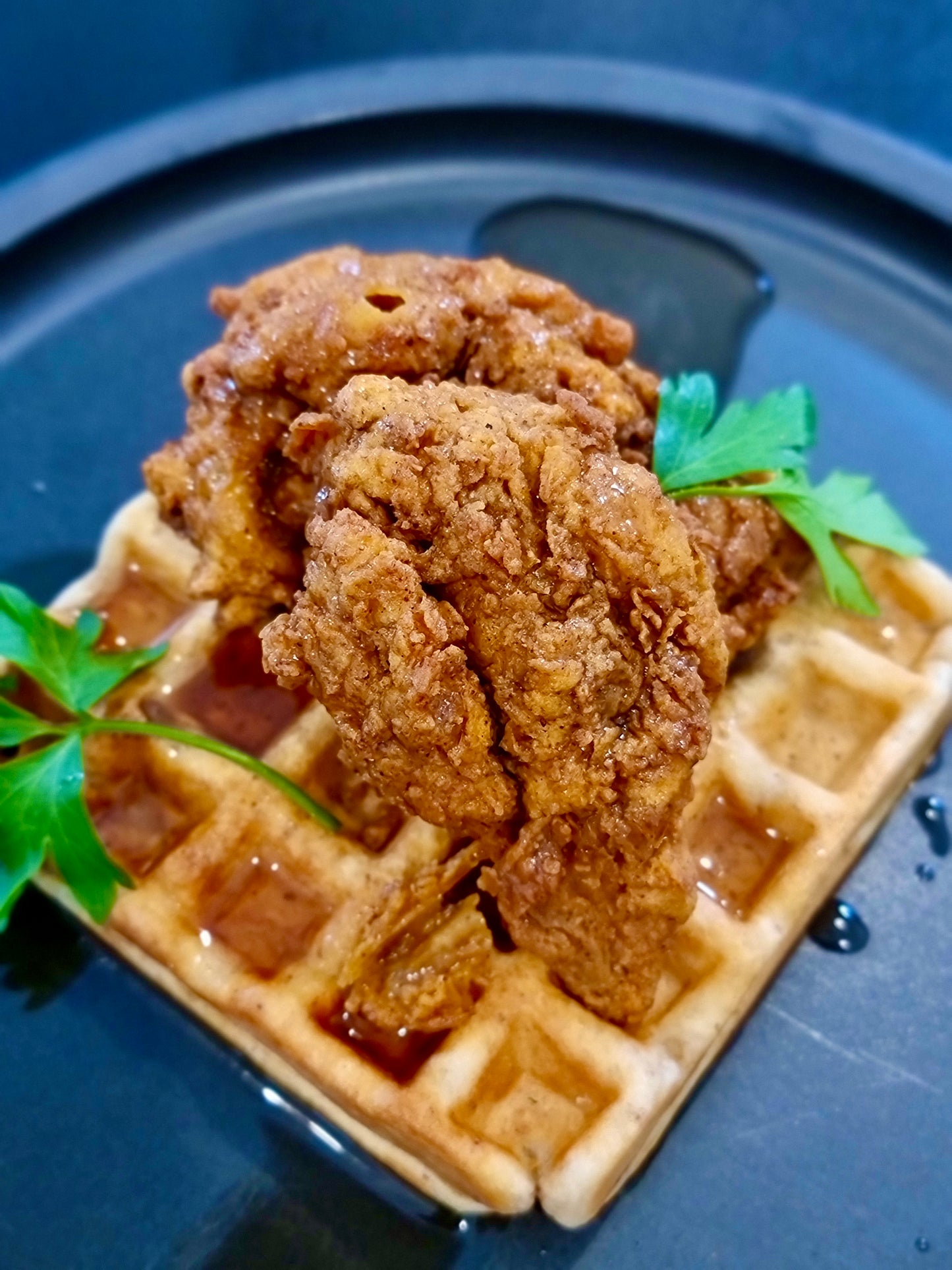 Waffles
Ingredients (will make approx. 3 large waffles)
200g (approximately 1.75cup) plain flour
250g/1 cup and 4 tbsp soy milk 
30g/3tbsp maple syrup
10g/2tsp baking powder
Mix all the above ingredients and  put the batter into a waffle maker. Cook until golden on the outside.
Fried Chicken
Butter Milk for dipping
200g/1 cup Soy Milk
30g/3tbsp apple cider vinegar
30g/3tbsp maple syrup
Mix all the above ingredients in a large bowl and keep aside.
Coating Mixture
200g/1.5 cup Plain Flour
20g/2tbsp Tully'z Premium Tandoori spice Blend
Pinch of salt
Mix all the above ingredients in a large flat tray and keep aside.
Other Ingredients
400g Oyster Mushrooms (Can replace with large portobello mushrooms)*
Oil for deep frying
Maple syrup
Method
Dip oyster mushrooms in butter milk and then one by one dredge them in the coating mixture until well covered. Press gently to make sure the flour sticks.
Leave flour covered mushrooms in fridge for 10 minutes. (you can skip this step if short on time)
Heat up the oil in a medium pot and deep fry the coated mushrooms on medium heat until crispy and golden brown. Increase the heat to high towards the last minute or 2 to get the extra crunch.**
Take them out and place them on paper towel.
*If using portobello mushrooms, tear them in half using hands in uneven shapes.
**Be careful not to over crowd the deep fryer with too many mushrooms. Fry about 3 Mushrooms at a time. And do not let them burn.
Serving Suggestion
Place the 2 pieces of fried chicken on each waffle and pour a generous drizzle of maple syrup. Serve hot.