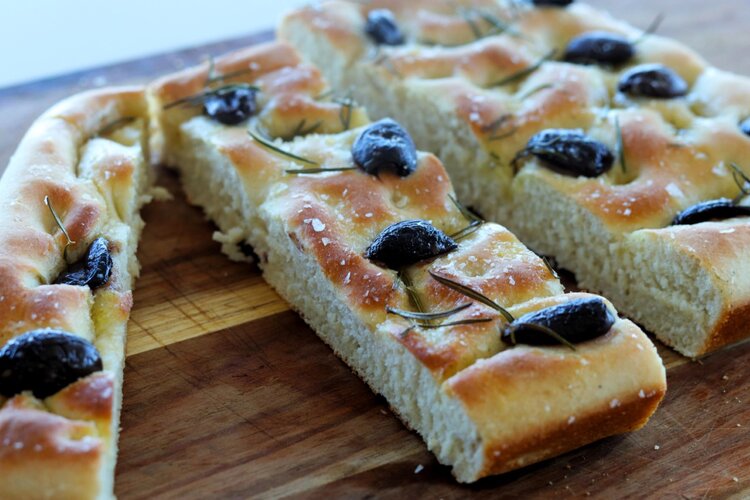 Let me say it straight up, I have never been a baker. I think it's a cultural thing. Growing up in India in the 80's, an oven was not a household thing. We had to cook everything on the stove, even the desserts. That's why you will see most of the Indian desserts are either fried or cooked in pots. Same with the breads, they are either toasted on the stove or fried.
Fast forward 23 years, I land in Australia and the place is full of pastries, baked desserts, and beautiful fluffy breads. Fast forward another 10 years, I meet an Italian girl with the most beautiful eyes, and the most beautiful Italian family. They introduced me to Focaccia, the fluffy bread with herbs…and I was in love, with the bread of course.
Fast forward to this day, my Instagram Audience has been asking me to make a focaccia recipe so I bit the bullet. Given my background of not much baking, I was bit nervous. And after about 4 attempts I think I nailed it, and proudly so. But you will be the judge, so please let me know in the comments what can I do better/differently.
I am not going to brag that mine is the best recipe ever, because there are literally thousands of recipes out there, and I am sure a lot of them are absolutely divine. However, I will say this: Mine is one of the easiest to make.
This no fuss-focaccia is soft and fluffy on the inside, and just the right amount of golden on the outside. With a classic topping of fresh rosemary, olives, and sea-salt flakes, your taste buds will sing Ave Maria.
If you know me, I don't want anyone to be overwhelmed by cooking. My motto is to make recipes that are fun, easy and delicious. The recipes online seem to make things more complicated than they need to be. Someone should really ask these recipe writers…why? And don't even get me started on Vegan recipes…getting to the moon would have been easier for the mankind.
Alrighty then, let's get on to the exciting stuff and enjoy the recipe.
Serves- 4

INGREDIENTS
1tsp instant dried yeast
3/4 cup warm water
1tsp castor sugar
2 cups All-purpose flour
1/2 tsp salt
Olive oil (for greasing the bowl and baking tin), can also use spay oil
TOPPING
1/4 cup pitted kalamata olives (halved)
1tsp Sea salt flakes
1 and 1/2 tbsp fresh rosemary leaves Or 1 tsp dried rosemary leaves
1 tbsp extra virgin olive oil
METHOD
In a small bowl, add warm water, yeast, sugar, and whisk with a fork. Make sure there are no lumps of yeast. Leave it aside for 10 minutes.
In a large bowl, mix flour and salt using hands/fork
Once the yeast and water mixture is ready, pour it into the flour mixture.
Mix using using your hands until it comes together. If too dry add few more drops of water.
Transfer the mixture onto a clean working surface, put your favourite music on, and knead it vigorously for 5 minutes. It should make you sweat, and no you can't skip gym for the day.
The dough should be soft and springy. Transfer it into a lightly oiled mixing bowl.
Cover with a tea towel and leave it in a warm place for at least 1 hour to rise.
After one hour the dough should have doubled in size, punch it back in. Don't worry it won't feel the pain or hit back
Place the dough in a lightly oiled square bread tin (18cmx18cm) or cake tin (20cm). Spread it evenly using the tips of your fingers while creating dimples all over.
Cover and leave it to rise again for another 20 min in a warm place.
Once the time is up, spread olives, rosemary leaves, and sea salt flakes on top.
Drizzle with 1 tbsp of olive oil, and bake it for 15 min in a pre-heated fan forced oven on 195C/380F. **
Let it cool for few minutes before serving.
Enjoy it warm.
** I tried the recipe at 200C/400F as well. It works just fine, just a little more crispy on top.

Tip: If you are in a colder climate or can't find a warm place in the house, put on a room heater, place the bowl few feet away from the heater and close the door.