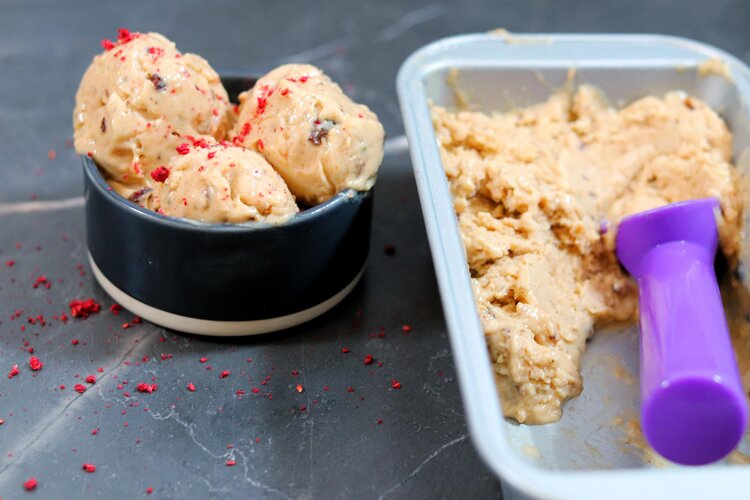 The inspiration for this ice-cream came from the classic flavor, "Rum and Raisin". Wanting to create something different but delicious, I asked myself what can I use?
The answer was staring at me, sauvignon blanc! However, I didn't want to just chuck in the wine and say I created a wine flavored ice-cream. I looked around. From the corner of my eye I spotted a box of soft and chewy granola cookies…and the light bulb went off!
I had made banana and peanut butter ice-cream before and it's always yummy. You can't go wrong with it. In simple terms it's just frozen bananas, peanut butter and a little plant milk. Churn it in the food processor and there you have it. A simple nice cream.
However, this "new" flavor I was about to create, plenty could go wrong. What if the ingredients don't get along with each other and the ice-cream doesn't freeze well? What if the wine ruins the flavor? Good for me and you, everything went as per plan!
This vegan ice-cream is smooth, rich, creamy and hits every spot an ice-cream should hit. The nuttiness from peanut butter, creaminess from bananas and coconut yogurt, and the added zing from wine. Make it as a special treat for a romantic night in, or enjoy it with the whole family. But I must say that it is PG rated.
Let me know what you think in the comments. And if you make it, please tag me on Instagram, so I can thank you and give you a shout out.
INGREDIENTS
2 granola cookies (chewy variety)*
1/3 cup vegan white wine (I used @smallthingswine Sauv Blanc)
3 frozen bananas
2 tbsp coconut yogurt
1/2 cup peanut butter (smooth/crunchy)
2 tbsp maple syrup/rice syrup
METHOD
In a bowl place cookies and let soak in white wine for 10 minutes, or until they become soggy and start to fall apart.
Add all of the ingredients, including cookies and the wine they were soaked in, in a food processor and blitz until the mixture is smooth.
You may have to scrap the edges few times during the blitzing.
Pour the mixture into a bread tin and cover it tightly with cling wrap.
Place it in the freezer for 4-6 hours or until set.
Enjoy in a vegan waffle cone or as it is.
*For the cookies I used Plantitude Granola cookies, from Woolworths (Australian)

**Frozen Bananas: Peel the bananas, wrap them in cling wrap, and chuck them in the freezer overnight.