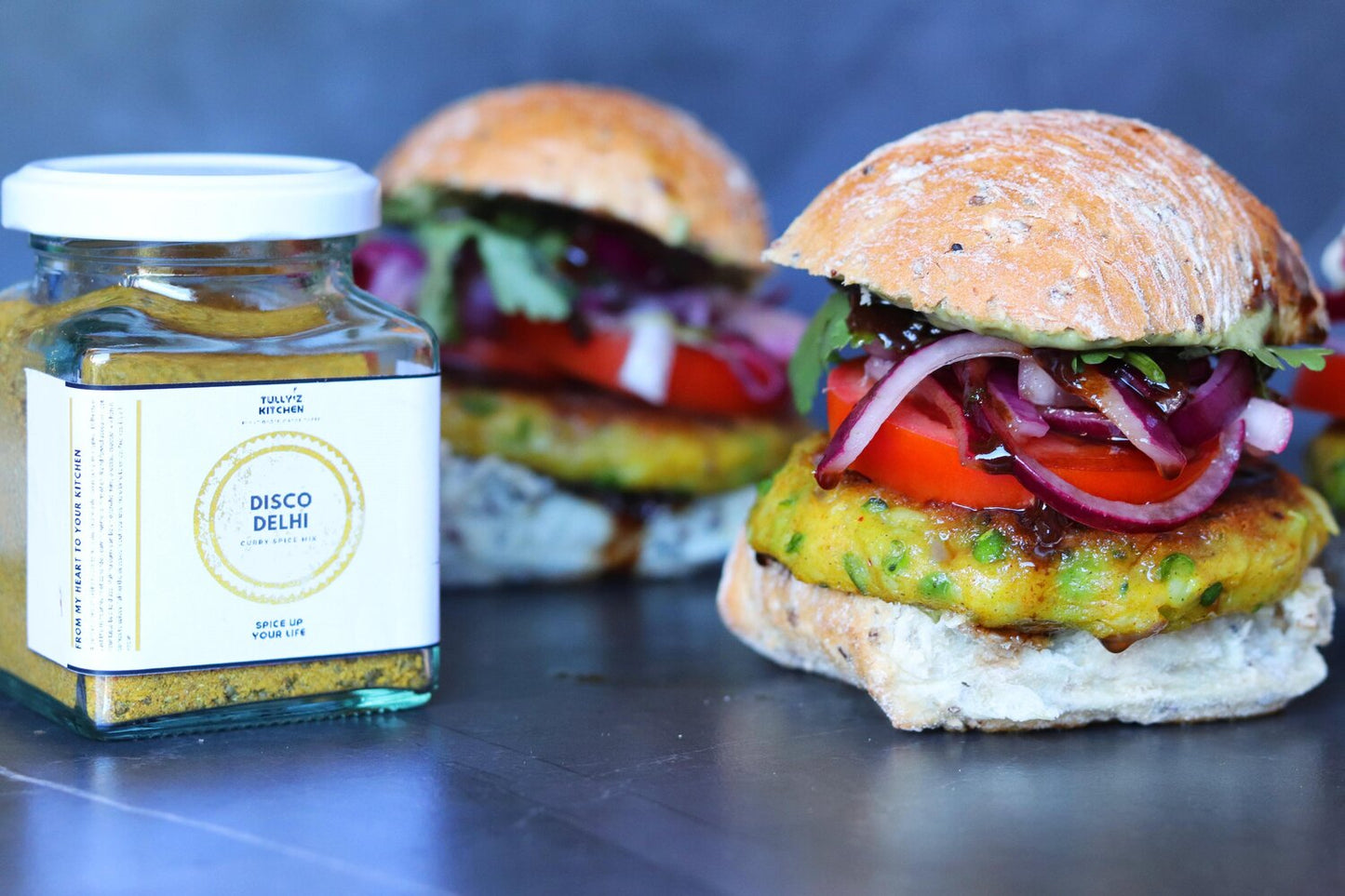 Disco-Delhi burgers. Typically, you will enjoy these savory suckers on the streets of bustling Delhi. Since I can't take you there physically this is the closest you will get. Have a bite of these babies, close your eyes, and you will be in the middle of Chandni-Chowk, the foodie hub and the oldest Bazaars of New Delhi. The creamy succulent potatoes and pea patties, pan fried to crusty golden perfection with an exotic blend of spices…yummy.
In India these patties are known as "Aaloo Tikki" Aaloo = Potato, Tikki= Patty.
Place them in between a vegan burger bun, with some mint and tamarind chutney, sliced tomato and pickled onions…it is the stuff of legends!
The spice-mix (Disco Delhi) is from my handcrafted spice range. It will get your taste buds to Disco and enjoy the authentic flavors of India. With just the right amount of coriander, cumin, cinnamon and fennel seeds, amongst other spices it's bold yet well rounded.
It is an ode to 'Delhi-ites'- They love fashion, music, and they love to go to Discos.
Cooking with spices can be a challenge and a little overwhelming. Taking the guesswork out will get you consistency every time and life will be much easier. And yes, it's all vegan. Subscribe to my newsletter to stay updated on when the pre-orders begin.
In the meantime just use plain old Garam-Masala for this recipe**
This recipe is also to showcase that spices are not only for curries, you can put them to many uses…like these delicious Burgers.
Enjoy these Burgers with family or by yourself and let me know your feedback, because that's the only way I can serve you better.
Makes 2-4 Burgers

INGREDIENTS:
2 Medium sized Potatoes boiled and peeled. (Let them cool completely before use)
1/2 Cup Frozen peas (Leave them in hot water for 10 min, and drain them before use)
1/2 Finely chopped onion
2 Tbsp arrowroot powder
2Tsp Disco-Delhi spice*
Salt to taste
2-3 table vegetable oil to pan fry (You can use spray oil to make it less 'oily')
METHOD:
In large bowl mash the boiled potatoes and peas, until there are no lumps in potatoes.
Add Disco-Delhi Spice*, onions, arrowroot powder, and mix well until everything comes together. You may want to use your hands for this part. Get down and dirty.
Wet your hands a little with water and make patties (it will make 2 med-large/4 small-med)
Heat up the oil in non-stick pan, and fry the patties on low-med heat for 4-5 min on each side or until golden brown
Tuck them in between a bun with the sauces and condiments of choice and dig in**
* As an alternative use Garam Masala, Try 1/2 Tsp Garam Masala + 1/4 tsp turmeric (Garam Masala can be very strong so tread carefully).

**My recommendations: Mint and tamarind chutney, tomatoes, sliced pickled onions.