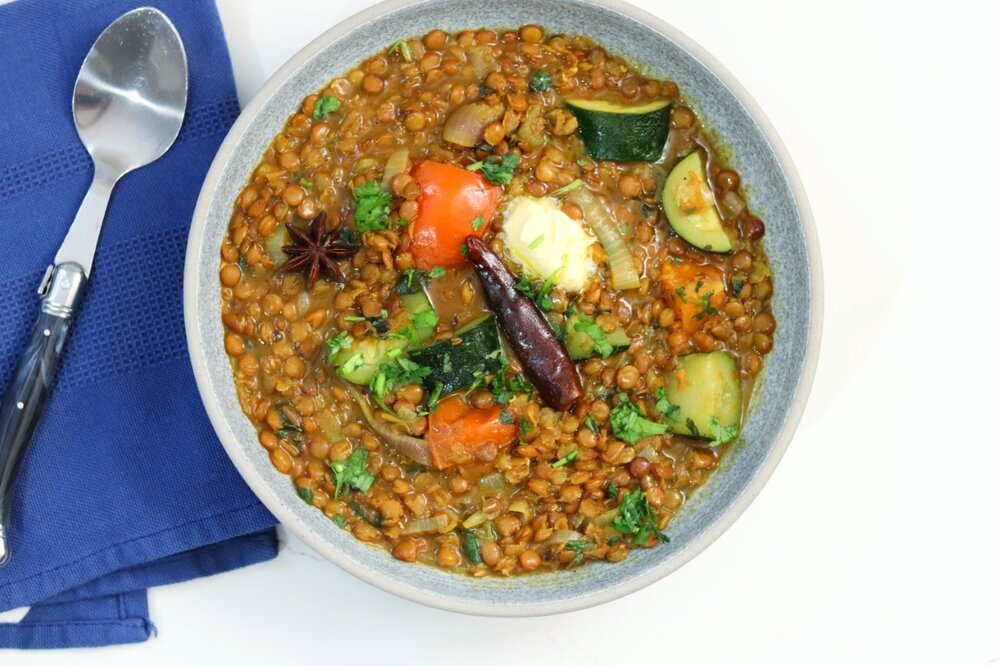 Lentil curry is something which is a staple of Indian diet. Every household makes it pretty much every night. It's affordable, nutritious, and, delicious. There are many variations of Daal recipe with different spice combinations. The below recipe is modification of the traditional lentil curry (Daal) my mum used to make for us as kids. Green lentils were my favorite growing up, albeit now it is Yellow Daal (split peas).

Enjoy this creamy, buttery, and just the right amount of spicy, heart-warming Lentil Curry. It's like my mum's warm hug.
SERVES 6
INGREDIENTS
3 tbsp melted vegan butter (can use canola oil)
1 tbsp Cumin seeds
1 large Red onion (sliced)
1 tbsp Ginger garlic paste (can replace with fresh)
1 tbsp Garam masala
1 tsp Turmeric
1 pod Star Anise
2 Dried red chillies (omit or increase the quantity as per your palette)
1/2 cup coconut yoghurt
1-1/2 cup whole green lentils (Rinsed and drained)
1 litre vegetable stock (can use water)
1 zucchini (cut in 2 cms thick rounds)
1 large tomato (cut in 1-2 cms cubes)
Salt to taste
A tbsp of chopped fresh coriander to garnish
METHOD
Heat up the vegan butter in a deep and large frying-pan on medium heat.
Throw in the cumin seeds and cook for 30 sec-1 min or until golden brown.(don't let them burn)
Add the onions and cook for 4-5 min on medium heat or until golden brown. Stir occasionally to avoid burning.
Mix in ginger-garlic and cook for 1 minute.
Stir in rest of the spices and cook for 30 sec (be careful, as the smoke from chilli might make you cough)
Mix in the coconut yogurt and cook for 1 -2 minutes while stirring occasionally.
Add the lentils, vegetable stock, salt (if needed) bring to boil, cover and simmer for 1 hour.
At the 50 min mark, open lid, taste and adjust seasoning if needed. If you feel the curry is too thick, add a splash of veggie stock/water.
Throw in the tomatoes, and zucchini, give it a stir, cover and cook for another 10 minutes.*
Garnish with fresh coriander and enjoy hot with rice or roti.
*If you like your vegetables to be crunchy, add them at the 55 min mark, and cook them for 5 min.