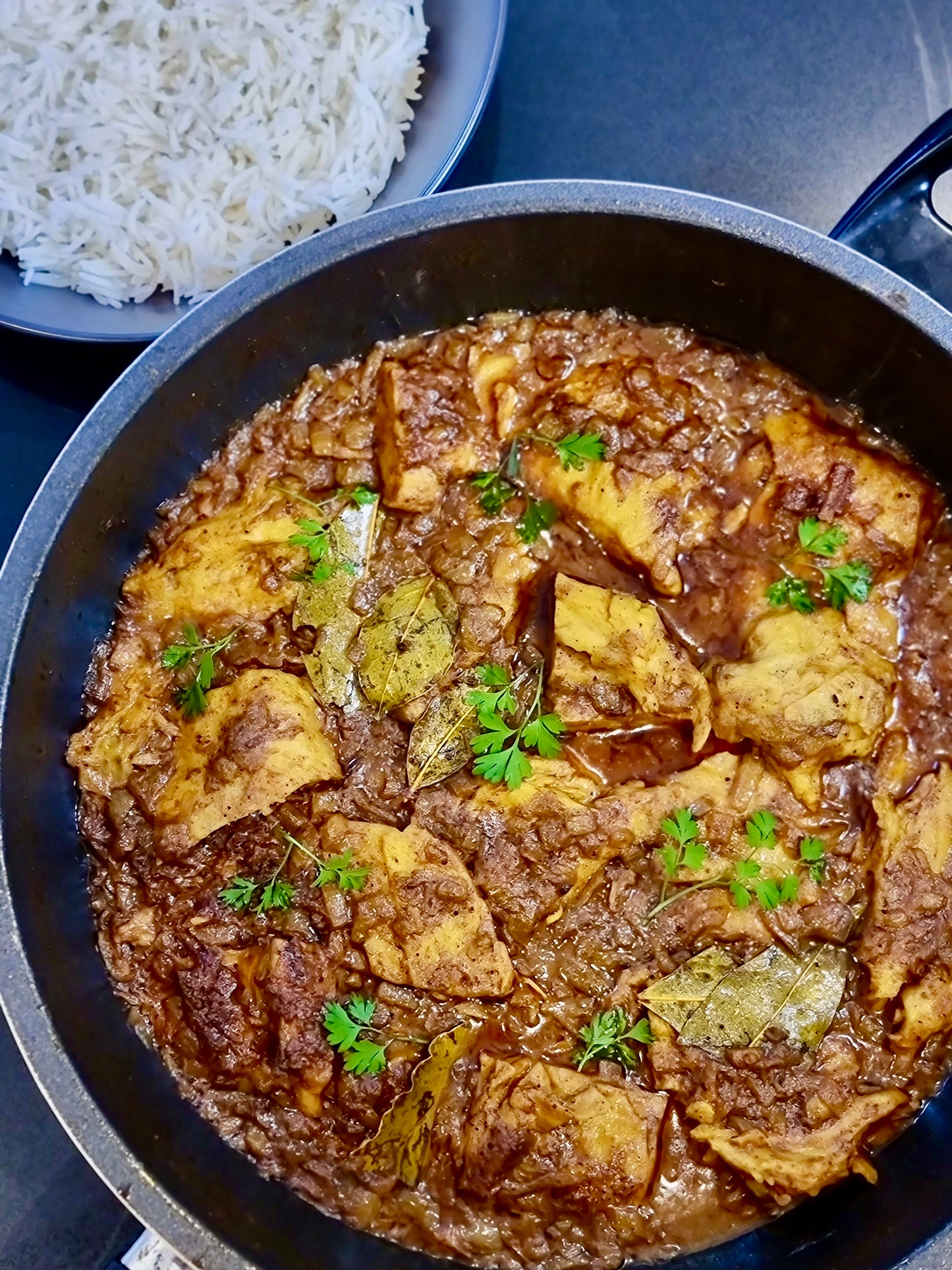 Ingredients
500g Vegan Chicken pieces, I used Lamyong brand, but you can also use Seitan.
500g/2.5 large brown onions
1 thumb ginger (finely chopped)
3-4 cloves garlic (finely chopped)
50g/2tbsp coconut yoghurt
3-4 cups water
14g/1tbsp ground cumin
14g/1tbsp ground coriander
10g/3 tsp turmeric powder
3-4 bay leaves
5g/1tsp red chilli powder (ore or less as preferred)
5g/1tsp friend mango powder (can get from Indian shops)*
or you can replace all the above dry spices with 2-3 tablespoon of Tully'z Mr India Spice (for mild curry) or Miss India Spice Blend (For Hot Curry)
10g/1cube vegan chicken stock
100ml/1/3cup olive oil (or vegetable oil)
Salt to taste (if needed, because stock cubes can be quite salty)
Chicken Curry Masala (This is in addition to the above spices)
8g/2tsp fennel seeds
5g/1tsp whole black pepper
5-6 green cardamon pods
5-6 cloves
1 cinnamon stick
1 black cardamom pod
or you can replace all the above dry spices with 1.5 tablespoon of Tully'z Mr India Spice (for mild curry) or Miss India Spice Blend (For Hot Curry)
Grind all the above ingredients and keep aside.
Method
Heat up oil in a large and deep heavy bottomed non-stick pan.
Add onions along with salt and cook on medium heat until golden brown. Stir occasionally.
Toss in Ginger and Garlic and cook for 1-2 minutes.
Mix in all the spices, Chicken Curry masala, and yoghurt, and cook for another 1 minute or so while stirring continuously. Don't let the mixture burn.
Add in the bay leaves along with 2 cups of water, stir and cover and cook for 50 minutes on low medium heat. Open lid at halfway mark, stir, and add water if the sauce is sticking to the pan (1/2 cup or so)
When the time is up, open lid and mix in the vegan chicken pieces. Add a splash of water if sauce is too thick for your liking. Cover and cook for 15-20 minutes on low medium heat. 
Save hot with rice, roti, or vegan naan.