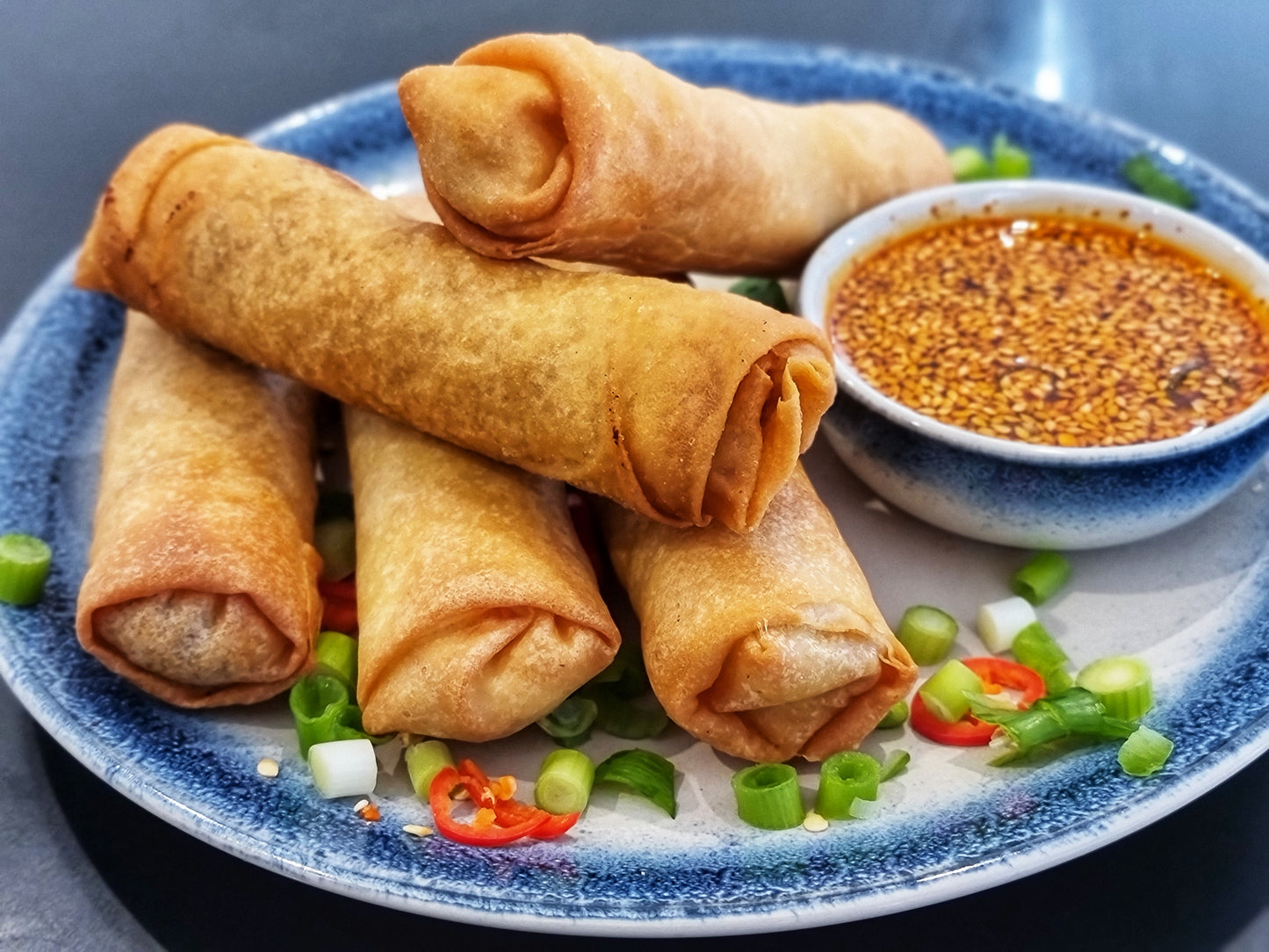 Ingredients for the filling
350g Vegan Sausages (can replace with tofu)
1cup/100g Green onions
2.5tbsp/30g light soy sauce
2.5tbsp/30g rice wine vinegar
2.5tbsp/30g Mirrin (Japanese cooking sake) or can replace with vegan white wine
3tsp/10g sesame oil
1/2 thumb (approx.10g) fresh ginger finely sliced
1/2tsp (approx. 3g) Chinese five spice or can use All Spice
1 red chilli finely chopped (optional)
Ingredients for the Dipping Sauce
3.5tbsp/45g maple syrup
3tbsp/40g Rice wine vinegar
2.5 tbsp/30g light soy sauce
1tbsp/15g chilli oil
1/2tbsp (approx. 5g) white sesame seeds
Method: Add all the above ingredients in a bowl, whisk with a fork and keep aside.
Other Ingredients
Method:
Cook the sausages as per packet instructions. When cooled down, chop them finely (sort of like mince, but it's ok if there are few tiny chunks)
Mix in the remaining filling ingredients and place the mixture in the fridge for 20 min.
Take a spring roll pastry sheet and place some of the filling mixture on the lower part.*
Fold bottom edge up, the left and right edges over and then roll up to the end. Seal the end by putting a little water.
Heat up the oil on medium heat and fry the rolls until golden and crunchy.
Serve hot with the dipping sauce.
* Generally I take 2 Spring Roll Sheets at a time if I am making jumbo rolls as they hold the filling better. If you are making a small cigar type spring roll then 1 sheet is fine.