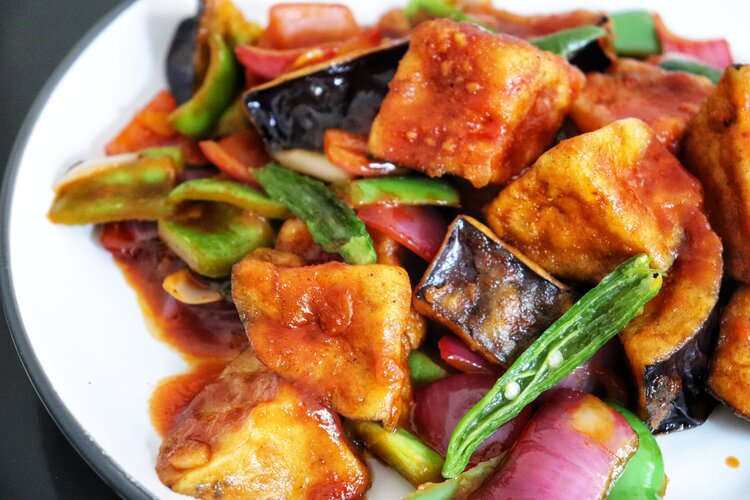 CRISPY EGGPLANT
Ingredients
250 gms eggplant
2 heaped tbsp plain flour
3 heaped tbsp corn flour
1/2 tsp red chilli powder
1/2 tsp coriander powder
1/2 tsp garam masala
2 tsp Black salt a.k.a. Kala Namak (If not available use normal salt)
Oil for deep frying (or you can air fry)
Method
Dice the eggplant in 3-4 cm cubes.
Transfer it to a large bowl filled with tap water, mix in 1 tsp salt and leave for few minutes (about 5-6 minutes)
In the meantime mix plain flour, corn flour, spices, and salt in a separate large bowl.
Drain the eggplant and toss it in the flour mixture until well coated. The flour should stick to the wet eggplant. However, if needed, sprinkle few drops of water into the mixture to make it stick.
Heat up the oil and fry the eggplant on med-high/air fry
Do not overcrowd the fryer and if needed increase/decrease heat as you go along.
Take it out when crispy and golden, and place on paper towel/tea towel to drain excess oil.
CHILLI SAUCE

Ingredients
2 cloves garlic finely chopped (can replace with 1 tsp garlic paste)
100 gms diced red onion ( approx 1 small onion)
75 gms diced green capsicum (approx. 1 cup loosely packed)
3-4 green chillies (Cut in lengthways and de-seed them)*
3.5 tbsp tomato ketchup
1/2 tbsp sugar or 1.5 tbsp maple syrup
1 tbsp soy sauce
1/2 tbsp vinegar
1/2 tsp red chilli powder
2-3 tbsp water
2 tbsp oil
Method
Super heat up oil in a wok/frying pan
Add garlic, onions, and capsicums and cook for 2 minutes on super high heat. (we need the veggies to be crunchy)
Add all the remaining ingredients, stir and cook for 1 minute.
Toss in the crispy eggplant and cook for a quick minute or so or until it's well coated and the sauce thickens.
Taste and if needed add more soy sauce to adjust seasoning.
Enjoy with rice or noodles.
*No need to de-seed if you want the dish to be super spicy. However, I will recommend to start with 1-2 green chillies and adjust the spiciness as you go.