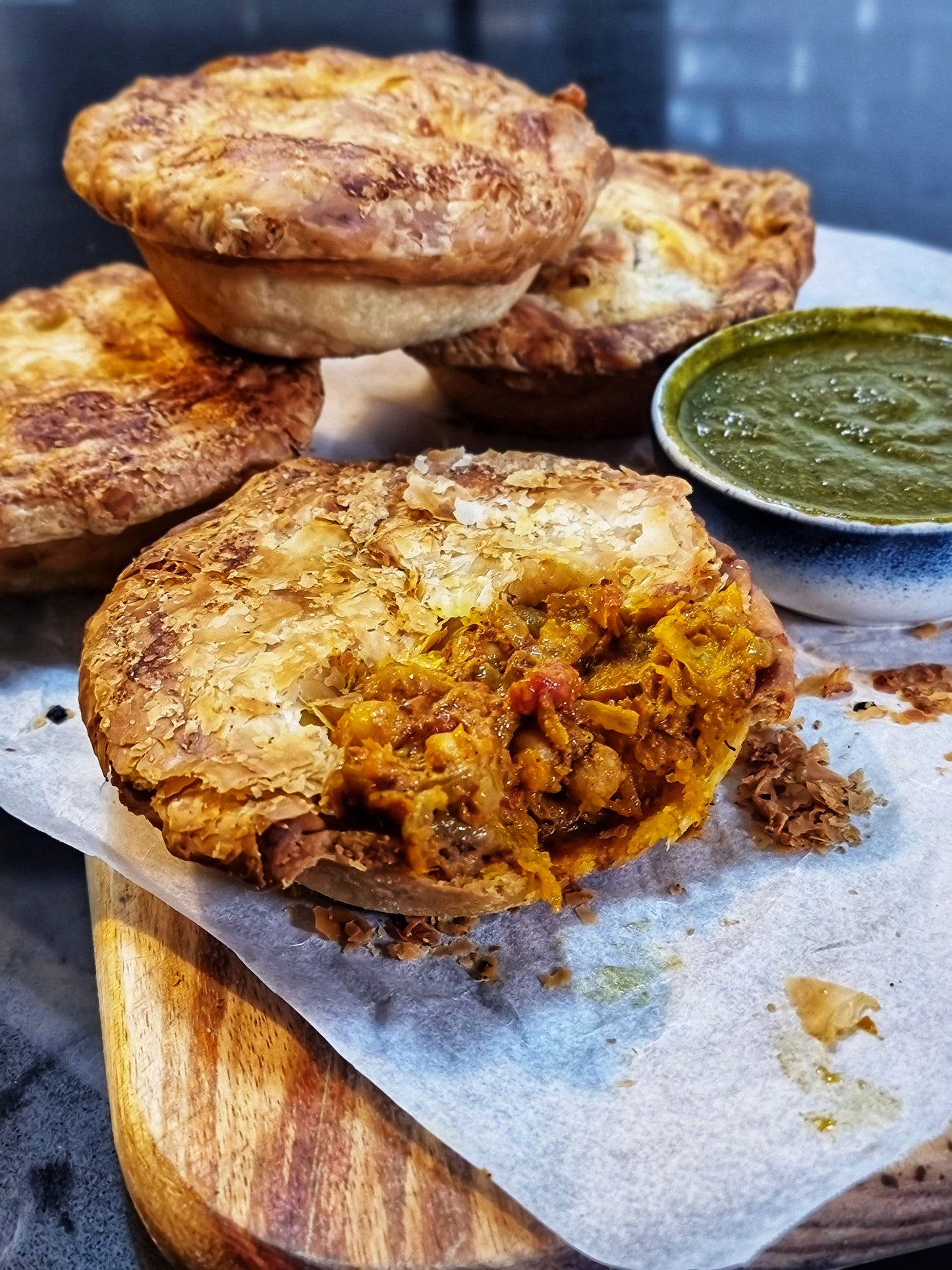 Makes Approx. 6 pies
Ingredients for the curry (filling)
500g pumpkin diced in 3cm cubes
300g/2 large onions finely chopped
400g/1can chopped tomatoes (canned tomatoes work the best)
250g/1can of cooked chickpeas (washed and drained)
225g/1cup coconut cream
20g/1.5tbsp Garam Masala
10g/2 tsp cumin seeds
10g/2tsp turmeric
5g/1tsp ground cinnamon
2-3 pinches nutmeg
1 finely chopped red chilli (optional)
15g/1tbsp sugar
90ml/6tbsp olive oil
50ml/0.25 cup water
Salt to taste
Ingredients for shortcrust pastry
250g/2 cups plain four
120g/0.5 cup vegan butter (I used Nuttelex)*
5g/0.5tsp salt
5tbsp cold water
For the lids of pies
Method (shortcrust pastry)
Mix all the ingredients for the pastry in a large bowl. Slowly add water and knead with your fingers until the everything comes together and forms a smooth dough. Add another tbsp of water if needed.
Wrap it up in cling warp and keep in the fridge for 30 minutes.
Method (Curry Filling)
Preheat the oven to 200ºC
Place the pumpkin in a baking tray, spray with some oil and bake for 13-16 minutes. 
Heat the oil in a non-stick frying pan and cook the onions for 5-6 min on medium or until golden brown.
Add all the spices and cook for 30sec.
Mix in the remaining ingredients and cook for 14-18 minutes on medium low heat or until the sauce thickens. Stir occasionally to avoid burning.
Stir in the baked pumpkin and chickpeas. Keep aside to let it cool.
Making the pie.
Take out the pastry from the fridge. On a clean working surface sprinkle some plain flour and roll it out into a sheet of about 5mm thick.
Using small pie tins as a guide cut circled out of the rolled pastry. The circles should be about 1cm bigger than the pie tin*
Brush the pie tins with some olive oil/vegan butter and press the pastry circles into the tins.
Cut the baking paper into circles the size of pie tins and line the crust.
Place baking weights on the baking paper and bake for 15 minutes (I use dried lentils, dried chickpeas, or dried rice instead of baking weights) 
Take out the pie tins from the oven and remove the baking paper and weights.
Fill the empty pie shells with curry filling* and close them with circles cut of puff pastry.
Brush the tops with plant milk and olive oil mixture (half-half) and bake for 20-25 minutes until golden on the top.
Serve hot with mint chutney.
*Cube/cut small pieces of Nuttelex in bowl and keep it cold
*I you don't have small pie tins use a big pie tin and make one big pie.
*Thaw puff pastries at room temperature before using them
*Filling should be cool before putting it into the pie crusts.