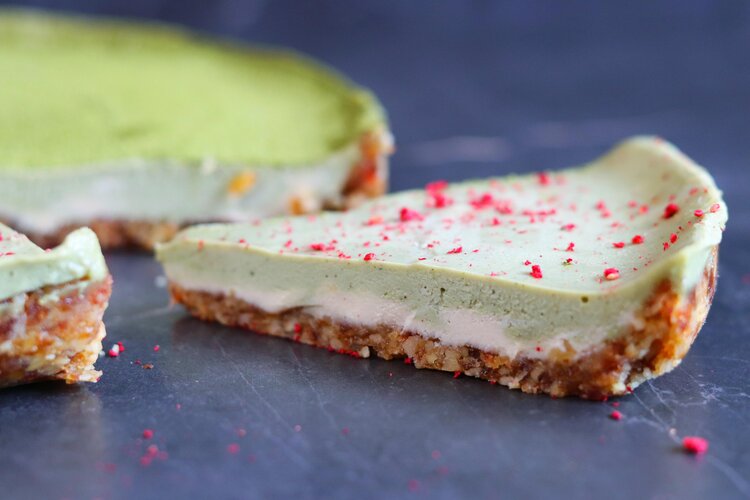 When I think of cheesecake, a slight drool automatically forms on the side of my mouth, like that drooling Emoji on the phone. Am I the only one? Having said that, I wasn't always a fan of Cheesecake. I found it too rich.
After turning vegan and discovering how to make vegan 'cheesecake', I actually really enjoy it. Albeit, there are some caveats to it:
It must have subtle flavors
It must taste clean and indulgent at the same time (yes, it's possible)
I have tried few vegan cheesecakes which are yummy but are greasy and have overpowering flavors. After two bites I am done. I wanted to create something that is elegant and rich in each bite. The velvety creaminess balanced with clean flavors. I think I have nailed it.

Here is a delicious no-bake vegan cheesecake. You will experience the ecstasy like never before once you put a forkful in your mouth. This is a seriously tasty dessert but more importantly very easy to make.
This cheesecake uses very few ingredients and most of them, if not all of them you can find in your local supermarket.

I am against the myth that eating vegan is "Boring" and "Expensive". And most of the vegan recipes online does nothing to shatter that myth. If anything they want you to find exotic ingredients. Unless you have a visa and a small inheritance, you might as well give up on those recipes.

If we want people to eat more compassionately, the recipes must have easy to find and economical ingredients. I get many DM's on my Instagram saying, "I want to eat plant-based/vegan, but I don't have the access to ingredients for the vegan recipes"

As vegan recipe writers/bloggers, it's our responsibility to make these recipes as easy and as accessible as possible.

This indulgent yet clean cheesecake is fun, easy, and delicious to make. Can't wait for you to try it and tell me what you think?


Serves:8-10


INGREDIENTS
1 and 1/2 cup raw unsalted cashews (soaked overnight and drained)*
1 and 1/2 cup Walnuts
1 cup pitted dates (tightly packed - approx. 12)
1/4 cup plant milk (I use soy)
1/3 cup liquefied raw coconut oil (heat it up in microwave for few seconds to liquefy)
2 tbsp Apple cider vinegar (can use lemon juice)
1 tbsp vanilla extract
1/2 cup maple syrup (can use rice syrup/agave)
1 tsp Matcha powder
1 pinch salt
METHOD
Add dates and walnuts to a food processor until it comes together and looks like a kind of dough.
Pinch the mixture between your fingers, and it should stick. If it's too dry add more dates, if too wet add more nuts, and blitz it few more times.
Line a cake tin with baking paper, add the mixture, distribute and flatten it evenly by pressing with your fingers. Push some crust up the sides so it can hold the filling.
Put it in the freezer.
In the meantime, add all the rest of ingredients in a blender and blend it until silky smooth. This will be the filling.
Taste and adjust sweetness/sourness if required.
Take the crust out of the freezer and pour in the filling.
Gently tap it few times to even out the filling.
For best results put it in the fridge overnight. Or put it in the freezer for about 4-6 hours for quicker results.

*Pat the cashews dry with a tea towel before using.

**If freezing the cheesecake, bring it to the room temperature before serving.

***Personally I like it to be frozen overnight and it eat it straight out of the freezer. It feels like cheesecake ice-cream.

****For a a bit of height use 18cm cake tin, for a flatter looking one 22cm. You can also use bread tin if wanting to make it rectangular.