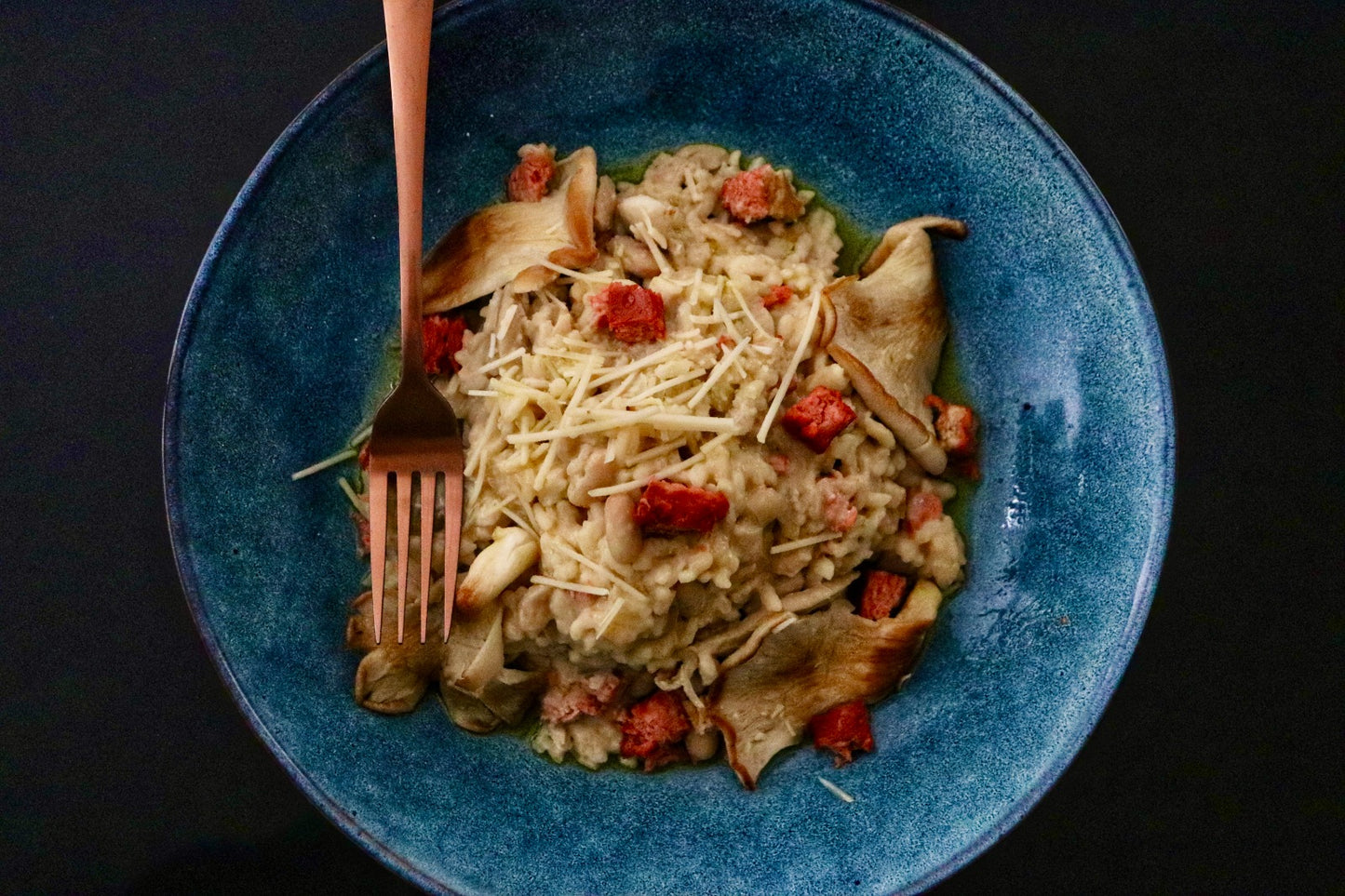 INGREDIENTS
100g Thick slice of store bought Vegan Bacon (this is optional)* 
150g/1 medium onion sliced
2- cloves garlic chopped
100ml/10tbsp olive oil
200g oyster mushrooms (Slice them if too big)
250g cannellini beans (from a can, drained and washed)* 
200g/1cup risotto rice* 
Water
100g/1/2 cup grated vegan parmesan cheese
Salt and cracked black pepper
METHOD
Heat up half of the olive oil in a heavy bottomed deep frying pan, add garlic and bacon. Cook for 4-5 minutes on medium-low heat. Turn it over to get even colouring on bacon. Toss in the cannellini beans along with 2 cups of water, and simmer for 10 minutes. Take the bacon out and dice it into small cubes. Using a blender/food processor puree the beans. Mix the bacon with pureed beans, and keep warm. 
In another pan, heat the remaining olive oil and cook onions for few minutes. Don't let them brown. Add mushrooms and cook for 7-10 minutes on low heat or until soft. Stir occasionally. 
Cook risotto rice as per packet instructions. 
Stir in all the above three mixture along with half of the parmesan cheese. You should have something that resembles a wet soupy risotto. Taste and adjust salt if needed. Garnish with remaining parmesan cheese and cracked black pepper.
*I used a thick block style bacon. Click on the link to see the details of the store I got it from. You can also get it from Supermarket but generally it comes in slices.
*Can replace with Butter beans.
*You can cook risotto in vegetable stock for extra flavour.