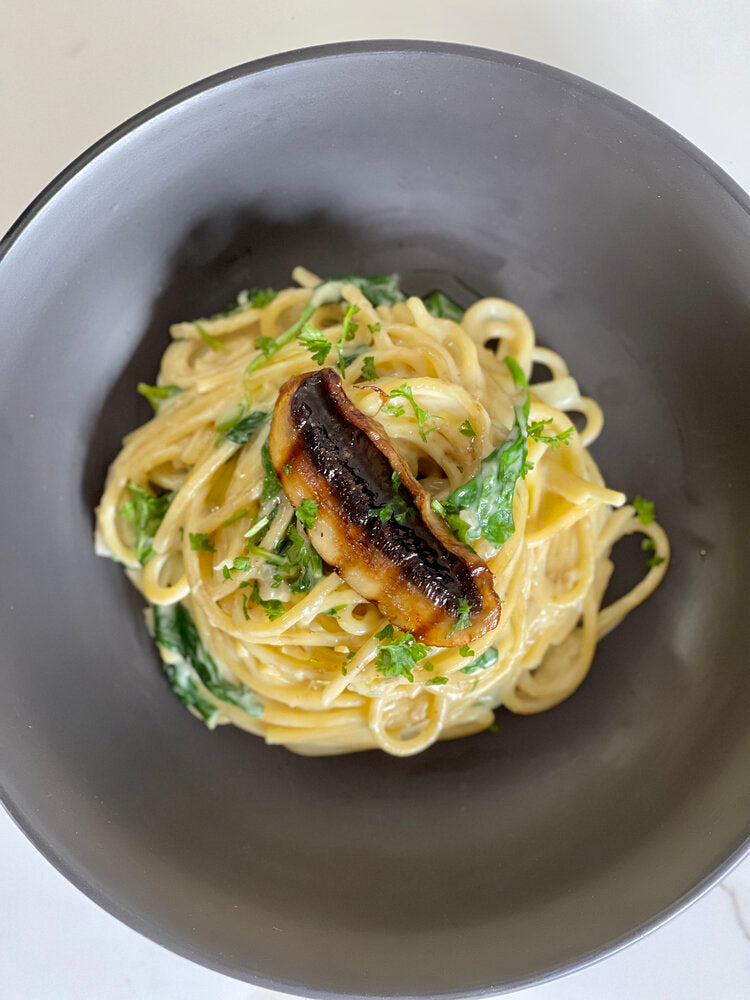 INGREDIENTS FOR THE SAUCE
1/2 Tbsp flour
500ml/ 2 Cups plant-milk* (Keep another 100ml spare)
2 Tbsp olive oil/Tbsp vegan butter
1/3 Cup vegan Parmesan ( Can replace it with 2 Tbsp Nutritional Yeast)**
1 Tsp veggie stock powder
REMAINING INGREDIENTS
50g (1/2 cup) onions (finely chopped
1 Clove garlic
150g sliced mushrooms (approx 1-2cm thick)
2 Cups baby spinach leaves
Salt and ground black pepper to taste
300 gms. uncooked pasta of your choice. Cook it as per the packet instructions and keep it aside.
METHOD
Grill the mushrooms in a pan/griddle and keep them aside.
Heat the oil/butter in a deep large non stick frying pan (if using vegan butter but don't let it brown)
Add onions and garlic and cook on low-med heat for 4-5 min to until the onions are transparent. Stir occasionally
Add flour and cook for about 1 minute on low heat. Again do not let it brown. Stir continuously.
Slowly add milk while continuously whisking to avoid lumps.
Add the vegan Parmesan (or Nutritional yeast), veggie stock powder, and a pinch of ground black pepper. Whisk vigorously until the mixture is super smooth. Taste and adjust seasoning.
Cook the sauce until its thick enough to coat the back of a wooden spoon. It should take 6-8 min on low-med heat. Keep stirring to avoid sticking to the pan. (It will take longer if you are making bigger quantities)
Add splash of plant milk if the sauce is too thick.
Stir in the pasta, grilled mushrooms, and spinach.
Enjoy.
*I used soy milk

**If you can't find vegan parmesan, you can use any hard vegan cheese.