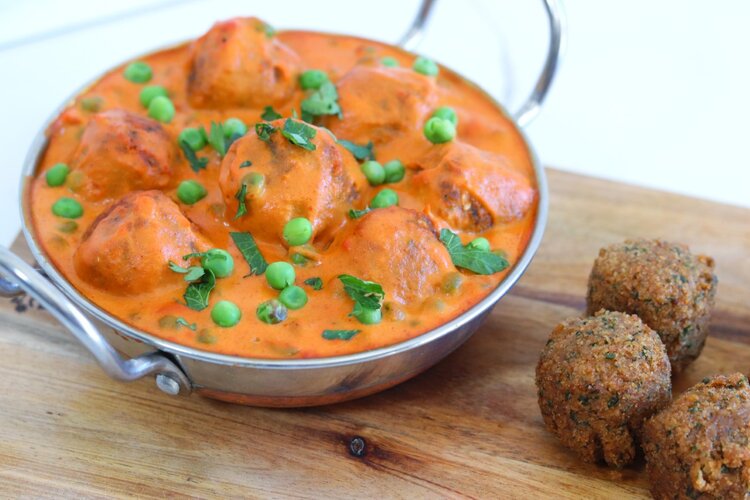 INGREDIENTS
225-250g Falafel balls (1 packet)
2 tbsp vegan butter/canola oil
1 red onion roughly chopped
1 1/2 cup chopped tomatoes (from a can)
1 tbsp ginger + garlic paste (or use fresh)
1 tbsp garam masala
1 tsp turmeric powder
1/4 tsp cinnamon powder
1 whole star/pod star-anise
1/2 tsp chilli powder (more or less according to palette)
4-5 drops red food color (will give restaurant style orange color, but it's optional. You can also use some beetroot juice instead of food color)
4 dates (pitted)
1 1/4 cup soy milk
1/3 cup cashews
Salt to taste
METHOD
Heat up the vegan butter in a large and deep non-stick frying pan.
Add onions and cook for 4-5 minutes or until golden on medium heat.
Then add in ginger + garlic paste and cook for a minute.
Stir in all the spices and cook for 30sec-1 minute
Mix in the tomatoes and cashews, and cook for 3-4 minutes on medium heat while stirring occasionally.
Switch off the heat and let it cool for few minutes.
In a blender, add marinade liquid, dates, soy milk, food color, and cooked onion-tomato mixture. Blend until smooth.
Pour the mixture back into the non-stick pan, add falafels, mix gently and cook until they are heated through.
Serve hot with vegan naan or roti.