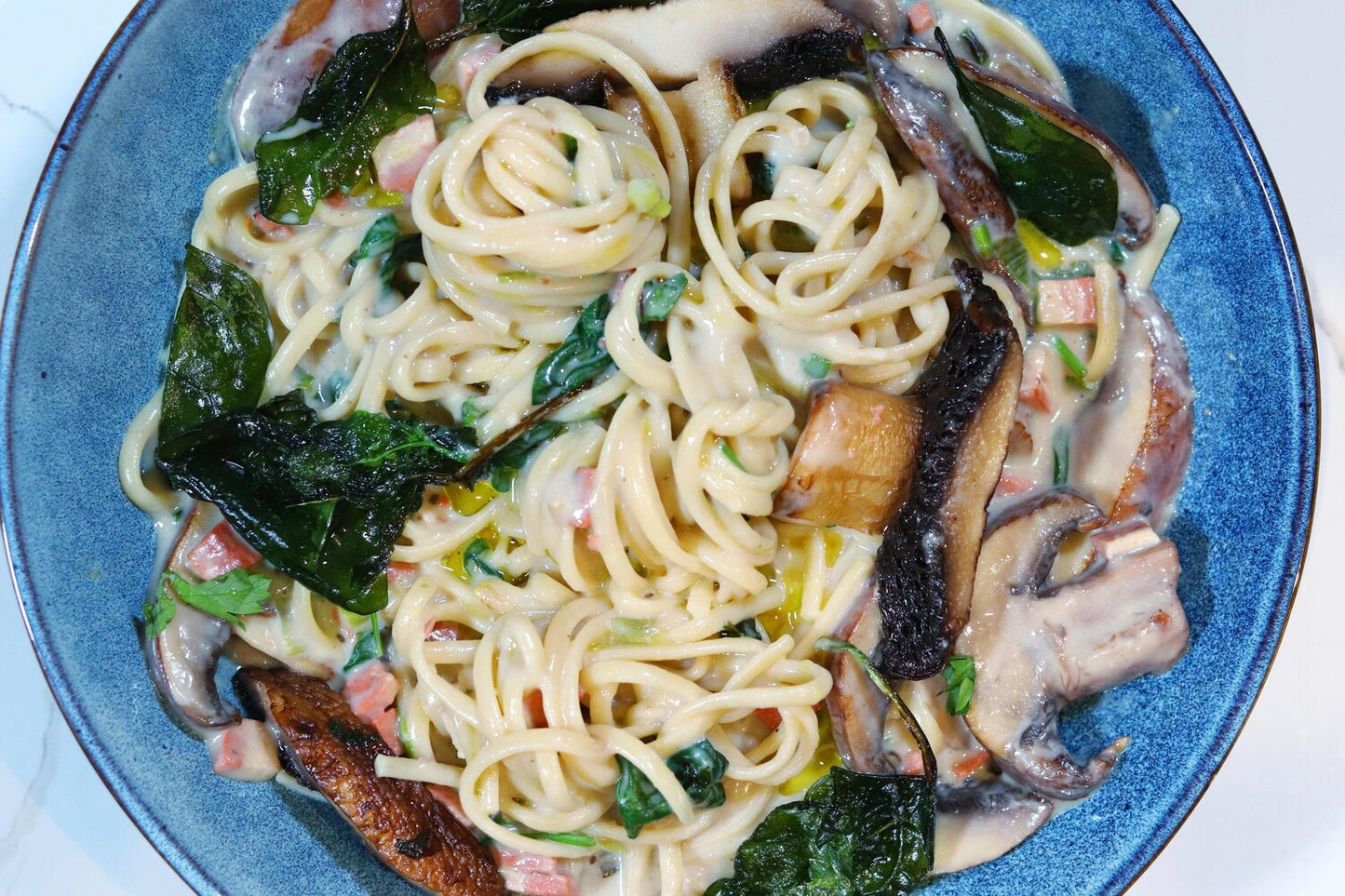 I bloody love Carbonara. So, when I turned vegan there was no f***ing way I was going to miss out on it. I made it my mission to create a carbonara sauce that even the non-vegans would take a bite and say "WTF…..how is this even possible?"
I tested, experimented, and ate lots of vegan carbonara before I settled on this truly exquisite recipe. You might not believe me but you gotta believe my girlfriend's Italian family, and every non-vegan who has had this sauce in my office. The first thing they ask me is "How did you get it to taste exactly like Carbonara? This question is generally followed by a statement "This can't be vegan"
I smile inside with pride and joy and consider it a win for the animals.
This recipe is uber simple, and needs only a handful of ingredients. Most of them you might already have in your pantry and fridge. Try this recipe once, and I can confidently say that you will make it again, and again, and again. Not only that, you will even brag about it to your friends. And if you are anything like me, you will whip it up any chance you get. For me it's the best carbonara I have ever had….but don't take my word for it, try the recipe!
I should also give credit to the easy availability of vegan 'Bacon' and vegan 'Parmesan' these days. I believe these two ingredients make the sauce very much like the carbonara I was used to. When I started experimenting with this recipe a couple of years ago there was only one vegan 'bacon' brand, available in one shop in Melbourne. Fast forward to today, and we have Vegan 'bacon' selling in major supermarkets in Australia.
I always say, go out there and have a look what's available. This is the best time to be alive and be vegan, you won't ever miss out on the flavors and taste you are used to. Gone are the days of vegans eating only chickpeas and salad…no sir/madam, not anymore!
Having said that, if you don't have the access to these ingredients or they're not available, no problems… substitute the vegan Parmesan with nutritional yeast, and completely omit the vegan 'bacon'. It will still blow your mind…don't believe me? There is only one way to find out…yup you guessed it….make this recipe and let me know in the comments what you think?
INGREDIENTS FOR THE WHITE SAUCE
2-1/2 Cups plant-milk
1-1/4 Tbsp flour
1-1/2 Tbsp vegan butter
1/3 Cup vegan Parmesan ( Can replace it with 2 Tbsp Nutritional Yeast)
1/2 Tbsp veggie stock powder
1/2 Tsp apple cider vinegar
2 Tbsp olive oil
INGREDIENTS FOR THE MIXTURE
1/2 cup Spring onions
1 Clove garlic
3 Cups sliced mushrooms
1/2 cup vegan 'bacon'
2 Cups baby spinach leaves
250 gms. uncooked pasta of your choice. Cook it as per the packet instructions and keep it aside.

METHOD
Heat up the oil in a large non-stick frying pan.
Add onions and garlic and cook until slightly golden.
Add mushrooms, and cook until golden brown (You may want to stir them few times)
Add vegan bacon, and cook it for 1-2 min on medium heat.
Add spinach and cook until it wilts a little.
Transfer the mixture into a clean bowl and wipe the pan clean with a paper towel
SAUCE
Using the same pan above, heat up the butter but don't let it brown.
Add flour and cook for about a minute on low heat. Again do not let it brown.
Slowly add milk while continuously whisking to avoid lumps.
Add the vegan Parmesan (or Nutritional yeast), and veggie stock powder. Whisk vigorously until the mixture is super smooth.
Once the sauce is thick enough to coat the back of a spoon. It should take 4-6 min on low heat, keep stirring to avoid sticking to the pan. (It will take longer if you are making bigger quantities, and you can increase the heat slightly to fasten the process)
Add apple cider vinegar and mix well.
Tip the mixture from earlier into the sauce and mix.
Stir in the cooked pasta and enjoy with a glass of vegan white wine and the classic tune "Mambo Italiano"