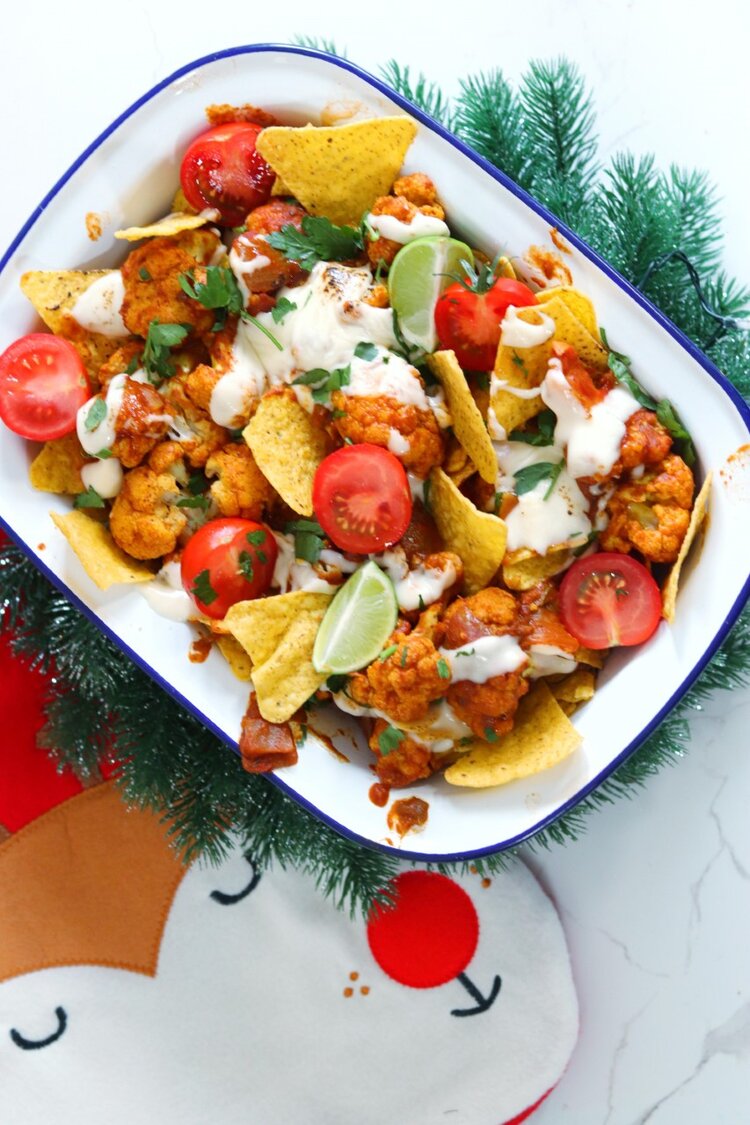 INGREDIENTS
1 whole cauliflower (cut in florets)
1 large red onion diced
500 gms salsa dip (I used Doritos medium heat salsa)
2 tsp Garam Masala
1/2 tsp turmeric powder
1/2 tsp cinnamon
Salt to taste
2 tbsp cooking oil (I use canola).
2 tbsp freshly chopped coriander/parsley to garnish.
4 tbsp date syrup
1 pack corn chips (200gms)
CHEESE SAUCE
1 cup shredded vegan mozzarella (or any plant cheese)
2-3 tbsp plant milk
Heat up the vegan cheese and plant milk in a non-stick pot, while continuously stirring. Once it melts and has no lumps, its ready to use.
METHOD
Heat up the oil in a deep heavy bottomed frying pan
Add onions and cook on med heat until golden brown. while stirring occasionally.
Stir in all the spices and cook for 30 sec - 1 min on low heat. (don't let them burn)
Toss in the cauliflower florets, salsa, and salt, and mix well. Make sure florets are well coated.
Cover and cook on low heat for 25-30 min*
In a large baking tray spread half of the nachos. Top with half of the cauliflower mixture, and date syrup, and repeat the process with the remaining nachos, cauliflower mixture, and date syrup.
Drizzle the cheese sauce on top, garnish, and enjoy hot.
* Cooking time will depend on the size of florets and your preference. I like mine to have a little bit of bite to it.