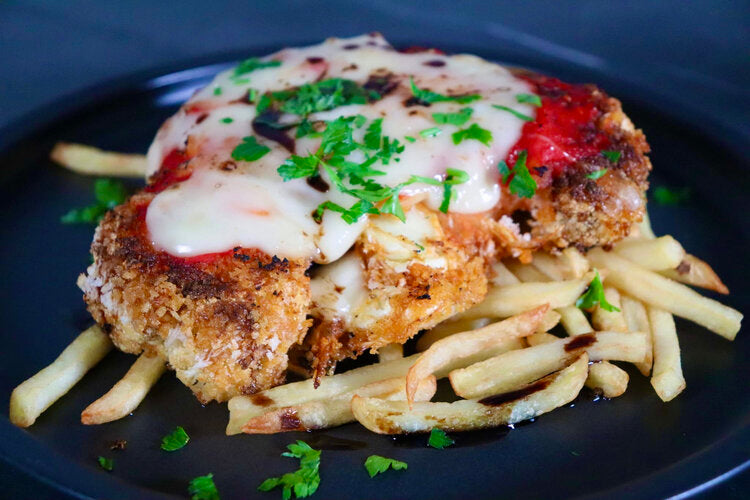 Serves 2, Prep time 15 min, Cooking Time 30 min
INGREDIENTS
1/3 cup vegan bbq sauce (most of them are, but check the packaging)
1/3 Cup vegan Aioli or Garlic Mayonnaise
1 medium cauliflower
1/2 cup chopped canned tomatoes
1/2 cup vegan cheese
CRUMBING MIXTURE
2 cups Panko breadcrumbs (most brands are vegan)
2 tsp sweet paprika
1/2 tsp onion powder
1/2 tsp garlic powder
1/2 tsp Salt and 1/2 tsp Cracked Black Pepper
3-4 tbsp oil for frying.
Mix the crumbing ingredients in a flat tray and leave aside.
METHOD
Preheat the oven at 180ºc/350ºf
Get rid of the outside leaves of cauliflower, keep the centre stem intact.
Slice the cauliflower in 2 equal halves, and cut out a thick slice about 3-4 cm thick from the biggest side of each half*
Place the BBQ sauce in a flat bowl and coat the sliced cauliflower pieces one at a time and keep aside. Get the sauce into the nook and crannies , and if needed add more sauce.
Repeat the process but this time with Aioli.
Place the "Schnitzels" in the crumbing mixture and press down firmly on each side to cover in bread crumbs.
Heat up oil in a non-stick frying pan and fry the "Schnitzels" for 2-3 minutes on each side, until golden brown.
Top it with chopped tomatoes and cheese and bake for 20-25 minutes or until the cauliflower is cooked but is still firm.
*If you can get thick slices from the remaining cauliflower, make more schnitzels. If they fall apart, then cut them in florets, follow the above recipe and call it "Cheesy Cauliflower Bites"