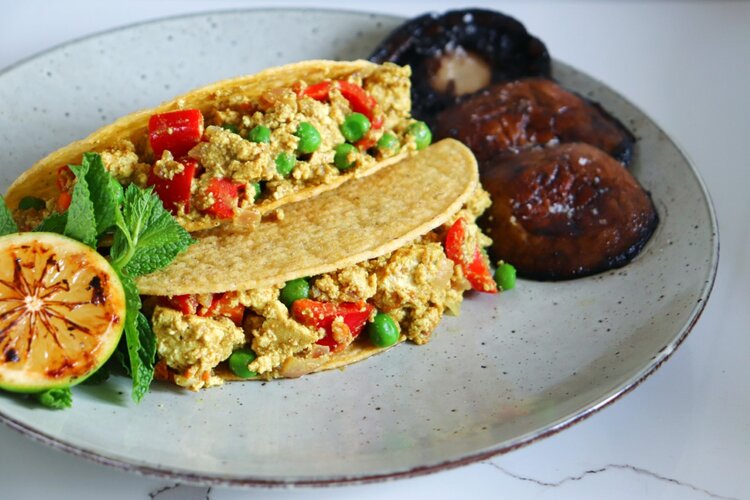 INGREDIENTS
200 gms Firm Tofu
100 gms chopped onions
100 gms diced fresh tomatoes
100 grams diced red capsicum
1/2 cup peas (fresh/frozen)
1/3 cup plant milk (i used soy milk)
1/2 tbsp cumin powder
1/2 tbsp sweet paprika
1/2 tsp red chilli powder (optional)
2 tbsp finely chopped mint
1/2 lime
Salt to taste
2 tbsp olive oil
METHOD
Crumble the tofu using hands or grate it, and keep it aside.
Heat up the oil in a large and deep non-stick frying pan.
Add the onions and tomatoes and cook for 3-4 minutes on medium heat. Stir occasionally.
Turn the heat to low, add all the spices and cook for 1 minute while stirring continuously.
Mix in the tofu, peas, capsicum, and salt, and cook for 1-2 minutes on low heat.
Add plant-milk and cook for another 2-3 minutes on medium heat or until the milk is mostly absorbed in. Stir occasionally. The consistency should be like scrambled egg. If required add touch more milk.
Mix in the fresh mint, and serve hot in the soft/hard taco shells with a squeeze of lime.