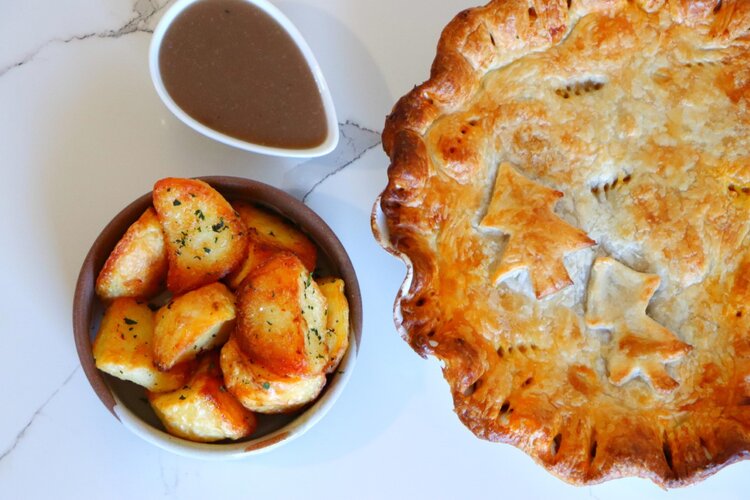 INGREDIENTS
30gms (2 tbsp) canola oil
15g (1 tbsp) cumin seeds
15g (1 tbsp) ginger and garlic paste/crushed
100gms (1 cup) onion diced
7.5gms (1/2 tbsp) garam masala
7.5gms (1/2 tbsp) coriander powder
7.5gms (1/2 tbsp) turmeric
7.5gms (1/2 tbsp) sweet paprika
15gms (1 tbsp) plain flour
250ml (1 cup) Vegetable stock
250ml (1 cup) coconut milk
300gms boiled potatoes (cubed)
250 mock meat/mushrooms*
1 sheet puff pastry, thawed (166 gms approx.)
Plant milk to brush for baking.
METHOD
Heat up the oil in a large and deep non-stick frying pan on medium.
Turn the heat to low, add cumin seeds and fry for 30 sec to a minute.
Add onions and cook for 4-5 minutes or until they are light brown.
Mix in ginger and garlic, all the Spices, and flour, and cook on low heat for 1-2 minutes.
Stir in the mushrooms/mock meat and cook for 3-4 minutes on medium-high heat.
Slowly add the vegetable stock while stirring continuously to avoid forming lumps.
Add the potatoes and coconut milk, stir and cook for 2-3 minutes on low heat.
Transfer the mixture into 18-20 cm pie dish and let it cool for few minutes.
Cover and seal the top with puff pastry by pinching the edges to the sides of the pie dish.
Brush the top with plant-milk and bake for 20 min on on 200ºC for 20 minutes.
*If using mushrooms dice them into thick pieces and use about 350 gms.