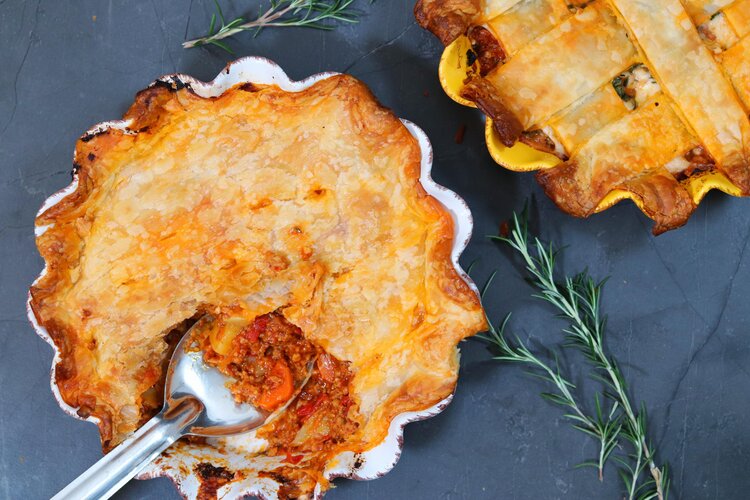 I love a good Bolognese sauce. However, eating it with pasta all the time can get a little boring. So, I decided to mix things up. Combining two of my favorite foods i.e. Bolognese sauce and a crusty pie. Italians may not agree with this idea but they certainly won't be able to argue with the taste. So if you are an Italian and are reading this, please give this a chance before you start swearing at me in Italian with prolific hand gestures.
My OG Bolognese sauce is approved by Italians (my in-laws and their extended family). And the one in this pie is an iteration, but very close to the real one. I will put up recipe for OG Bolognese recipe soon.

This pie is very simple to put together. Make the Bolognese sauce, top it up with puff pastry, bake and done. The rich and meaty Bolognese sauce, a layer of melting cheese, and the crunch of flakypastry creates a party in the mouth. It is very moorish. I ended up going for "just one more bite" until the tray was gone and I realized how gluttonous I am. Unless you either dislike pie or Bolognese, this recipe in my opinion is a keeper. Something different and familiar at the same time. A great dinner option for a party or just a casual and cozy family dinner.
Enough of me talking, lets get cooking.
Serves 8


INGREDIENTS
2 cups cubed potatoes (2 medium potatoes 2 cm cubes)
1 cup carrots diced (2 cm cubes)
1 onion finely chopped
2 cloves garlic sliced/crushed
1/4 cup @smallthingswine Shiraz (wine is optional)
400 gms @naturli vegan mince (break it with your hands/wooden spoon before using)
3 cubes @massel veggie stock cubes (or 3 tsp veggie stock powder)
1 1/2 tsp dried oregano
1 tsp thyme
1 1/2 can chopped tomatoes
1/2 cup water
2 tsp all purpose flour
2 tbsp olive oil
Pinch of black pepper and salt to taste
1 cup grated @sheese vegan mozzarella
2 sheets @pampas vegan puff pastry (thaw before using)
METHOD
Heat up the oil a heavy bottomed deep frying pan.
Add onions, potatoes, carrots, and garlic and cook for 4-5 min on low heat. Stir occasionally
Add in the wine and cook for 15 sec.
Now add in the mince, cook for 4-5 minute on medium heat until slightly caramelized. Keep breaking it with the back of the wooden spoon to avoid any lumps.
Mix in the herbs, stock, and tomatoes and stir.
Add water, cover and cook for 20 minutes (on low heat)
Once the time is up add the flour and mix well, if the sauce is too thick add a splash of water.
Layer the sauce in a large baking tray (I used two circular ones: 8 cm diameter)
Evenly sprinkle a layer of vegan mozzarella.
Top it up with the puff pastry sheets and seal the edges by pinching it with your fingers.
Brush it with some olive oil, make some piercings in the pastry with a fork or knife.
Bake it for 20 minutes in a pre-heated fan forced oven on 220 degrees C / 430 degrees F
When the time is up, if needed crank up the temperature a little more and leave it in for another 3-5 minutes to brown the top, (keep an eye else it may burn)
*P.S. If you can't find vegan mince, use vegan burgers and crush them before using.

**If you don't like vegan meats, use 4 cups chopped mushrooms.