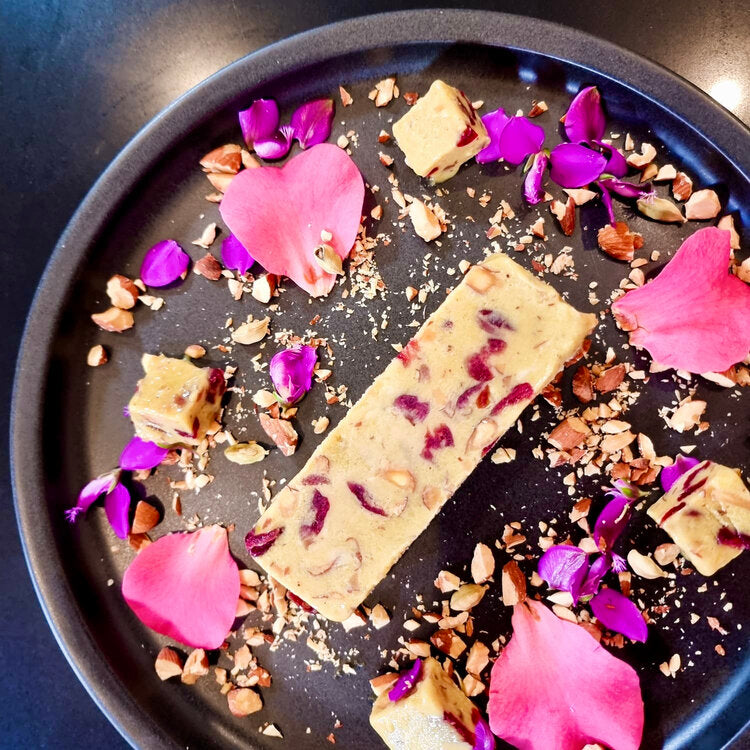 INGREDIENTS
3 pieces white/wholemeal bread (approx. 100g)
1 litre soy milk (or a thick quality plant milk)
1-2 pinches of saffron (about 1/4 tsp)
1/2 tsp cardamon powder
1/2 cup sugar
1 tsp rosewater
1/4 cup chopped almonds
3 tbsp cranberries
METHOD
Slice the edges off the bread. Pulse it in a blender to make coarse breadcrumbs. Keep aside.
Transfer milk, saffron, cardamon powder into a deep and wide pan and bring to boil on medium-high heat. Keep stirring frequently and scrap off the edges during the process.
Once the milk is boiled, turn the heat to medium and add all the remaining ingredients.
Stir and cook while stirring frequently until the mixture is thick (béchamel sauce consistency)
Switch off the heat, let it cool a little and pour it into rectangular/square shaped freezable container. Cover and freeze until set (preferably overnight)
Take it out and cut into thick strips and enjoy !