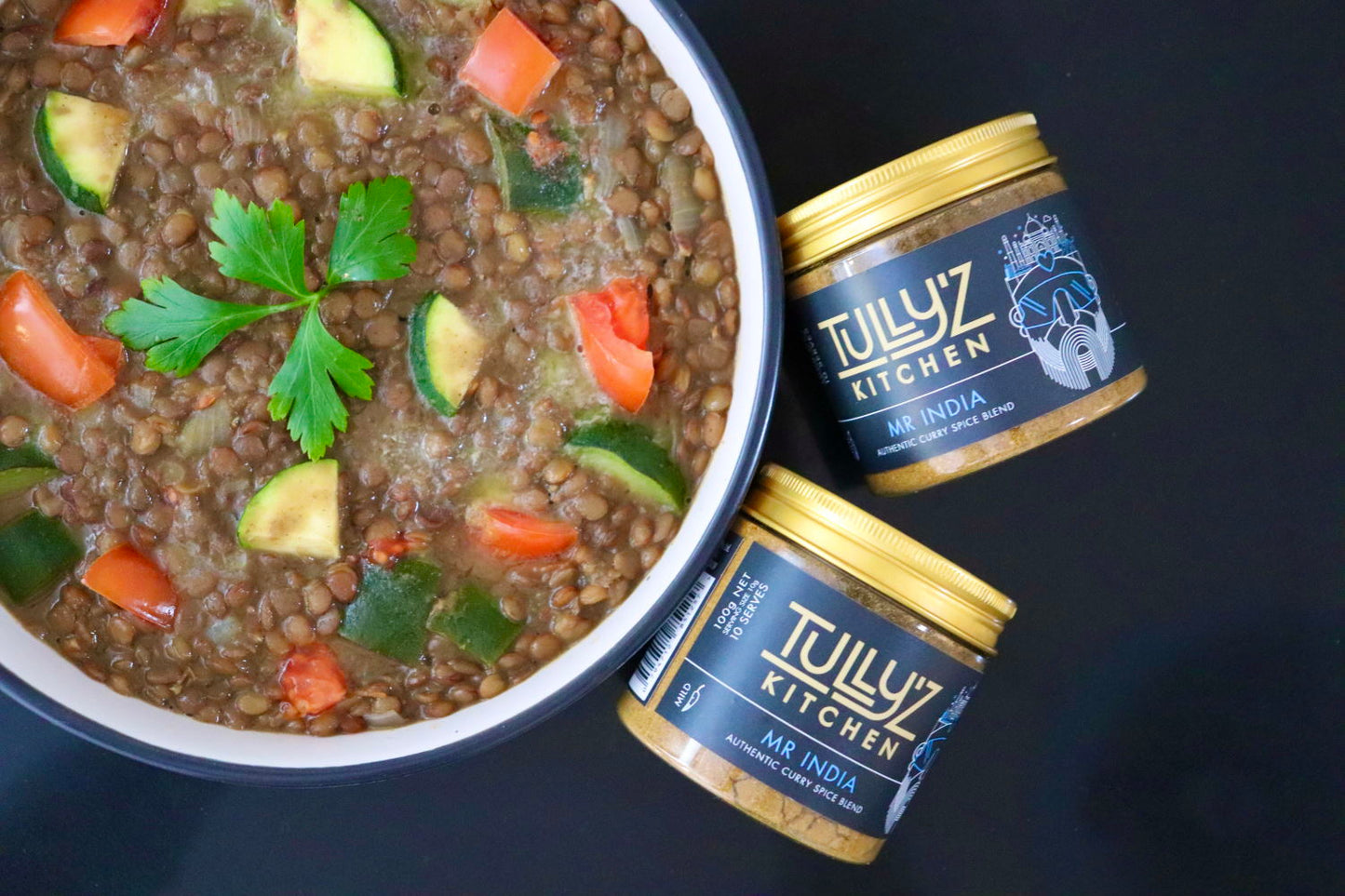 INGREDIENTS
3 tbsp cooking oil
75g Red onion chopped (not to thick, not too thin)
100 g diced tomato (approx. 1 med. Tomato)
1 tbsp Ginger & garlic paste
1 tbsp Mr. India Authentic Curry Spice Blend
225 g green lentils (Approx. 1 cup) soaked overnight. Drain them before using*
3 ¼ cup water (can use vegetable stock)
150 g Zucchini cut in 2cm thick rounds (approx. 1 zucchini)
Salt to taste
Chopped fresh coriander to garnish 
METHOD
Heat up the oil in a deep and large frying-pan on medium heat.
Add the onions and cook for 4-5 min on medium heat or until golden brown. Stir occasionally to avoid burning.
Mix in ginger & garlic paste and cook for 1 minute.
Stir in the spices and cook for 30 sec
Add lentils, water and salt to taste.
Cover, bring to boil, turn the heat to med-low and cook for 20-22 minutes*
At the 15 minutes mark, throw in the tomatoes, and zucchini, give it a stir, cover and cook for the remaining time. The lentils should be soft to squish. Taste and adjust salt.
Garnish with fresh coriander and enjoy hot with rice or roti.
*If using un-soaked lentils, the cooking time will be 40-45 minutes.
*If the Daal is too thin for your liking, cook on highest heat for 3-5 minutes without lid, and if it's too thick, add a splash of water and bring to boil.